Empire Premiere, Empire Cinema's luxury film experience, recently invited a handful of lucky guests to experience their newly refurbished venue in Sodeco. In some ways, more like a restaurant experience than an evening at the movies, this truly is "First Class Service". I went along to experience the silver screen in a way few do.
Empire Premiere is a premium experience from the minute you set foot into this one-of-kind 6 multiplex venue that can host up to 180 guests pampered with love. Walking on the large square white marbled floor, you cannot but notice the fine classy architecture that transports you into another dimension. Forget what you already know about cinemas; Don't expect to smell fried food, or walk onto a ragged carpet or see cables pending from above...
A low shining white ceiling reflects the many warm lights installed around, a goldfish ambiance takes you into another dimension, four professional hostesses welcome you with a smile before accompanying you down stairs where luxury abounds.
I stopped for a minute to enjoy the many fine details this venue has to offer:
Three distinctive saloons are awaiting to relax you before the movie
Fine white fabrics with a golden and brown touch cover the sofas
On you right, the walls are covered with beige leather while a light grey paint follows your every step until you access the cinema
38 LCD screen TVs broadcast the upcoming movies as well as Sushi Bar's Maki selection
Reflective fine Italian floor marbles decorated with black strips ease your senses
Strips of LED lights follow the passages
Leather, stainless, chrome and fine materials all perfectly blend together
At the main bar, sit and relax and indulge in some premium sushi:
Food safety comes first. The menu is studied with care
Seven high tables seating three persons each
High stools to mingle before the movie
A long sofa follows the wall
Couple of relaxing chairs deposited around square tables in a lounge ambience
Choose any drink imaginable and it will be served with a smile
A live Sushi wrapping station is here to serve you in minutes
Inside the Cinema is a Business Class premium Experience:
30 seats only in every theatre
A personalised private space for every three lazy boy chairs
Brown thick and fluffy leather chairs
A printed head rest that is cleaned daily
A warm ambiance
A little lamp next to every seat adds a finess to the culinary experience
A calling bottom for your personal butler
A pillow and its bed cover are at your disposal, adding the additional hint of relaxation
On the menu tonight: Food served in clear plastic cups: Two pieces of your favourite Makis with a soy sauce pipette like you used to do it at school in science labs.
White fish ceviche served in a bamboo cone
Marinated salmon served in a verrine
Shrimp ceviche in a verrine
Hoso maki
Volcano maki
Crispy ura maki
Special California
Crispy crazy shrimp
Octopus in a verrine
The experience goes even beyond that. Each ticket is personalised with the guest's name from the minute you book your ticket online or at the venue door. Buy and Pay online or with one of the hostesses that will call you with your name as soon as you give her your phone number. After that, tickets will be handed to you in an envelop to feel even more pampered.
Downstairs, at the bar, the Sushi Bar staff is trained to serve you up to 25 pieces in 10 minutes only. Enough to have a complete dinner, in the restaurant or even inside while watching the movie.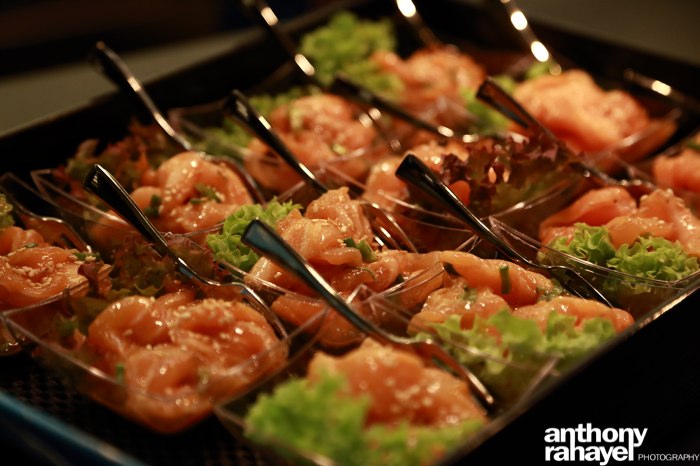 Start from scratch… A step by step boarding:
Go online and book your tickets
Leave the kids home
Arrive at the dispenser to receive your printed copy automatically
Order your sushi, flavoured popcorn, cocktail drink...
Ask your butler to take them in the cinema for you
Sit down, fix your pillow and cover yourself
Enjoy the premium JBL 5.1 surround sound system experience
Pay attention not to sleep, it's tempting
More advantages:
The restaurant opens at 2pm, where you can come early for lunch
You will be able to enjoy more than 6 different international wines by the glass
You have your own WCs in a Premium ambiance for selective people, and not one single VIP cinema in a mall
Popcorn comes in more than 10 different flavours, changed on a weekly basis: Wasabi sesame seed, chilli pepper, Zaatar, cheddar cheese, caramel and much more
Welcome to the 18+ cinema, where kids are not allowed in
Pay when you are done like you do it in a restaurant
At 9pm tonight, we all went in to watch Hitchcock (A love story between influential filmmaker Alfred Hitchcock and wife Alma Reville during the filming of Psycho in 1959), a movie that I recommend you to see.
For only 20$, that's an additional 13$ on your average cinema experience, you can pamper yourself and feel like traveling on a Business class trip. The venue opens on the 28th of March. Stay tuned.