They say, "You can't visit London and not try Five Guys". Voted by many to be the best burger in town, prepare yourself to wait in line, under the rain and in the cold to have a burger from the guys - it was worth it for me.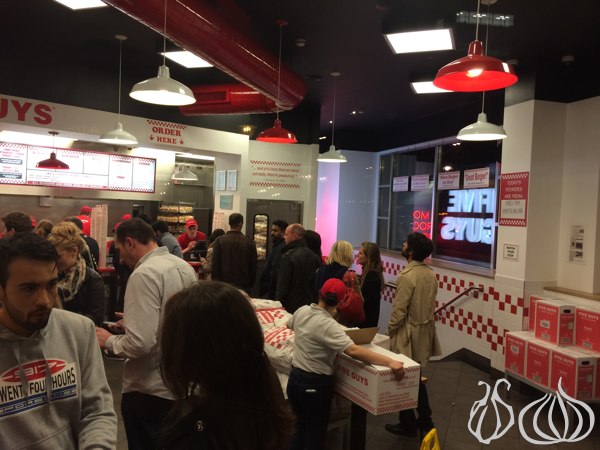 Five Guys has been a Washington, DC area favorite since 1986 when Jerry and Janie Murrell offered sage advice to the four young Murrell brothers: "Start a business or go to college". The business route won and the Murrell family opened a carry-out burger joint in Arlington, Virginia. Under the guidance of Jerry and Janie, the Murrell family served only hand-formed burgers cooked to perfection on a grill along with fresh-cut fries cooked in pure peanut oil. The little burger joint quickly developed a cult-like following. Press paid attention. Customers voted the burger "#1" in the metro area.
Early in 2003 Jerry and Janie, together with the five "guys" began offering franchise opportunities. In just under 18 months, Five Guys Enterprises sold options for over 300 units. The overwhelming success of franchising a local restaurant made national news with articles in trade publications such as Nation's Restaurant News, Restaurant Business Magazine, and the Franchise Times. Now, over 20 years after Five Guys first opened, there are over 1,000 locations in America and over 1,500 units in development. Five Guys continues to receive media attention and has grown a cult-like following around the world.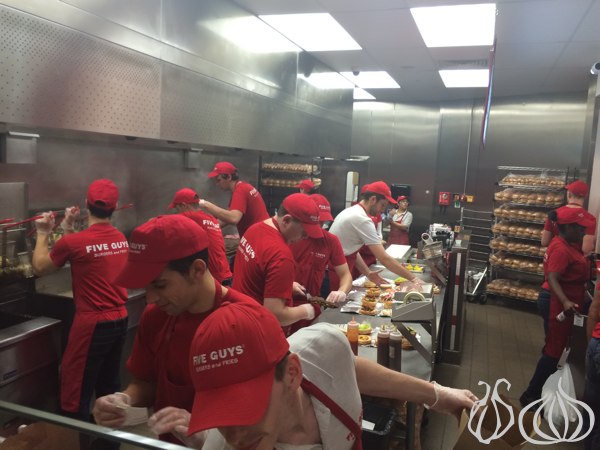 It's 9 o'clock in the evening, and after a long day of average food, we decided to come for a hefty meal despite the fact that we'd be taking in a lot of calories for that time of night. Five guys, located on Leicester Square, cannot be missed. Occupying a street corner facing Verbe club on one side and Bella Italia on the other, the red signboard will look grab your attention. A fast moving queue and in no time we were in. As you enter, you are welcomed by a large box of peanuts where you fill individual portions to help you enjoy your time while waiting. It's nice to see around the ingredients used in here. Boxes of peanut oil or bags of five guys selected potatoes wrapped in customized packaging specially produced for the company sit all around you.
Let's order:
Cheeseburger £6.75
Bacon burger £8.75
Cheese dog £5.00
Five guys style fries £2.75
Cajun style fries £2.75
Afterwards, you'll have to choose the toppings, which are all free. We were recommended to "go all the way" which means you choose the most commonly used toppings which are written in black on then menu (mayo, lettuce, pickles, tomatoes, grilled onions, grilled mushrooms, ketchup and mustard). Two paper cups and we were ready to go.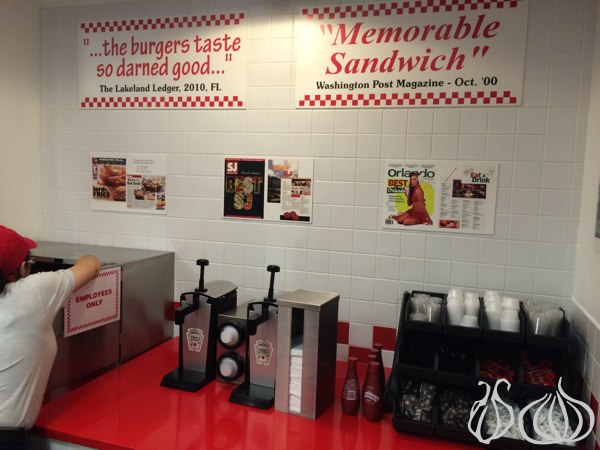 I liked the technologically advanced draft Coke dispenser, which was a simple to use touch screen with many choices and flavors. Even after clicking on Coke Light, you have the choice to choose a flavor. Very interesting.
The place is nice, fresh, clear and well lit. A busy beehive of happy employees all wearing red is active behind the cashier preparing burger after burger in a synchronized way. Choose to sit inside or move to the lower level where more seating awaits. Red tables, red leather sofas, grey tiles cover the floor, red and white square tiles used for the walls, a black ceiling with writing on the walls about Five Guys reviews from all over the world. They consider themselves the best and market it extensively.
Our number was called and we received tree paper bags. One for each of the fries and one for the sandwiches. The fries generously filled the bags as for the sandwiches, they were wrapped in aluminum foil. Don't be shocked, the burgers don't look appetizing at all.
We started with the bacon burger, which was huge for the price paid. A double patty and all the add-ons we asked for. A fluffy thin bun that's consistent and doesn't tear apart and inside are sweet pickles, two slices of fresh crunchy tomatoes, grilled hard bacon, mushrooms and the sauces. I loved everything that accompanies the meat and specially the meat itself. A dry, well cooked meat that's good, but not too fatty. It wasn't shiny, didn't spill and didn't have chewy bits of fat in it. With all the toppings, that come with it, this burger is a good one.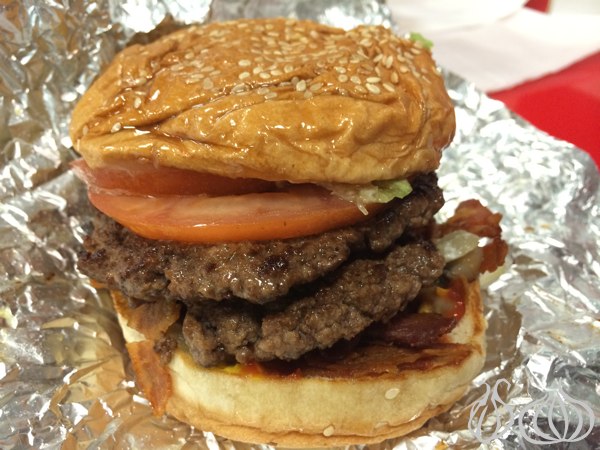 The regular cheeseburger is as good as the first one, rich fillings, great taste but one thing I would really consider are the tomatoes. Two slices of tomatoes is way too much. The slices become thicker than the meat itself, crunching unpleasantly, making the sandwich too cold and spilling from all sides. All the international chains and fast food joints use one thin machine sliced tomato and it has proven to be the best.
Hot dog! Well this was a no, a big no for me. Cold bun, cold tomatoes and one of the most commercial hotdogs I ever tasted. An unpleasant hotdog taste, similar to that of canned meat. The add-ons are fine and they give the flavor to the sandwich of else it would have been hard to swallow. Now I understand why Big Apple Hot Dogs are priced that high: some work has been out into their dogs to make them taste of something at least.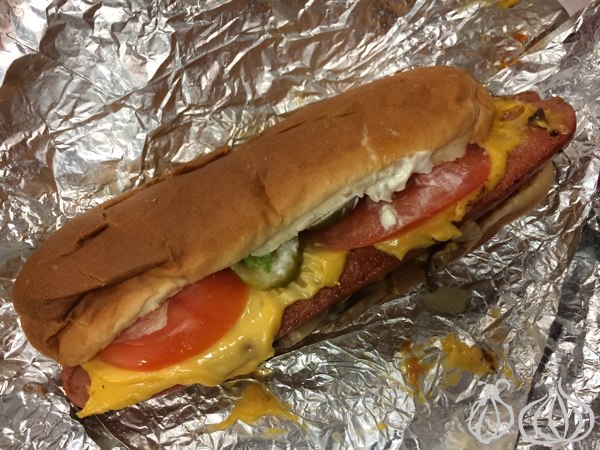 Now for the fries: What's great is the generosity. They give you a cup filled to the top and, at the bottom of the bag, more than the cup itself. Unpeeled, freshly cut and natural-looking fries that are good, well, very good, for sure, especially the Cajun spices and seasoning.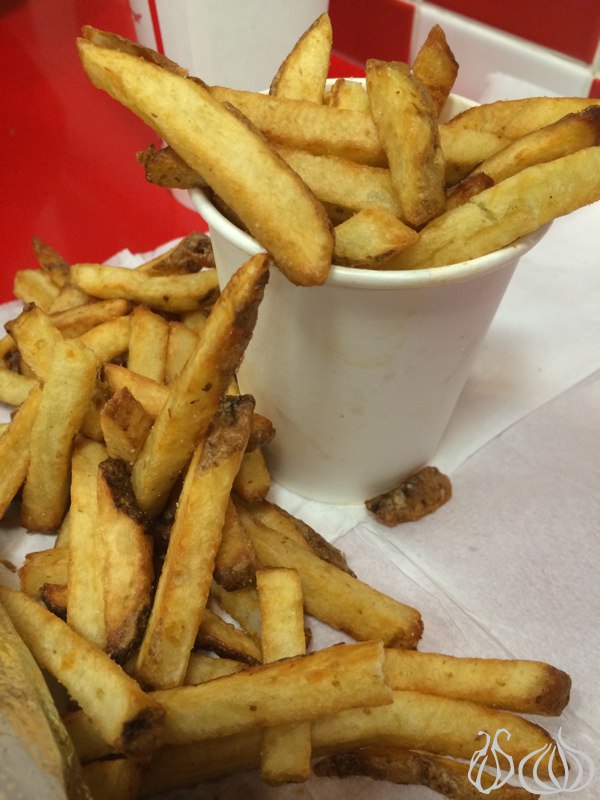 If I were you, I wouldn't taste the meat alone: It's too dull.
For it to be the best, two minor things should be improved:
Preheat the bun, which was too cold. Just think how unpleasant it is to hold a cold bun and start eating it, while feeling coldness on your lips
The tomatoes inside are also too cold and using two slices is too much.
At Five Guys, you're sure to get your money's worth. It's well good for what it is, with portions that are generous, ingredients that are fresh and toppings that are carefully grilled and prepared. As for the meat, it's a premium quality that's perfectly cooked without drying it out too much.
I enjoyed Five Guys today but didn't feel the amazement the reviews have reflected. A must try for sure, without raising the bar too high.