Known for its rich variety of seafood, Floka, situated in the heart of the Al Aqaba was our choice for to enjoy our meal, we wanted a proper goodbye dinner to conclude this memorable trip.  For some good seafood Al Aqaba, a Jordanian coastal city is known to boast a few seafood restaurants... we went for Floka.
Floka looks nice. A well decorated air-conditioned space, with the marine-like ambiance, gave off a good first impression. A reflective ceramic floor, wooden decorative items, a bar and two aquariums, all in a space filled with wooden tables and dark leather chairs. Enter from the main door where the fish display welcomes you on the left, all caught fresh that morning; Red Hammour, Farride, Hammour, Sultan Ibrahim, Dinnis, jumbo shrimp and shrimp covered with ice.
Floka offers a wide range of items, not only sea specialties. Soups, starters, oriental salad, fish dishes, seafood specialties, international dishes, rice dishes and desserts. Browsing was fun, I was happy to see the various items they offer and wished I could taste them all; stroganoff, siyadieyh, curried prawns, spaghetti and grilled meat.
With Fayruz musical tunes playing in the background, we started lunch.
Let's eat:
Moutabal, hummus, Turkish salad (tomato, chili pepper in red sauce), rocket salad and mixed Arabic salad were all good. An average taste that's not extraordinary but acceptable. We started with those while waiting for the fish.
What caught my attention was the Turkish salad, which has a sweet and sour taste like a Chinese mix. Floating in red sauce, the diced pepper and tomatoes crunch before the sweetness appeared and followed by hidden spiciness that holds a long lasting aftertaste.
The bread, served hot, thicker than the ones we know, were fulfilling. The locals like their bread exactly the way they do it in the desert.
Kebbe with meat followed, as well as triangular cheese rakakat. Not bad for a local restaurant.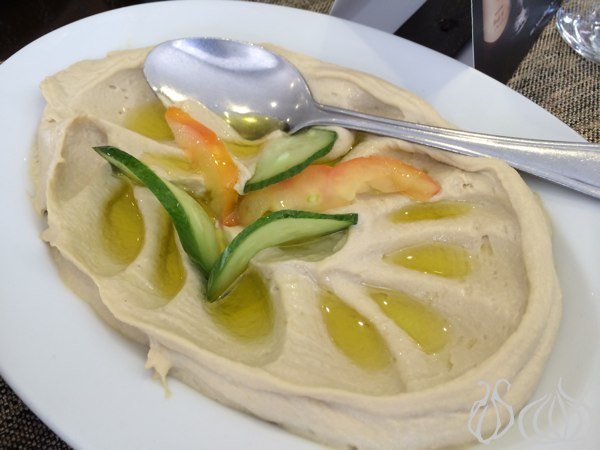 After that, each of us had a platter of seafood mixed grill: Two king prawns, a "grilled" fish filet and some "grilled" calamari. I would have preferred if they called them fried instead of grilled. I would have enjoyed them for what they were... We received platters that were shining like a star... all covered in oil. The fish tasted dull and the oil was smelly. That was a big no for me. I had a bite and sent the rest back.
The minuses:
Welcoming was not so appealing
Service was average
Food was not tasty
Plates were not appetizing
I'm not sure if I would recommend this restaurant or not. Coming to Al Aqaba to enjoy some fresh fish is a must but I'm sure other places as well consider themselves as a local culinary pride. I'll skip this one next time and try something else.