All the way from London, comes this steak house that really knows how to lay the meat down. Also, the staff is wonderfully professional adding impressive elements to the entire experience. Perfect in my opinion.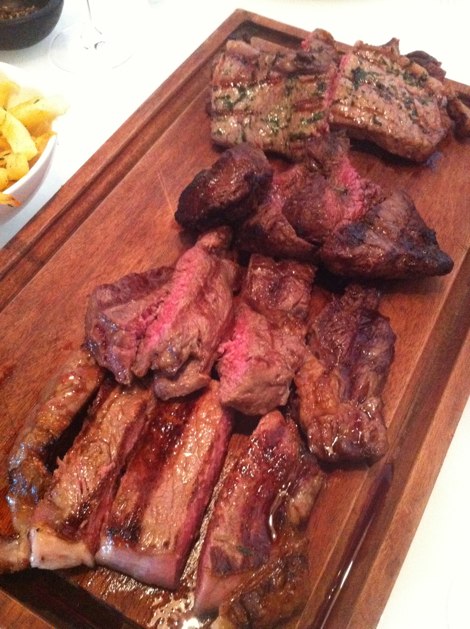 I didn't eat at Gaucho London but I tried the one in Lebanon, and couldn't resist writing something about it. It is the same company with the same owners. In Lebanon, few restaurants present still water in glass bottles, and for me, as a first impression it was a hit. The waiter, like in all high end restaurants, comes to the table with two bottles, the still and sparkling ones, both from the San Pellegrino family: Aqua Panna and the San Pellegrino sparkling.
We started with a gentle and smooth white wine, the Torrents E. S Vino 2010.
The red wine we had is owned by the place. It's an Argentinian Vina Patricia, Malice, 2008 : Our unique and historical vineyard is located in the district of Lunlunta, Lujan de Cuyo in Mendoza. Planted in 1929, this 6.5-hectare vineyard is tucked away on the tree-lined road of Terrada, amongst the old olive groves and peach trees. The majestic Andes overlook the vineyard, and the pure water from its melted snow irrigates the vines. Yields are naturally very low, bringing adept of quality and expression to this wine. It merges rich plums and sweet spice, with bitter chocolate, black cherry and a hint of violet. It has a soft and silky texture in the mouth, with a long persistent finish. Vina Patricia was made for us by Mauricio Lorca, and was aged in a combination of French and American oak. The wine was subject to only a light filtration, and so may throw a light deposit.
Considering the year, the taste is still dry and strong, but after 30 minutes of decanting, you can savor a great taste. As entrees we had a choice of Deficits and Traditos (king scallops, Ecuadorian tuna, and fresh salmon).
At the same time, the waiter passed with a Plancha De Espanadas (like Lebanese sambousik) with 3 different mixtures: beef, corn and ham, and ham and cheese. Those are really tasty and come with a sweet red sauce. Now comes the interesting and main part. A variety of three different meat pieces: the Ancho-Rib Eye and the Chorizo Sirloin. We didn't' want the lunch to end as it was a great culinary experience.
You might say, it's meat at the end of the day—how can it be so special, but the presentation and cooking techniques of Gaucho stand for themselves. For desert, we had Argentinean style Cheese Cake, Dulce De Leche Fondant, Coconut Panacotta and Pastel De Chocolate. Did you ever taste a caramel fondant, not a dark chocolate one as all common restaurants? Did you ever try a caramel fondant, crunchy and tasty without being too sweet? The taste cannot be forgotten for a long time. To end this trip into the world of taste, we were offered a Malamado, Malbec, Porto of Argentina (a bit too sweet, but good).
Two thumbs up! Go there, you won't regret it. Gaucho latest opening is the Dubai venue.
PS: Opinions around town about Gaucho diverge. What's your?