I truly doubt that all Lebanese people don't know or have not heard of Hanna Mitri. The one and only Hanna Mitri known for his uniquely fresh ice cream, perfect Maamoul and arrogantly rude character. Following his steps is his son Mitri Hanna, the sole carrier of this legend's recipes. I spent two whole hours tasting what I can safely say is the best ice cream in the world. So if you think you've had good ice cream before; trust me, you haven't until you've tasted Hanna Mitri's Middle Eastern ice cream in Achrafieh.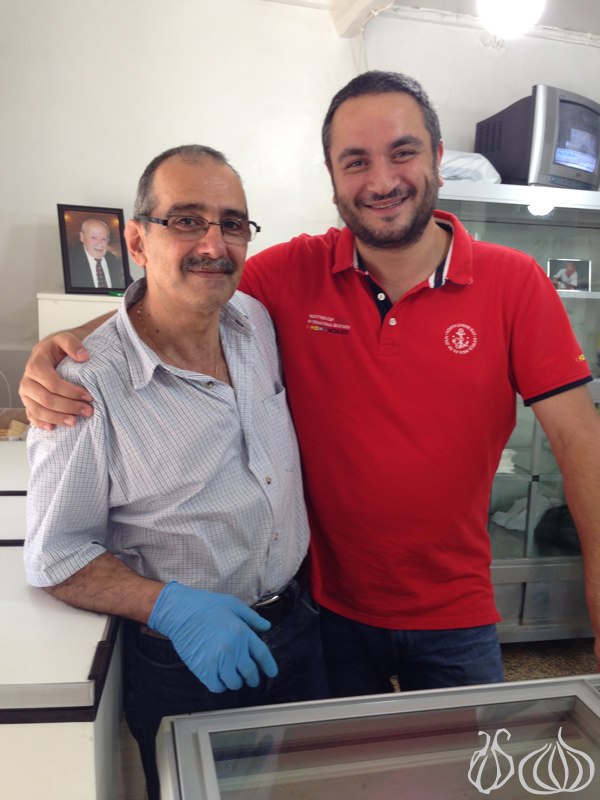 Each time we visit Achrafieh, my wife insists we pass by Hanna Mitri and I honestly didn't understand this unconditional love she has for this place. I always wondered why a small shop owned by a bizarre unwelcoming man would become that famous when other ice cream parlors are all over the place.
Today, I grabbed my iPad and camera and decided to visit Hanna Mitri to discover what's hidden behind this glass door. Down the street coming from Zahret El Ahsan, in the heart of St. Nicholas Achrafieh is a white-painted, one-room shop in a battered old building, where a whole family has been dedicated to making ice cream for the past 60 years. Today, Mitri Hanna Moussa, Hanna Mitri Mouusa's son is serving ice cream made with rose water, pistachios, apricot, lemon and milk to name a few. With my friend Lucien, we went to meet Mr. Mitri. Reaching the old shop where a sign, half broken shows (Bouzat El Salam) Lucien looked at me saying: "Are you sure this is where the best ice cream in Lebanon is sold? I wouldn't have entered this place in a million years!" I smiled while opening the door to meet the son of the iconic HANNA. Inside is a shop that's kept as is since 1949.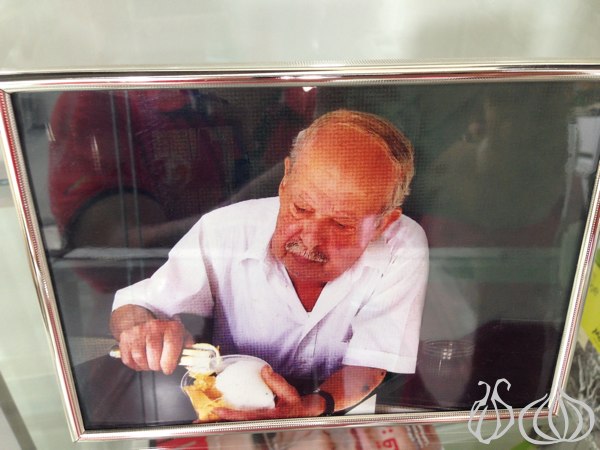 The story all began in the early forties, where three kids, brought up together in the streets of Beirut discovered the art of ice cream making while playing innocently. Inside a shop they discovered, a man used to prepare some fine Lebanese sweets in ultimate secrecy. Teaching those kids, he never thought one day that they would become famous one more than the other. Saab, Ward and Hanna each learned his way into the business life of adults. Three famous ice cream shops that have been known by everyone. In 1949, when by pure coincidence, Hanna decided to leave his job after a dispute with the landlord; he decided to go on his own. He was only 20 years old back then. Al Salam Sweets was the name chosen inspired by the football team Al Salam that used to train nearby. This same team is still known today in the village of Zghorta. It didn't take too much time for Mitri to excel and become the best of all, the master of all with an unmatched quality both his friends couldn't replicate. A journey that started with the production of all imaginable Lebanese sweets, soon changed for the lack of time to become focused on ice creams and Maamoul during winter and the festive season.
The place described:
A small cube shape place
White walls surround the space
Hanna Mitri's photos fill the place
Old Lebanese tiles cover the floor, the same ones that have been there since the sixties
An oven, the same since the old days still has the Lebanese war marks on it
A weight balance, used to prepare the 1/2kg boxes and dose the ingredients
Three fridges, one for the prepared boxes, another for the cones preparation and a third for the VIP clientele orders
An old TV, still functioning to date
A fan to keep the heat away
A split air conditioning unit, hidden behind the kitchen's curtains
Four white lamps pending from the ceiling
Two glass doors of which one is open for the clientele to enter
Not like we all think, the man's family name is Moussa and not Mitri
Mitri, who took over the family business, started working with his dad at the age of 8. He is the sole secret holder of a recipe not a single human being knows. Each and every day except Sundays, Mitri opens the shop at 07:30am where the hard work begins. Everything is done in house from the simplest things like crunching the nuts to the more complicated issues of preparing the fresh fruits. "Does anyone come to eat ice cream for breakfast?" I ask. Yes, answers Mitri, more than you can imagine.
I spent more than two hours with Mitri who told me stories... What an afternoon I didn't want to end. Stories kept on coming, one after the other, about the old days, the celebrities and politicians who came into this shop as well as why his father was known to be a harsh character... Mitri tells me stories of incidents his dad has encountered with kids and disrespectful people. He was confident about his products and quality, so kicking people out of his store was not a major problem. This is why he is known to be arrogantly rude, when I now know that it was a reaction to people's misbehavior. I was curious to know if Hanna was that harsh at home but Mitri tells me with an emotional voice that his father was the sweetest person imaginable but he had to be firm as he could not tolerate disrespectful clients.
Two hours, where I tasted everything available inside the fridge with their potential combinations.
Milk: Maybe the only real milk ice cream in town. A tempting smell and beautiful sticky texture that is adequately sweet and no ice crunching under your teeth. Mixed with musk (meske), salep (sahlab) and rose water (ma zaher), this ice cream is unmatched anywhere else
Amareddine (N2ou3): Amareddine or apricot paste is one of the best. A superb ice cream constituted of fresh apricot taste and crunching cold pine nuts. Pine nuts, considered the gold of food for their elevated price are used generously and available in each and every bite
Strawberry: Real strawberries, crushed as is. You feel the crunching strawberries bits inside this wonderful sweet flavor. How majestic!
Lemon: Indescribable. Better than any lemon sorbet I've ever tasted in my entire life. Not Haagen Dazs, nor Oslo come close to approaching a tiny bit of this extraordinary creation. A taste of pure lemon hidden inside this yellow mix, concentrated and a soft, tender, watery and crunchy ice feel. In every bite, lemon zests explode to activate all your taste buds at once. An ice cream that melts like butter and leaves a pleasant aftertaste that lasts for long minutes
Rose water: The smell alone is enough to make you smile. The journey starts with the smell and continues with a flavor that embraces all your mouth mucosa. I love the pure white color this ice cream has. Just pure perfection! I would recommend not to mix rose water ice cream with anything else as the aromas cover on all the other flavors
Peanuts with pure crunchy bits: Beautiful green color. Awesome!
Croquant: Mitri prepares the caramel croquant biscuits himself, breaks them in small tiny pieces before filling them inside the ice cream. Every bite has a nice consistent crunch as its name describes it. Caramel and peanuts (praliné d'amandes)
Chocolate: Very dark brown chocolate ice cream: Dark chocolate, strong, musk and milk. The color is enough to make you know the purity of the mix
The mixes I recommend:
Milk + Amareddine: Awesome. A mix of both together, cold, sweet, soft and full of heavenly flavors
Strawberry + milk: Ouf! Wow!
Milk + Chocolate: A classic I recommend
Important to know:
Mix ice cream biscuits is 4000 L.L
Croquant, amareddine, pistachio biscuits 5,000 L.L
1/2 kgs: Between 10,000 L.L and 20,000 L.L depending on the flavor
Hanna is known for his MILK ice cream. It is not ashta and surely not vanilla. Try not to mention these two words so as not to anger him
The famous amareddine's real name is (N2ou3) in Arabic
If one of your favorite flavors is not available during a certain day, that means Mitri didn't find fresh products to produce it. The motto: "Do it perfectly or don't"
Everything is created in here: Literally everything, fresh on the same day
All fruit ice creams are pure sorbet with no additives, no colorant and no milk added
Hanna's ice cream is found nowhere else in Lebanon: Only at the Achrafieh shop
The little things I liked:
Mitri uses blue hygienic gloves to serve the ice cream

The ice cream colours are pure and natural
Old white biscuits are used and not the new wafer ones filled with sugar and synthetic preservatives
Mrs. Moussa, Hanna's wife still comes to spend the day with her son
After tasting all of the above, Mitri looked at me and says: "I have a surprise for you... I won't say more". He gives me a cup and inside was a rare commodity, the Tout (blackberry) ice cream that he only sells in 1/2 kgs when available. He really didn't have to say more as I was transported into another dimension. I really can't find the right words to describe it: Unbelievable! Concentrated flavor and a beautiful color, just like eating the fresh berries straight from the tree...
This is an ultimate must try.
All are superb... These are the flavors I preferred:
Tout (blackberry)

Lemon sorbet

Amareddine
Rose water
Today, I discovered the best ice cream you can ever imagine tasting in the whole entire world and I really mean it. You have to go and taste it for yourself to discover what I am saying. Yes, we still have real artisans in Lebanon serving unique quality products the world has to know about.