This beautiful 17 rooms boutique hotel in Paris is giving you an option to live a %100 Paris vacation. It's full of art inside with 17 different decorations for each room. You can see everything together at the same time, jumping from one to another is another curiosity.
Cosy, lovely and this is a big piece of art which is including many pieces inside Designed by Christian Lacroix who is a famous, renowned french fashion designer and you will see the photos of the hotel with the quotes of him.
This 17th century building, the site of an ancient bakery, has been completely renovated. The facade, dating back to 1900, as well as the shop sign, both of which are registered as historic monuments, have been preserved. "I immediately fell for the slightly twisted perspectives, the maze-like passageways on the different floors and the new functional areas which have been added in full respect of the "old paris" style of the classified parts of the building. As for fashion design, where harmony is a jigsaw of inspiration in which today's influences are fed by pieces from the past, where modernity lives on in the traditions of the present." Christian Lacroix You can discover the many different faces of LeMarais from the Hotel du Petit Moulin: The Picasso and Carnavalet Museums, La Place des Vosges and also the art galleries, fashion boutiques, restaurants, cafes and theaters.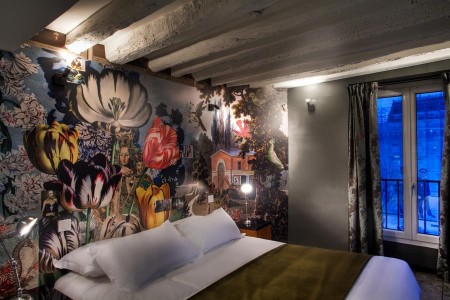 "I always loved the idea of hotels, of the journey around a room."Christian Lacroix.
Each of the 17 rooms corresponds to a way of approaching this area of Paris where you don't go downstairs by chance but rather because you are drawn by the History and the spirit of the times. One of the rooms may be decorated with cornices, consoles and mouldings, while others may be more pop in style, or more rustic.
A delightful hotel for an original break in the most romantic capital of Europe. Some of them are somewhat classic, while others are a little kitsch, or even Zen, in order to symbolize all of the different faces of Le Marais; from old-fashioned Jouy Linen to sixties design. Originality of the materials used in the rooms "collage frescoes". A part of Le Marais lives again with the delightful Hotel du Petit Moulin.