Every time I come across a new discovery, I feel like I am the happiest man on earth. The feeling of tasting some amazingly prepared street food from around the world is overwhelming... It was a cold Sunday in Paris and I felt like eating some crepes. I searched online for a good place that serves crepes and was led to L'Avant Comptoir. A simple place, that serves a simple selection of savory and sweet crepes on the sidewalk.
L'Avant Comptoir is a branch of Le Comptoir a bistro next door. In L'Avant Comptoir, things are cooler and fresher where some accustomed clientele gather in masses in front of the bar. Facing the entrance, a tiny little space of 2sqm is where the crepes aficionados wait to be served.
This shoebox-size wine bar is just steps from the Odéon and run by bistro maestro Yves Camdeborde. Next door to his seminal restaurant Le Comptoir, this place sells crepes and sandwiches during the day and hors d'oeuvres to a raucous crowd at night. Basque and Béarnais-inspired nibbles include fried croquettes stuffed with from Eric Ospital's renowned Iberian ham, a filling cod brandade, oxtail canapés with horseradish cream, and chicken hearts grilled with garlic and parsley. Plates of charcuterie are meant to be eaten (and shared) with the crocks of Bordier butter and gherkins that line the counter. No more than a dozen people can crowd into this place at a time and there are no chairs.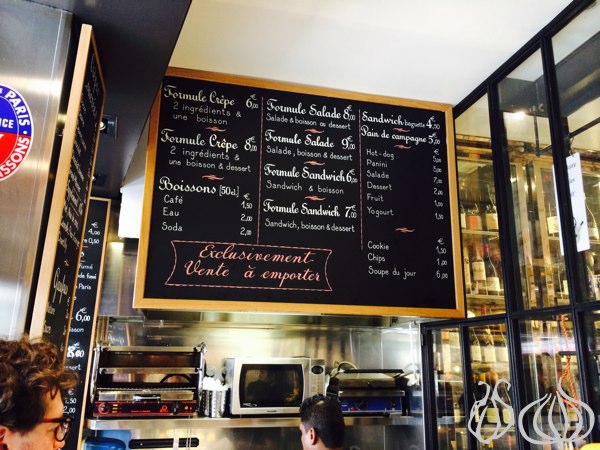 One single man, yes one by himself does it all. He cuts the ham, prepares the crepes, toasts the sandwiches, cleans the pans, takes the money, serves drinks... I personally ordered five crepes for the group, which took him more than thirty minutes to prepare. So you can imagine the queue and waiting time. The line behind me decided to settle for some sandwiches - they seemed faster to make.
The formula is simple:
2 ingredients and a soft drink 6€
1 ingredient for 4€, any additional for 0,5€
Ingredients:
Emmental, eggs, raw ham, salad, smoked chicken, smoked turkey, sausage
This is a street food joint, order, eat and leave. Don't expect anything fancy.... But the ambiance is fresh and positive.
A little tiny shop where you order while standing behind the counter
One person prepares all the orders on one single pan, the other being of or broken
Generous and richly filled, one single crepe is a complete meal for two
Inside is the bar where drinks are served in a joyful ambiance
The restaurant on the other side is where you can sit and order from the menu calmly
A wall of white tiles is signed by customers notes covering it in black writings
Pending from the ceiling, rectangles of carton display each and every plate on the menu
Looking at the clumsy man burn a crepe from here, smoke a sandwich from there or leave everything behind to go cut some slices of ham, I honestly thought I was not going to have lunch that day. It was excitement mixed with rage as hunger reached its highest peaks.
But the second I took the first bite from my crepe, I forgot about everything...
A crêpe or crepe is a type of very thin pancake, usually made from wheat flour (crêpes de Froment) or buckwheat flour (galettes). The word is of French origin, deriving from the Latin crispa, meaning "curled". While crêpes are often associated with Brittany, a region in the northwest of France, their consumption is widespread inFrance, Belgium, Quebec and many parts of Europe. Crêpes are served with a variety of fillings, from the most simple with only sugar to flambéed crêpes Suzette or elaborate savoury galettes.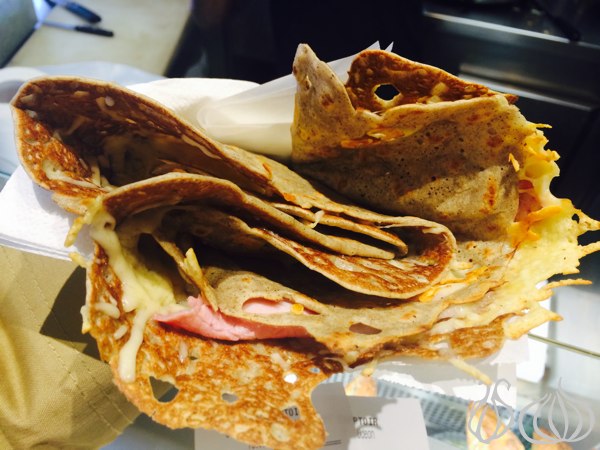 At L'Avant Comptoir, the savory dough is different from the sweet one, just like it should be everywhere. Crêpe de Sarrasin is used to make savory ones, brown and crunchy dough; while the sweet crepes dough ones is white, sweet and thick. To have a complete idea and enjoy my meal to the maximum, I ordered cheese, ham and eggs and another chocolate, banana and coconut... The savory crepe is like no other I've had to date. Filled with quantities for two or more, each bite is a journey of flavors and textures. Ham is the finest local ones cut by hand on spot; cheese is a mix of emmental from a top quality and an egg to top it all in style. As for the dough, thicker than usual, it has a slight crunch and crumbles pleasantly and breaks in harmony under your teeth - a real flavor that blends perfectly with the mix. I loved how no sweetness whatsoever is felt.
The sweet crepe is a trip to heaven. Forget about those Nutella filled crepes that have the same over saturated sweetness. First of all, the dough is unique and different. Thicker than usual, and not chewy, it has an interesting texture that absorbs the chocolate making you feel like your eating a cake. The chocolate on another hand is homemade with no preservatives and sweetened additives -purity of dark chocolate caresses your palate with every bite. Add to that the smoothness of the banana and the crispness of the coconuts... Just imagine! It is heaven!
At L'Avant Comptoir the best ingredients are used and generously added for 4€. It's amazing, especially when compared to the crappy ones you have for 10€ in more tourist spots.
Just a few meters away from the Odeon Metro Station, L'Avant Comptoir is a discovery not to be missed.