I'm not sure why our country hasn't taken to Subway. The restaurant's food is fresh, fulfilling and relatively healthy, surely healthier then all other fast food ideas.
My Subway story started back during my university years; a branch opened on the Zalka highway and I remember passing by every other day of the week to enjoy those foot long sandwiches filled with a mountain of vegetables topping a selection of meat, chicken, salami, turkey or crab mixed in different ways.
Subway closed many locations and then opened again, changed owners and franchisees until, after the latest opening next to Hospital Rizk, I decided to give it a try.
Subway Lebanon, part of Subway Arabia, now has 11 stores across the country, of which two in Achrafieh are owned by the same person. I went to Subway twice before writing this review and both experiences at the Subway facing Hospital Rizk were very good.
I was welcomed by a smiling staff that immediately said, "Welcome to Subway", as I came in. The fresh smell of baked bread and vegetables embraced me. A well lit long fridge, with an endless choice of vegetables next to a selection of sauces really opens your eyes to the range of choices on offer. Zahi, the manager, made sure every detail was taken care of, going over the smallest details to make sure you enjoy the experience.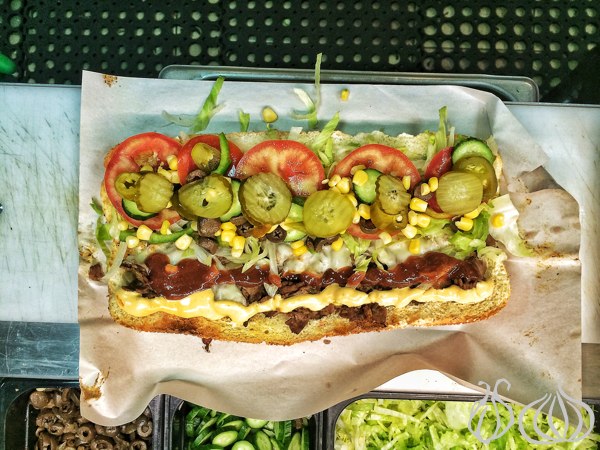 The concept is simple:
Choose your bread from a selection of five
Select the sandwich of your choice
Cheddar or Swiss cheese?
Toasted or not?
Which one of the vegetables would you like to fill your sandwich?
Two sauces can be added to every sandwich
Choices of vegetables:
Lettuce
Tomatoes
Cucumbers
Peppers
Onions
Pickles
Corn
Choices of sauces:
Honey mustard
Sweet onion
Yellow mustard
Vinegar
Chipotle southwest
Mayonnaise
Olive oil
Ketchup
Barbecue
Spending a week in Beirut, I decided to order Subway more than once. The first night, I went for the steak and cheese and the Subway club. A juicy steak topped with a melting cheese, filling a lightly toasted bread stuffed with shredded vegetables. The subway club is layers of turkey, smoked turkey and others of roast beef, cheese and vegetables. I chose to have the oat bread and the sesame bun and both were delicious. A meal is not complete without the famous Subway cookies, they're fatty, but they're also full of taste.
On the second day, for lunch, I went for the tuna, the Subway melt and the Italian BMT. The Italian BMT is a fine selection of sliced salami, pepperoni and smoked turkey. The tuna is one of the freshest sandwiches out there, a mix of flaked tuna and mayo, cold with a mix of crunchy vegetables. The Subway melt is made up of tender sliced turkey, smoked turkey, crispy bacon, melted cheese, and your choice of tasty vegetables and condiments. All the sandwiches were really good and enjoyable.
Italian, Wheat, Honey-Oat, Sesame or Parmesan-Oregano, all the buns were fresh, soft and tasty.
Comparing it with a Big Mac from McDonald's, Subway's sandwiches can have half the calories, 10 times less fat and something like thirty times more vegetables. I personally enjoy it every time as if it was the first time I've tasted it.