Although tiny in size, some places hide interesting fine culinary wonders… And Kona is one of them. Nestled on Monot street, just a few meters from the St Joseph University and couple steps away from the nightlife district, Kona, a Japanese restaurant offers an amazing variety of tasty and addictive rolls...
Located on a corner street, this place cannot be missed. Smaller than my bedroom, Kona hosts 11 chairs in the coziest setup ever, they don't deliver and don't have another branch - Kona is unique on many fronts. Visiting with my wife, just a couple of days before the end of the year, we enjoyed an amazing dinner... I will be coming back again to introduce this special place to our friends soon.
The place in few words:
Taking over the corner street, the restaurant's glass facades offer a great interactive feel with the neighborhood
A general brown ambiance refreshed with dimmed yellow lights
Inside is a rolling bar, fresh fish display and a few brown wood tables surrounded by burgundy chairs
The walls are covered with small stone blocks on one side and wood stripes on the other
A bar covered with stone
You will be dining under a low what ceiling lit with seven colored lanterns
The menu:
Appetizers (Cold, Hot)
Salads
Bento Lunch Platters
Main
Maki Zushi
Temaki Zushi
Sashimi
Traditional Zushi
Signature Zushi
Sets
Boats
Kona Desserts
Special Martinis
Dinner started with a welcome note or what's known to be the amuse-bouche in French restaurants. Sesame oil infused seaweed salad with a squeeze of lemon and octopus sashimi slice on top. A crunchy, juicy and fresh mix, topped with sesame seeds and served in a scallop shell. I loved it! This gesture made me smile preparing me for the best to come. I was not expecting anything like this to start with, more so such a variety of bites on the menu.
I wanted to order a bit of everything on the menu. The beautiful pictures displayed are mouthwatering
Salmon Martini 16,000L.L: (Thinly sliced fresh salmon served with tobiko and homemade wasabi dressing). That's a yummy plate. The salmon is fresh and non oily and the best part is the middle dip. Crunchy and strong in flavor, it's something new for me. I loved it
Shrimp Tempura 21,000L.L: (Tempura battered deep fried to perfection jumbo shrimps served with ponzu sauce). Non oily, crunchy, fresh and tasty. That's all what you expect from a dish. I do recommend them
Tempura Philadelphia 14,000L.L: (Inside is cream cheese, avocado and salmon. Outside is tempura and eel sauce) Eight pieces served on a long plate, with the famous homemade wall sauce on top. This preparation is served warm. I like the flavors and the taste of Philadelphia cheese inside mixed with the small fingers of cucumbers that crunch under your teeth. Simply and interesting
Soft Shell Crab Temaki 17,000L.L: (Soft shell crab, avocado and eel sauce) Wow! Awesome. One of the best temaki rolls I've ever had. It's a mix of rich and sophisticated ingredients in a bite. A roll larger than the normal ones and served hot on a black stone plate. I enjoyed the crunchiness of the crab and their inner softness
Salmon Skin Temaki 7,000L.L: (Baked salmon skin, avocado and eel sauce) The salmon skin used at Kona is the rigid fried one with no sauce or marination. It is chewy and unpleasant to eat. Not my favorite for sure. This piece is a mix of avocado and those crunchy skins mixing super softness with extreme crunchiness where the avocado flavor takes over on all the rest. To top it all, the rice is like inexistent in this roll.
Shaky Roll 10,500L.L: (Inside shrimp tempura and avocado. Outisde, crabsticks and siracha) Served warm and wrapped with crab, this roll's spiciness mixed with the avocado and crunchy shrimps makes it a tasty one.
Salmon skin roll 6,500L.L: (Inside baked salmon skin and avocado. Outisde tempura fried with eel sauce) Salmon skin roll is better than the temaki salmon skin but again the avocado taste is too strong and the salmon skin too chewy
Ribeye Maki 15,500L.L: (Avocado, green onion and asparagus, wrapped in thinly-sliced rib-eye steak grilled and served with teriyaki sauce) For those who enjoy meat, this is an awesome dish! A premium quality meat with no rice. Very interesting
Dynamite roll 26,500L.L: (Inside are chopped scalops and crab mix. Outside is a special homemade crunchy mix) One of my favorite creations tonight, this roll looks very nice and tastes even better indeed. Looking like a Chinese dragon covered generously with crispy and colorful lines of sauce. The special crab mix is unique and the scallops so fresh served cold. The textures are unique and the crispiness extraordinary. I loved it
Chicken Maki roll 15,500L.L: (Inside is a guacamole and grilled chicken. Outside is a spicy mayo topping) Yum! If you're not a fish lover, just order the chicken and meat rolls and enjoy a premium dinner
Alaska Roll 14,000L.L: (Inside smoked salmon and crab mix. Outside avocado and smoked salmon) Not something I'll be ordering again. The fish is too raw, too big and too crunchy while the avocado is again covering on all the other ingredients)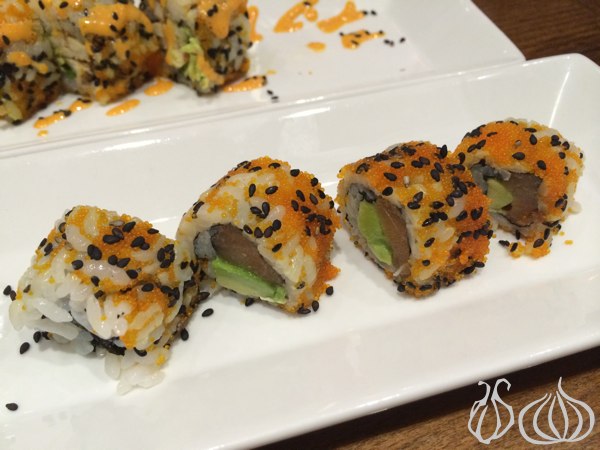 Philadelphia roll: Nothing to write home about
Don Roll 23,000L.L: (Inside is a tuna fresh salmon, white fish and massage. Outside are basil leaves, spicy mayo and red tobacco) Too much tobiko! The pieces explode under your teeth while the orange balls get stuck between your teeth. That's too much of the same ingredient that's supposed to be more of a decoration.
Rock & Roll 21,000L.L: (Inside is a crab mix, cream cheese and shrimp tempura. Outside is guacamole and eel sauce) Every piece is warm from the outside and cold from the inside. Yum! The pieces are generous served on a special plate. With every bite, expect to enjoy a strong aftertaste, nice texture, avocado purée and a crunchy feel. That's my favorite. I loved it so much that I finished all the eight pieces on my own
The pluses:
I liked the fact that the pieces do not contain too much rice but more fish
The rice is chewy and sticky and doesn't fall in pieces
The minuses:
Tables need placemats for a cleaner and safer feel
No San Pelligrino... we had to drink Perrier
I have been looking for a place like this - a place that offers fine Japanese rolls - generous in fish with little rice that doesn't fall in pieces when eating; rich in natural flavor with little use of mayonnaise. Bravo! Even though small, Kona is a must try. You'll be discovering a new kind of creations that don't have anything to do with "average sushi".