Taking over the entrance of Paris' new shopping mall, Beaugrenelle, La Patisserie de Rèves is a unique, fun, creative, futuristic, modern and fanciful pastry shop you will definitely not miss.
Enter the lab of
Philippe Conticini
and get ready to enjoy a new dimension where a
whole new meaning is given to how we buy and enjoy pastries.
In here, nothing is usual. There are no typical fridges, no big displays and no employees. In the middle of the shop are two round tables on which cakes are displayed for the pleasure of your eyes. Each piece is placed on a refrigerated slate, protected by a glass cup. You'll ask yourself if you're in a museum or a pastry store.
Beautifully decorated and well lit, this shop is kind of small with a restraint choice of cakes. The rules are simple: there are no price lists, no menus and no employees to help but a clear display of the available products, a cashier and a small window that sends out an order after the other.
After lunch at Noura up on the first floor,
we went down for dessert. A quick walk around the shop and we were ready to place our order at the cashier: A Saint Honore, chocolate eclair, coffee eclair, chocolate sables, biscuits, a kids box and a Lemonta cake.
A lot of things are to be appreciated in here before even starting to eat:
La Pâtisserie des Rêves is true to its name, the pastry shop of dreams. It's like walking into a futuristic haven of sweets and colors. The presentation, the refrigerated pieces of slate among other design details is a delight for the eyes offering a 360° experience. The best part is that you can take your time to admire every piece. You are encouraged to come closer, something frowned upon in other pastry stores.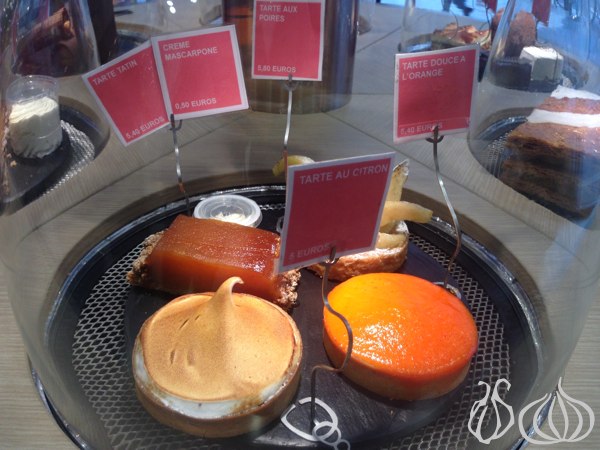 Some of the items on display today:
Eclair au cafe fort 5,70 euros
Eclair au chocolat 5,70 euros
Paris brest 5,70 euros
St Honore 6,90 euros
Tarte douce a l'orange 5,40 euros
Tarte au citron 5 euros
Tarte tatin 5,40 euros
Tarte au poir 5,80 euros
Boîte botches enfants 7,80 euros
Mille feuille 5,70 euros
Lemonta au chocolat 5,60 euros
Tiramisu 5,30 euros
Gran cru 5,70 euros
Gran cru vanille 5,70 euros
The innovation, the display and packaging details experienced at La Patisserie des Reves are outstanding. You would expect to pay a hefty amount when you walk in, but the truth is far from it. An average of 5,5euros a cake is exactly the same as the competition. But the service and presentation is way ahead of the competition. Every piece of cake is sturdily placed on a soft layer of foam inside each carton then inserted into the box that's drawer style concept. Expect to see something truly dainty and beautiful. After all, the culinary experience starts with the fulfillment of the eyes that need to see the piece with it utmost perfection. The napkins are also unique. Square and silk soft these napkins are small pieces of luxury. Everything is carefully packed in a bag and served with wooden forks/spoons. All these details must have cost them a lot.
We grabbed the bag and stood out on the sidewalk to plunge into these pieces of art.
Today's tastings:
Chocolate Eclair: A tasty premium eclair filled with rich chocolate cream and embraced with a thin chocolate wrapping. Every bite combines the crunchiness of the chocolate, the sponginess of the dough and the letting of the inner filling. Yum! This place deserves its dream name
The Coffee Eclair: This is one is my second favorites. A pastry dough covered with crumble, filled with strong coffee pastry cream (MOKA SIDAMO CLAIRE) and wrapped with a chocolate paper. The coffee and chocolate contrast is exquisite
The Saint Honore, which is hard to eat with its sharp caramel layer, whipped cream and Pâte feuilletée (inversée) caramélisée, Pâte à choux et choux caramélisés garnis de crème pâtissière à la vanilla with Crème légère is good but not great as I hoped it to be
The Lemonta cake: A new creation for me that's filled with wonders like a ball of surprises. The crisp meringue with chocolate blends divinely with butter cream and vanilla. Bite into it to reveal the two meringues hidden inside this cream battered in chocolate flakes.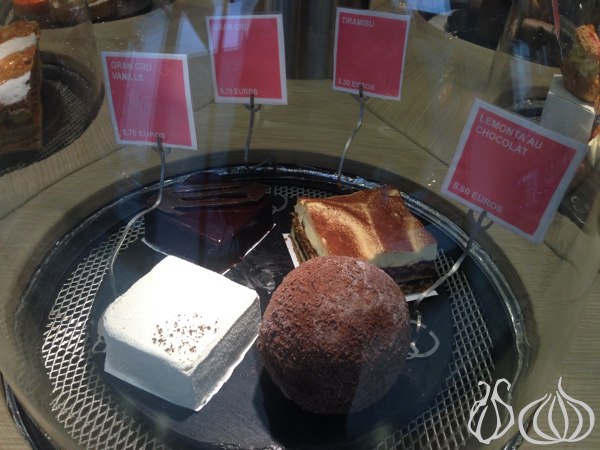 The Kids Box is a variety of many mini size cakes. They are all fresh and crunchy. I enjoyed them to the max
The viennoiseries and cookies: Majestic
Today was a new discovery, a new culinary adventure that left me amazed. One person dared to improve the era of pastry by creating a dream house that sells interesting and innovative creations that don't only look good, but taste amazingly good at the same time. A must try next time you happen to be in Paris.