La Place De L'entrecote By Mr. Joe is a copy of the famous world renowned Entrecote De Paris yet with major differences.
You are welcome into a dark ambiance as you start up the stairs to the second floor reaching their summer terrace. Important notice: If you have a broken leg, or accompanying your grand-parents. It's not a place for you.
Let's talk about the details of this restaurant:
- Too much clutter on the table. Three knives and three forks next to a plate designed for Mr. Joe. - Small wine cups that are very unpleasant to drink with. - The salad dressings (lemon and vinegar) are poured from green Perrier bottles. Bizarre and cheap looking. - French music playing in the background from the days my father used to party. - Unfortunately the air-conditioning system is not strong enough. While trying to enjoy your dinner, two waiters standing in the middle of the restaurant open up one conversation after another. They look bored and just chitchatting to make time pass quickly. If they are not talking they are walking back and forth aimlessly. The only times they don't talk is when we open up a discussion. A sudden silence feels like they are snooping in to our conversations.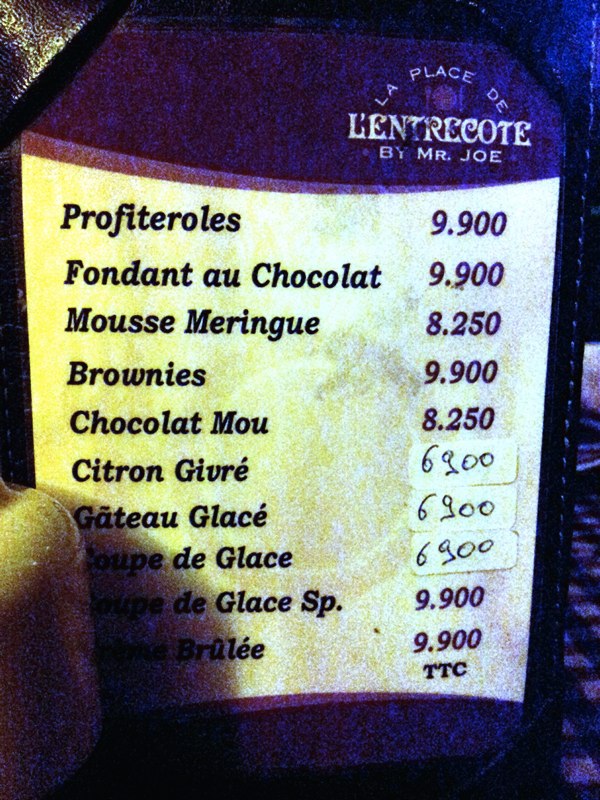 The food experience is enjoyed in a non-smoking environment:

- Mini hot crunchy French bread is served to start, with butter and green olives. - The meat quality is average but the homemade signature sauce is delicious. Close to what the original entrecôte serves. - French fries mixed with the sauce are delicious. - Desserts are not tasty at all.
For what they're offering at the price proposed ($35/person) it's a fair place. But the place urgently needs some managerial fine tuning. It's not my favorite and I prefer Le Ragueneau and the original Entrecôte where customers are better served and taken care off in a less commercial ambiance. And by the way the big sign detailing the price at the entrance is not appealing at all.
The place is also called Le Distingue. I don't see why.