As much as I like M&S Food, Lafayette Gourmet is even better. A fine and luxurious piece of heaven where one can go and spend hours satisfying their senses with colors and aromas. Different food types from around the world, wines, various types of beverages, fresh seafood, vegetables, chocolates, cakes, bread, ready to eat food and much more, are here to satisfy all your needs.
In the heart of Cap3000 Nice is a high end grocery store, and definitely a chef's haven, Lafayette Gourmet. Located close to Nice airport, this gourmet spot offers a good selection of fruits, vegetables, fresh fish, fine epicerie and a bakery, plus a large variety of international food types in the 'foreign foods' section, with a great choice of English and American products.... A food court is set in the middle of Lafayette Gourmet where dozens of high tables and stools are found. Four restaurants and their display fridges are here to serve you lunch until 3pm:
La Boite a Pates, Le Traiteur, Mavrommatis les Saveurs du Sud, Stand Italien. Although the pasta smells were amazingly haunting the place, we opted for Le Traiteur, a restaurant serving salmon, hot preparations and Foie Gras. We ordered a couple of fresh items from the tiny little menu:
Foie Gras du Sud Ouest

Foie Gras de Strasbourg
Le Saumon Fume (Norvege, Ecosse)
Salades
Quiches
Chauds
We ordered:
Salmon Bagel: fresh and crunchy, the bagel and salmon are heated, making the mix warm, the bagel crunchy and the salmon cooked. A thin layer of cream cheese is added which makes all the positive difference. Very yummy. 9,8€
Salmon Salad: (Saumon fume, mesclun, haricots verts, tomates, sauce aneth) a generous mountain of lettuce covered with thick slices of Scottish salmon. 13,8€
Wild Norwegian salmon: a 24€ plate that is worth every penny. Simply majestic.
The salmon plate: (Scotland, Norway and fresh salad) what we call in Lebanon the BBQ salmon, or the thick uncut slices of salmon are offered on a salad. Three choices (pepper, dill, natural smoked) are from the kind you won't find around just anywhere. Thick, pure, non oily, filled with natural healthy fat. They are so good and melt under your teeth. 13,8€
I invite you all to try the Norwegian and Scottish salmons to check out the difference for yourselves. The Nordisk one is beige, lighter and less oily with a stronger and fresher taste, while the Scottish one is orange, contains more fat and is oily with a stronger fish taste. They are not to be compared on all levels: quality, taste and price, the Norwegian salmon is by far better.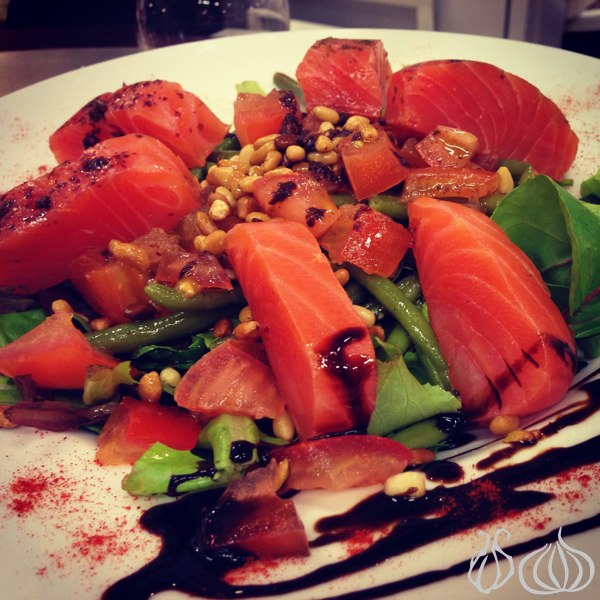 The salad that accompanies all the plates is also very tasty:
Green beans
Cooked pine seeds (Those add a magical flavour)
Tomatoes cut in little cubes
Rocket leaves
French lettuce
Balsamic vinegar dressing
The waiter, although not smiling was welcoming. She took all the necessary time required to answer all my questions. Sitting on the bar facing her working tablet, we had a quick yet worthy lunch. Want to enjoy a pleasant premium meal in Cap 3000 shopping mall, Lafayette gourmet is a recommendation.
After lunch, I took all my time to walk along the aisles of this magnificent food haven. I enjoyed each and every color, absorbed all the fresh aromas - discovering the origin of each item from different parts of the globe... Check out the mouthwatering pictures.