The Chowzter
event started when we all met at the Hoxton Hotel's garden square for a chitchat, with a few bottles wine to break the ice. I was so excited to meet bloggers from around the world, all putting much effort in bringing the world some fine recipes, food discoveries or restaurant reviews. For example, I met a guy who writes about interesting subjects that magazines don't tend to cover, like having meals with celebrities.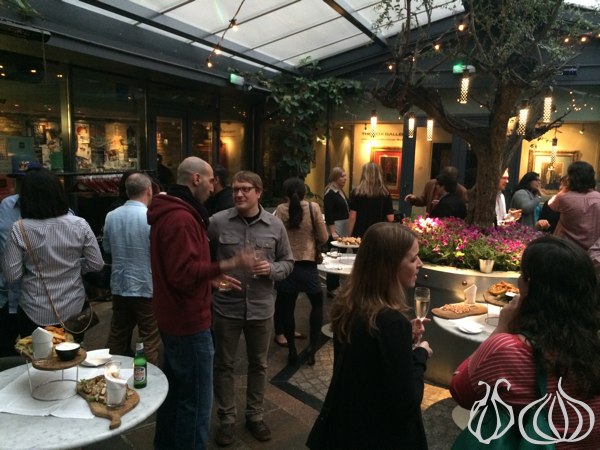 Each year, Chowzter is committed to finding the tastiest fast feasts on earth. In the process Chowzter hopes to provide amazing tips to foodies around the world about where to get delicious fast feasts of the highest quality at a good price, anytime and anywhere. We are seeking Fast Feasts, which should not be confused with historical notions of unhealthy fast food. Chowzter is committed to fresh ingredients, prepared at the moment of consumption. I was excited to receive the schedule in advance:
Day 1: April 25th, Friday: Meet at the 'Garden' at the hotel
Day 2: April 26th, Saturday: Food Market Tour. Two separate groups, one will go to Borough Market and the other to Broadway Market. Afterwards a Steak Symposium is taking place at Flat Iron Steak
Day 3: April 27th, Sunday: A walk to Fish Central for a fish symposium and round table before meeting for the 2014 Global Chowzter Awards
Intrigued to know what the wines on offer would be like I started with a proseco followed by a red wine and then a cold white to see what they had to offer. The Doc Proseco extra dry is fine with interesting aromas and good textures, rated 3,9 on The Vivini application. As for the rest of the wines, I was in shock. Siete Soles, Cabernet and Merlot from Chili 2013 ended up left alone at the table, it wasn't alone for long though, a white followed: a Riebeek Cellars collection from South Africa. A nice aroma but an acidic and dull taste with a bad aftertaste that followed on. I'm not sure if they were not kept in the sun for sometime.
And now was food time:
Potato wedges with paprika were great. Served hot, crunchy in the outside and soft on the inside. Sour cream.
Salmon tartare served in small square toasted bread. A crunchy bread topped with a mix of salmon cubes. Rich and full of taste
Mini cheese burgers: literally mini. One bite of a small enjoyably chewy bun filled with a piece of round meat. A thin slice of lettuce, cheese and a juicy patty. A good bite, that's for certain.
The Thai chicken came on a wooden board. The mountain of chicken was very juicy and left off mouthwatering aromas. I bit into one and felt the richness of the Thai spices trapped inside a grilled, charcoal-tasting envelop and its flavor.
Steak Potatoes: The best of all and innovative. A square of fried potato topped with a slice of meat, similar in style to shawarma. A very nice mix of two ingredients that married perfectly well and were enjoyed without the bread that normally absorbs all the flavors
Mini Cajun shrimp pops: Fried battered shrimp seasoned with some fine spices. Crunchy, juicy and enjoyable. I loved them.
Macaroni and cheese: After a short brake, the waitresses passed with large trays filled with individual portions of macaroni and cheese, served in a bamboo bowl. I personally found those to have a strong lemony aftertaste and to be lacking in salt.
Chicken wings: A tasty rich sauce, covering small bites of chicken wings. A good idea for a finger food event despite the fact that it should be presented with wet wipes to clean up your fingers afterwards
Everyone was happy eating and drinking while the world's finest food bloggers, according to Chowzter, got to know each other.
Things I Enjoyed:
I liked how the food was served fresh and hot
I loved the freshness of the bites
It was all presented on real wood plateaus and well decorated
The sauces were very tasty
Service was really good and professional
Unfortunately it was too hot and humid that night, but the ambiance was so joyful that we forgot about the negative things. The three-day event was just starting and the best was yet to come.