By the looks of it, 2014 may be just as well be dubbed the Chocolate Year. Many brands as well as chef's are focusing on this product, giving it more time, more research which help them create signature products based on chocolate... Haagen Dazs launched its first chocolate bars in December, KitKat opened its first boutique as well, Alain Ducasse's Chocolate Manufacture is taking over Paris by opening many new locations, La Maison Du Chocolat is now available in every other city around the world and now Lindt, the chocolate giant, has just opened its first and biggest flagship boutique in Paris.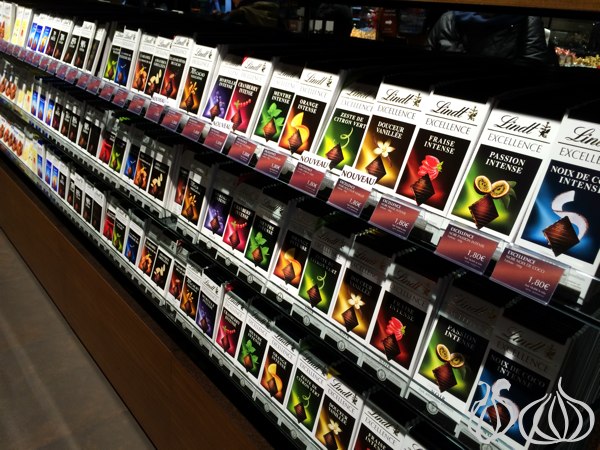 The famous luxury Swiss chocolatier Lindt has just opened a flagship shop in the Opéra neighborhood.
Facing the back of the Opera Garnier, Lindt welcomes you into a large space fully dedicated to chocolate. Enter into a world just like Willy Wonka's chocolate factory. To the right is the chocolate bar where drinks, cakes, macarons and ice creams are served. Yes, Lindt offers ice cream flavors. To the left, the long wall fully covered by Lindt's chocolate bars - you will be mesmerized.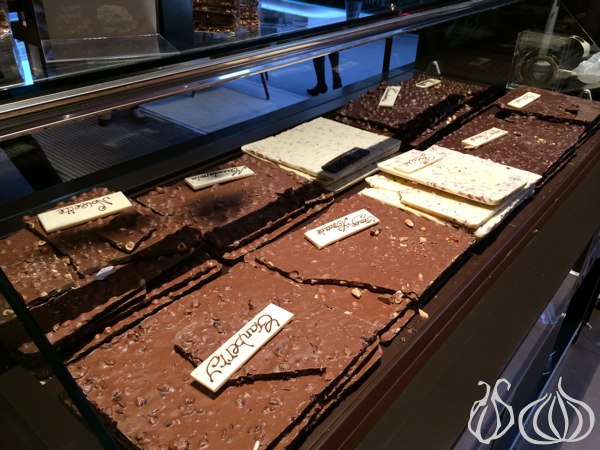 In the middle of the shop, huge basins are filled with chocolate bonbons, Lindt's signature items. Take a bag and fill it up to top. Blue, silver, yellow, red, black, the choices are endless.
Moving upfront the store, chocolate choices continue to erupt until you reach the very end of the shop where a Lindt chef prepares chocolate bars and arrangements. What caught my attention are the six chocolate fountains continuously flowing - you will find two at the entrance, two at the bar and two next to the chef.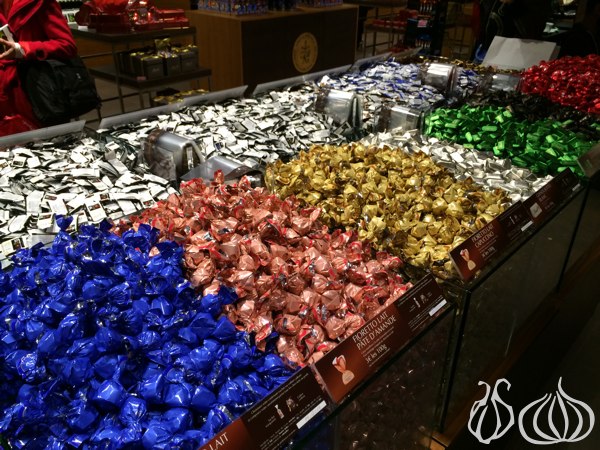 On 11 Rue Scribe, Lindt offers a modern and elegant space where shoppers can choose from the largest selection of Lindt chocolates existing in France. In fact, this Parisian flagship store is the biggest Lindt boutique outside of the company's native Switzerland. With 160 stores worldwide, being the biggest store of the Lindt brand is truly something special.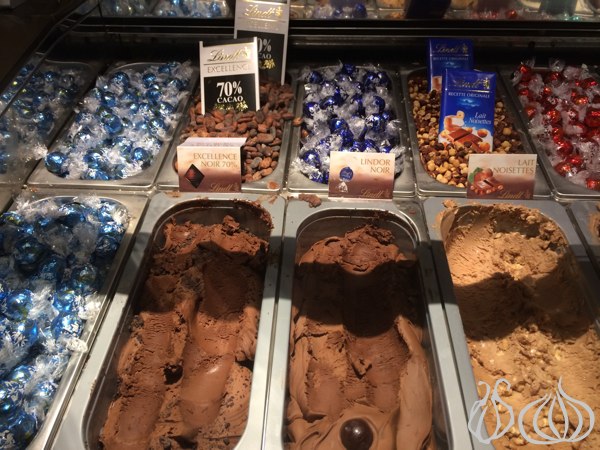 Whether shoppers want to try a dessert, buy chocolate by the gram or nibble on freshly made cocoa confections, the Lindt flagship store in Paris provides all the chocolate they could ever want. You can sit at the Chocolate Bar taste drinks and desserts concocted using Lindt chocolate...Or have some yummy also using Lindt chocolate is also a choice - have them all - but make sure you don't overdose on chocolate. There is something for everyone at the Lindt shop.