L'Oca Matta was created by a fine Lebanese Gourmet, married to an Italian lady from Toscany; he lived a good part of his life there and after a successful career as a dentist, he decided to make his dream come true. Sacha, the owner, welcomes you in his restaurant with a big smile and a lot of attention. The restaurant is located in a old Lebanese house in Mar Mikhael. The renovation of the place gave three wide rooms with a bar. Each room has its own theme and its own character.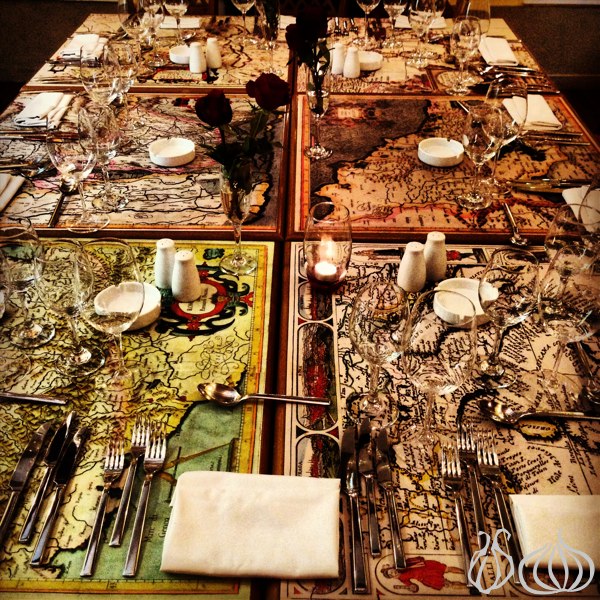 After visiting L'Oca Matta three times already, I headed down again to attend their special event hosted by Mr. André Ostertag, wine maker from the Alsace region. Andre and Sasha, friends from a very long time, welcomed their customers to discover a fine dinner where Italian food and Domaine Ostertag wines are perfectly married together for an ultimate pleasure. Dinner started around 9pm with a plate of Parma ham and bread baskets distributed on all tables. Wines from the Domaine began flowing one after the other. 5 wines, accompanied 5 plates. A rich and generous dinner that was priced at $110 per person.
The Place:
The external red lit sign appears clearer and wider
A black board features some antipasti. I didn't understand that little detail
More light is felt all over the place. It's more joyful and feels more welcoming
At the entrance is a large square table with Italian style porcelain coverings
Strong red wooden chairs surround it
Two red roses standing in champagne glasses decorate every table
In the side rooms, long square tables are covered in red and white napkins
I love the real wood flooring
The different crystal chandeliers add a touch of finesse and luxury
I honestly still don't understand what L'Oca Matta is all about. Is it an Italian street trattoria or an Italian fine dining restaurant? Either or, some major changes in its decoration, table setting and service are required to fit any of the two concepts.
The Food proposed tonight:
Foie Gras de Canard (Foie Gras slice served with a quarter piece of toasted bread, pears baked in red wine and half a green fig) The Foie Gras is very delicious and blends perfectly with the sweetness of the cooked pears. As for the toasted bread it is too crunchy. I think they were confused as to what we were eating, Labneh or Foie Gras. It should be a piece of soft toasted bread that can be picked with the fork and not one that crumbles into a hundred pieces when the fork touches it. The fig piece is an add-on I found unneeded on this plate.
Carpaccio de Bianco Branzino (Carpaccio de loup de mer) A bit too fatty and too oily. Mixed with moutarde a l'ancienne, and even though it's too oily, it has a special taste that marries perfectly with the white wine.
Risotto Branzino (White sauce risotto with white pepper, little pieces of cooked fish, curly parsley and a smoked large piece of Loup De Mer) The overall mix has a smoky taste and a lemon zest that gives this plate its unique tasty signature. As for the rice it was way over cooked like the one my daughter eats with Laban. Bad for them; a perfect plate missed.
Côtelette de Vœux Blanc (Baby carrots, green beans and sauce) a big piece of entrecôte served on a large white plate. A bit too dry and too oily. A dish everyone at the table appreciated except me. I, personally, didn't feel anything special about it. I was expecting to feel mesmerized.
Gâteau au Chocolat Crème Anglaise (Dark chocolate mousse piece of cake on a couli of vanilla) I loved the taste, hated the presentation. A success it is. It seems L'Oca Matta is better in serving desserts. I can still remember their unique Tiramisu which I tasted a long time ago.
As an overall impression, the food was fine. The same exact impression I get every time I visit L'Oca Matta: Fine, average and acceptable food.
Wines tasted tonight:
Vins de Fruit are the primary expression of the varietal, prevailing over terroir. They are blends of various terroirs leading to complex wines with distinctive rich aromas. These luscious and easy wines enable many different food matches. While they can keep, all Vins de Fruit drink delightfully in the first years to enjoy their lively character.
Vins de Pierre express the distinctive features of one terroir in particular. Each wine bears the DNA of its origin and some spots happen to have a soul or some kind of energy. Quite often, these are places that were planted in vines a long time ago, back to pioneering Cistercian Monks who made today's great vineyards. There, varietal does not prevail and is used to bring the earth and sky to life. Vine roots draw the subsoil's elements with their slightest differences, then release the minerality of source rock into the grapes.
Domaine Ostertag, Vin d'Alsace, 2011, Gewürztraminer: This is a very bright and elegant wine, with aerial balance and no heaviness at all. It has flavors of yellow and white fruits, honey and a hint of sweet spices and white pepper. Best enjoyed young, it reveals its charms before the meal, as well as with exotic white meat dishes, or after the meal with light pastry or chocolate. A sweet wine, concentrated with aromas that stay along your nose for some time. Fruity and tasty without being strong or acidic. It smells and tastes a strong aroma of roses. The Gewürztraminer is a wine that can be tasted young this is why the 2011 has been chosen.
Domaine Ostertag, Vin d'Alsace, 2011, Fronholz, Rieling: This is a classical expression of a great terroir Riesling: refined, frank, elegant. The Fronholz has the specificity of giving a salty finish to the wines, whatever the grape is, due to the numerous mineral salts in its soil. This mouth-watering salinity makes it a great wine to pair with a large range of food. A dry white wine, full of taste, less aromas, not sweet. Perfect for a carpaccio and risotto.
Domaine Ostertag, 2011, Grand cru, Muenchberg, Riesling: The Muenchberg Riesling has incomparable elegance and length, with a delicate and fleshy structure. In this wine, the volcano and the sandstone meet with perfect matching. The sensual and feminine sandstone makes the charming mouth entry, while the volcano, masculine and primal fire, stretches it on a fine and everlasting finish, nearly salty and full of texture, so typical of the Muenchberg. This white wine is stronger with a volcanic smell that blends perfectly with the smoking aromas of the risotto.
Domaine Ostertag, 200, Zellberg, Pinot Gris: The Zellberg produces a full and complex wine thanks to the clay's flesh, to limestone's « animal » radiance and to the sandstone's blazing structure. The aging in barrels allows a slow and controlled oxidation essential to Pinot Gris. This innovative approach is the common basis to all the domaine's dry-styled Pinot Gris. A savory wine filled embracing many aromas. It was chosen to be coupled with the veal meat. Wouldn't a red wine have been better?
Alsace, 2010, Fronholz, vendanges tardives de Gewürztraminer: The FRONHOLZ has been producing late harvest Gewurztraminer every single year. The wine has refined aromas of roses, mango, peaches and honey all blended gracefully, with intensity and finesse and never showy or heavy. While it has a high sugar level the concentration is barely felt in the mouth, thus it has a wide range of food matching: as an apéritif with dried fruits, on foie gras, blue cheeses, fruity desserts, or even as an after-dinner drink.
Superb wines indeed. We would all love to see them in the Lebanese market.
What I didn't like tonight... The needed changes:
The cutlery and plates are too bulky and of an average quality. For what is proposed at L'oca Matta, an upgrade is needed
The service doesn't follow the minimal rules of table serving conduct: plates should be served to women first, elder people after the others. In this case, the nearest to the kitchen is served first
Waiters need training. They need the minimal knowhow. They are really unacceptably unprofessional
Since smoking is not allowed: Change the ugly ashtrays with cigarettes suport
Next time you have an event, the least that should be done is to have printed menus of the food and wines to be served, explain more about the event...
Wine brochures are a must on all the tables, explaining the history of the Domaine and every single wine we are tasting
More focus is expected on all levels. Clients are demanding and picky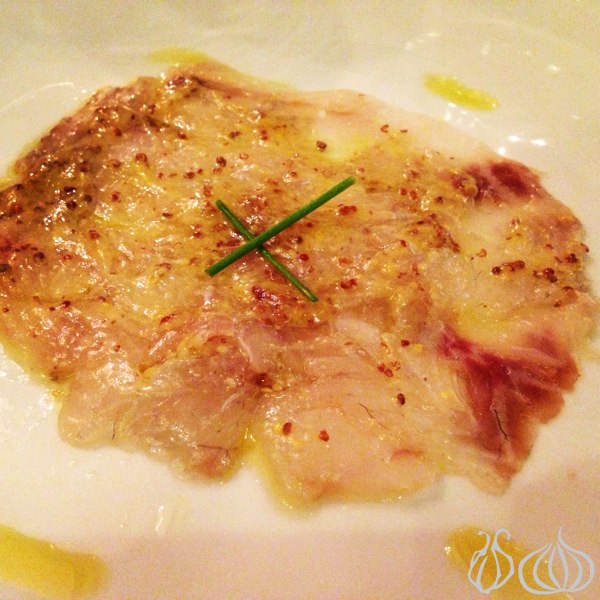 The waiters deserve a paragraph:
The waiters are below the minimal average acceptable
They have no clue what a waiter's job is. Training is needed ASAP
Changing the cutlery, the waiter responsible for our section got them with his hands as if he was at a scout camp. Next time, think of getting them on a plate covered with a table napkin
Waiters were running all around like headless chickens
Their clothes are disgusting: cheap sneakers, thick funky belts and stylish jeans! Aren't we in a fine Italian restaurant?
One of them walked around with an untied neck tie, the other with an open shirt and his white under t-shirt showing and another waltzed around in his Converse. Come on!
Two ladies, in their normal clothes were circulating around the place. I didn't understand their job description
Adding some bread to the basket, the waiter grabbed them with his hands and added them to the basket as if he was at home with mum
The improvements since last time:
Service is quicker
Food temperature is much better
Wine glasses have been upscaled
L'Oca Matta is a restaurant that has proved after my four visits that it has a lot of improvements to make. Many mistakes are stack one over the other making me feel sad for this establishment that has everything to compete with the best. A clear "Laisser-Aller". With all due respect to all other members of staff, the only professional person who can make a difference in here is Maitre Jacques who was the only person tonight taking really good care of all the little details like if we were in a fine dining restaurant. Bonne Chance.