A couple of minutes after Bickfaya, on the hills of the Naas region is Lola.
Lola is the restaurant everybody has been talking about for the last year or so - both good and bad...so I wanted to eagerly go and experience it myself and discover the hidden wonders.
Even though no detail is left unconsidered, Lola, created by Alain Hadife, is a simple place. A traquil ambiance far from the hustle and bustle of the city. Reaching this simple, cozy and comfortable restaurant, you are welcome into an outdoor garden, where nature plays an important role. High pine trees and flowers decorate a large terrace where old wooden shutters cover the ceilings and dangling metallic candle-like chandeliers light up the place, while the floors are covered with natural stone. You have the choice to relax on the couches on the left wing or on the leather chairs on the right wing both surrounding wooden chairs.
Lola is a personalized patchwork of ideas, feelings as well as styles...
The Menu:
Reveillez Vos Papilles (Starters)
Bon a Partager (Plates to Share)
Nos Bruschettas (Brochette)
Cote Cuisine (Two special dishes proposed)
Cote Grill (What made this restaurant famous)
Accompagnements (Side Orders)
Cote Delices (Desserts)
Cote Enfants (Kids Menu)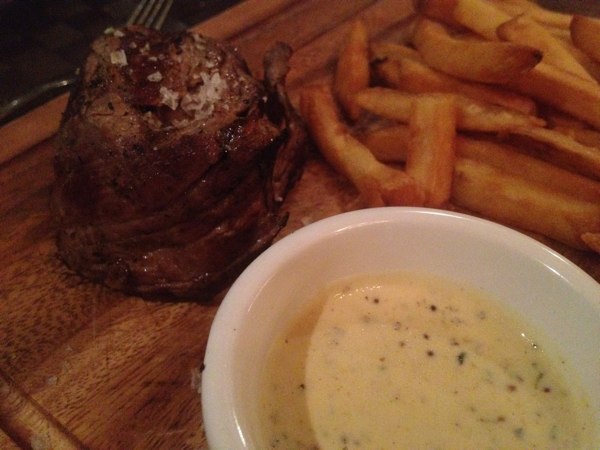 We Ordered:
Salade Verte (un melange de feuille de chene, lollo rosso et bianco, assaisonnement huile d'olive et citron)
Salade Paul (Roquettes et lollo verde, tomates sechees, edamame, brie, pomme verte, assaisonnement au cidre)
Mesclun de Chèvre (Roquettes, lollo verde, chevre, tomates sechees, pain de campagne, sauce balsamique)
Feuillete au Frontage de Chevre
Plateau de Charcuterie
Plateau de fromages
Cote de Boeuf Wagyu Australienne
My opinion about the food. Before anything I think the prices are too high - price verses value is non existent.
The cheese platter is too small and not appetizing.
The Cold Cuts platter has more white fat in it than meat.
Their "well done" meat is burnt black.
Potato purée is over oily (1kg of potato for another of butter). Less fat would have made it edible and maybe tastier.
Australian Cote de Boeuf is too fatty. An expensive plate, where a little piece of meat can be enjoyed while the rest of the fat is thrown away.
The Desserts are delicious indeed:
Tarte au Chocolat Fondant
Pain Perdu et Glace Vanille
Tarte Alcazar aux Bananes Caramelisees
What I liked about the place:
The relaxing architecture
The soothing musical background
The glass water bottles
The grilled taste of the meat
What I would definitely change:
The waiters who are young and trying their best but need much more training
A better outfit for the waiters which can match up to the standard of this restaurant
More French cuisine dishes rather than focusing on the meat
Although I like the place, somehow I feel that there's something missing and I can't really put my finger on it. People around town echo different opinions which reflect badly on Lola as they say sometimes it's good and sometimes it's not.