Have you heard of the Love Cloud? Imagine stepping into a plane all to yourself, only with your loved one, and find a comfortable custom cabin with pillows, cushions and blankets to relax on... fly high and enjoy the ultimate intimacy from above...Does that sound kinky or not? 
Well it actually exists. Love Cloud is an exclusive and professional aircraft sightseeing concierge company that is located in Las Vegas, Nevada
.
Whether it is for celebrating a wedding, anniversary,  birthday, Valentines Day, special occasion, or just for fun, Love Cloud gives couples the chance to fly in a twin engine pressurized aircraft around the skies of Las Vegas which allows them to enjoy the mile high fantasy.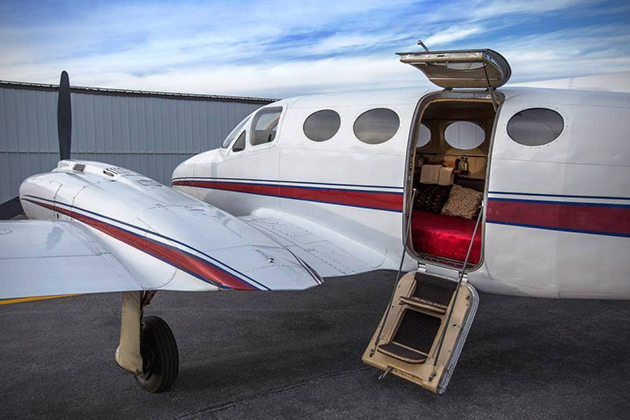 Daytime flights consists of a tour of the Red Rock Canyon, Hoover Dam, Lake Meade, and the Las Vegas strip. While nighttime flights consist of a continuous flight over the beautiful bright lights of Las Vegas and a final low pass of the Las Vegas Strip. A professional and discreet pilot serves every customer the same to make the occasion one that they will never forget. Once airborne and exactly one mile in the air you are free to move around the cabin and do anything your heart desires.
You have the option of bringing your own playlist of music to play from our wireless sound system or you can pick, choose, and/or create your own playlist of songs from our own Love Cloud music collection. After the flight you will be presented with His and Her Mile High Club VIP Certificate Cards and will then have a photo next to the aircraft so that you have both a picture and card to remember your romantic adventure by.