Aubrac is a region in the Massif Central with its own race of cattle, a Charolais cross renowned for its quality meat. This down to earth restaurant just off the Champs-Elysées is a surprisingly good bet for quality and price given the location. The service is attentive and the cooking amply honors the tender Aubrac beef. Entrecôte, rump steak, tartare and bavette will all be familiar to meat lovers.
Nestled in the heart of the Champs Elysees, The Maison D'Aubrac serves meat based dishes from the houses own farms. On the mast page of the menu, you can read about the cows that live in a pleasant ambiance listening to classical music and receiving a daily dose of massage.
"OBOE": Found on the menu's first page are the four letters representing words that best describes the meat: Original, Bleu, Coeur, Ecologie, Omega, Bien-etre, Equilibre, Environnement, Ethique, Boeuf, Ble... (viande d'Aubrac par Christian Valette)
The place architectural notes:
A feel of dining in a farm back in the region of Aubrac
Wood separate all the tables from each others adding more privacy
Wood and marble floor
Next to the entrance, a long bar displays and serves a large variety of drinks
Yellow dimmed light enchants the restaurant
Red is also available reminding you of the logo covering all the ceiling
Writings on black boards are all over the place
Wine bottles decorate the bar
Wooden tables with designs on them are different one from the other
The menu sections:
Starters and courses of the moment
Our meats
Cheeses
Desserts
Wine
Dinner started with bread and the order taking by a gentle smiley waiter.
We had for dinner:
Risotto Cremeux: (Creamy risotto with scallops, smoked shellfish sauce) A well cooked aldente rice floating in a shellfish sauce and covered generously with scallops and a Parmesan chips. I loved it
Tartare de Saumon Bio: (Tartar of organic salmon marinated in coriander, avocado tartar) The plates looks s mouthwatering with its colorful crunchy vegetables seasoned with balsamic vinegar. The block of salmon tartar is decorated with soft avocados. A recommended plate
Croustillant de Chèvre: (Goat cheese with honey and crunchy salad) This is yummy and up to the standards of a fine dining restaurant. A cake of puff pastry filled with warm goat cheese and covered with balsamic vinegar. Every bite is unique with its crunchiness and softness combined. Colorful vegetables on the side add the needed finesse. Behind every bite, a hint of sweetness provided by the honey will make you smile
Filet de Boeuf: As they market it, it is a piece of premium meat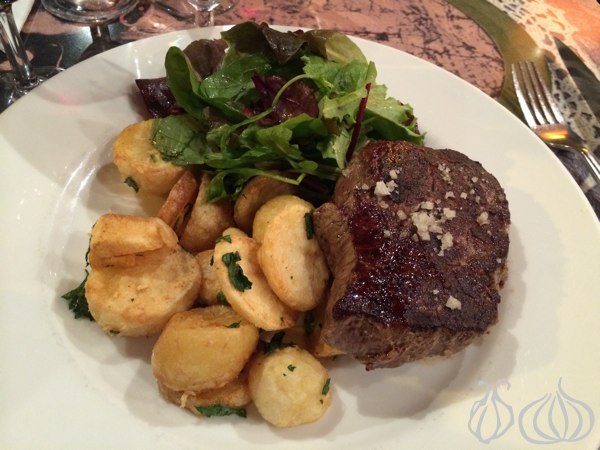 Cote de Boeuf, for two: Even though it's too fatty for my taste, this piece of meat is truly premium. Its color, shape and texture are very good
Pot-au-Feu: A rich selection of meat and vegetables all boiled together in a pot. Interesting indeed
If you enjoy a good piece of meat and want to enjoy one in the heart of the Champs Elysees, La Maison d'Aubrac is the address. The best part of this place is that you don't feel like a tourist.