To celebrate Easter 2014, Nicolas Cloiseau, Master Chef of La Maison du Chocolat has crafted a magical chocolate atelier run by playful Easter bunnies. There's one single piece of this art work and if you want it, it will cost you $1200. The bunny rabbits are made out of milk, white and dark chocolate; the atelier is all chocolate too—the cabinets are white and dark chocolate, the floor tiles are milk chocolate, miniature pastries in colored white chocolate and dark chocolate and the spoon is dark and milk chocolate. There are also praline eggs!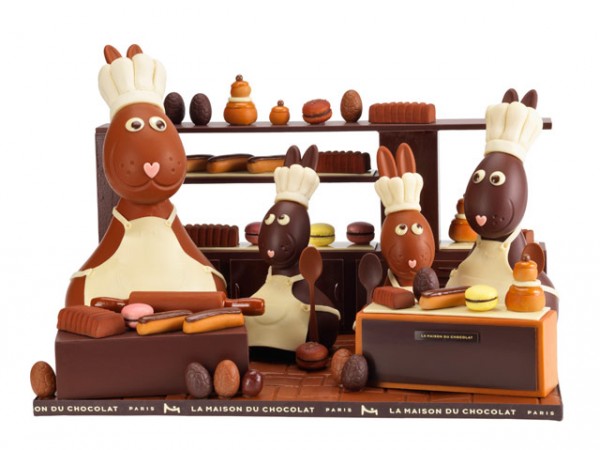 Here is the company's description
:
Turning upside down the world of sculpted chocolate, in Cloiseau's childlike vision, mischievous bunnies rub elbows with a delectable assortment of colossal chocolate pastries, éclairs and macarons. The scene is brimming with many cherished signature pieces: the pastry rolling pin, a symbol of the timeless cakes of La Maison du Chocolat, the impeccable chef's apron, stretched wide around the waist of an egg, colorful macarons, filled with signature chocolate ganache. The happy, wide-eyed bunnies, with candid expressions, and smiles that reach from ear to ear, are ready to work, with gigantic spoons for arms, and their long ears, cheekily peeking through crisp white chef toques.