Matsuri seems to be one of France's famous Japanese restaurants with more than 16 branches including different parts of Paris, Lyon, Reims and Saint-Etienne. In its Passy branch, Matsuri has a long conveyor belt serving more than 40 guests all along the way from the kitchen, back and forth.
I really don't know if its my luck but I have yet to try try good Japanese food in Paris. I don't know if their way of preparing is different than others places I have tried, especially in Lebanon, but something is off. Matsuri is my third disappointing Japanese dinner experience in Paris - very average sushi in a place they consider high-end and expensive.
The place:
Matsuri has tables around the main part of conveyor belt making the place spacious enough to cater to more guests around the moving snake
A dimmed light welcomes you but it's not enough to see what you are eating
A big open kitchen where you can see food being prepared live
Two cash machines, one for the dine-in customers and another for the take-away orders
Tables of long wooden strips create a nice ambiance
Black leather and metal chairs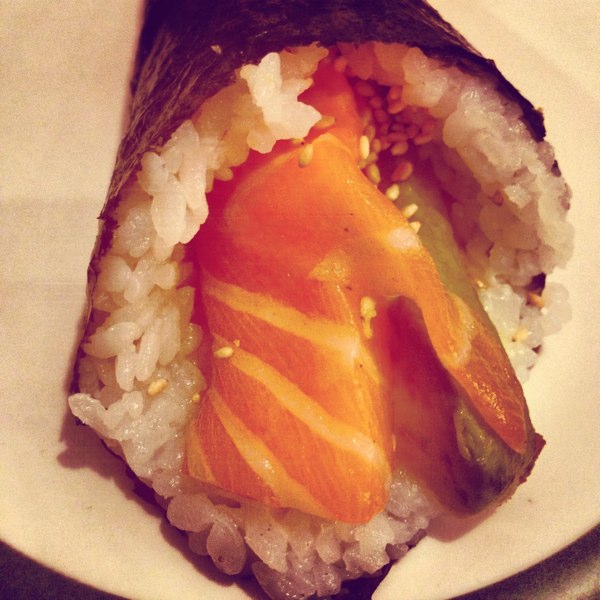 What I didn't like:
The nylon laminated menu is very cheap for what is a considered a high-end restaurant
The staff is not welcoming and they give out an unpleasant vibe. They don't know what a smile is
One dish had a black hair inside. When we sent it back to the kitchen and informed the chef, he smiled and said no problem. Two minutes later, the same plate was placed again on the conveyor belt. Disgusting! Leaving the restaurant, we informed informed the cashier, she didn't react and didn't do anything about it. We paid a full bill with no apologies and changes.
The wraps are very average. Rice and fish. Nothing special, nothing extraordinary.
Desserts are not what you would expect in Paris, where desserts are part of the culture.
The menu:
The plates are color coded: Yellow for 2 euros, white for 3 euros, green for 5 euros, red for 5 euros and black for 6 euros.
Zensai, Yakitori, Kushiyaki, Tempura, Hot plates, Gunkan, Temaki, Ephemere edition, Sushi, Sashimi, Chirashi, Maki, California, Wines, Sake, Specialty drinks, Beer, Beverages and desserts.
The conveyor belt has more than just maki pieces, they offer salads and lichee fruit...
The things I liked:
Ginger is served in front of all the guests in a bowl
The ambiance is nice and the decoration is relaxing
The conveyor belt offers desserts as well: I liked the idea
A maki machine they have dispenses just the right amount of rice nori papers.
This is the first time I see something like this. You walk to the exit door and pay at the exit. No bill is brought to the table.
I was unfortunately not impressed at all. Not one of my favorite places for sure.