From the outside, it looks like a normal chocolate shop, but open the door and be amazed, enter Willy Wonka's secret factory where chocolate passes in tubes above your head, where every corner is full of chocolate and chocolate chips decorate all the walls.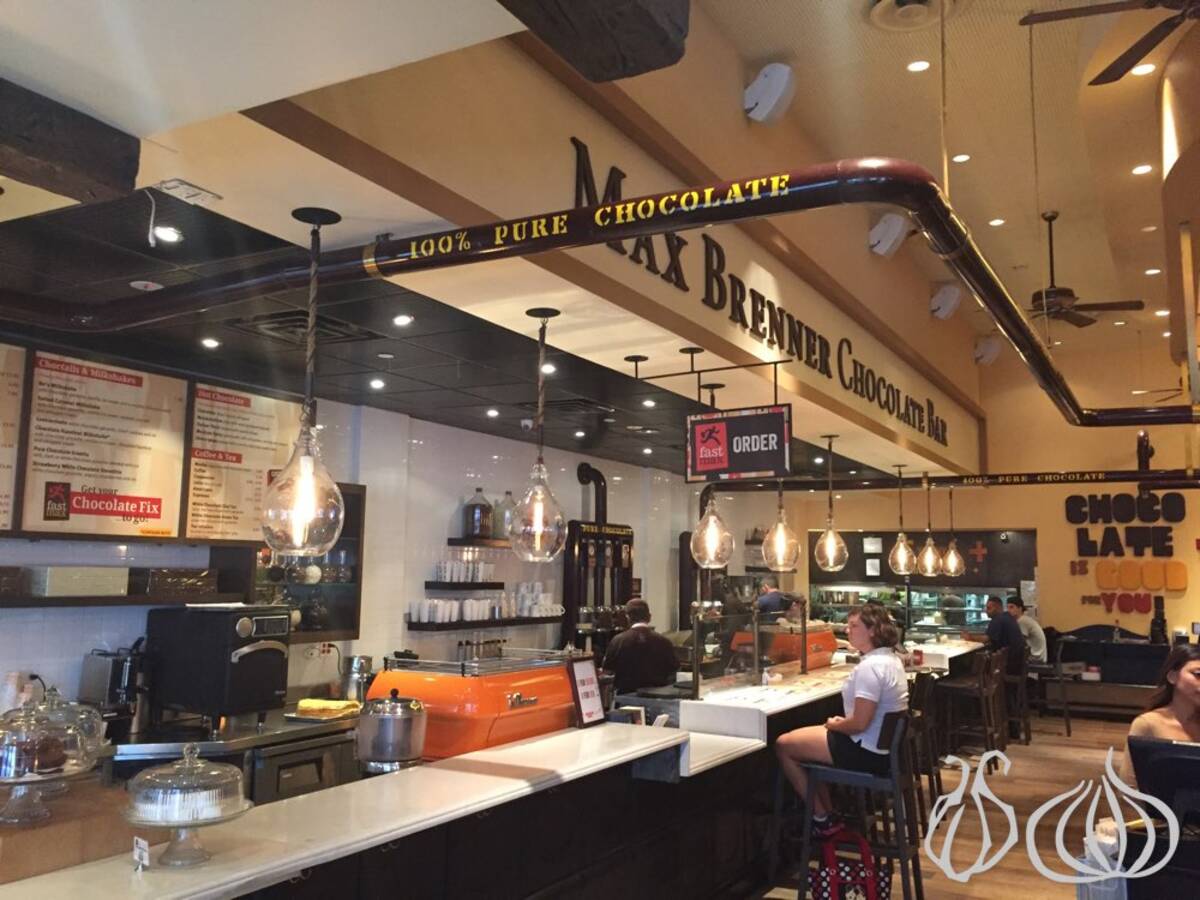 The shop is on the right side as you walk in before reaching the restaurant, a large wood-based place with two level seating and a bar. Tubes pass around the ceiling marked with "100% chocolate" signs. Max Brenner wants to redefine and reinvent chocolate culture worldwide.
In a place like that going into the details of architecture would seem awkward, so let's move to the menu, where a hundred complicated chocolate choices make you want to order everything. I was alone that morning and I ordered three things for a table of six.
They have three menus. The summer's specialties, white cocktails and milkshakes as well as their I-Screams and sweet icons. The second menu has cocktails, lunch, dinner and breakfast options. Snacks, paninis, waffle sandwiches, burgers, flatbread pizzas. Breakfast has the outrageous omelet, eggs corruption, sweet breakfast and the juices. Wait until you've seen the last menu, the menu of guilt and calories. Waffles, hot chocolate, milkshakes, crepe brûlée, sweet icons and fondue.
Kangaroo Cup: the ultimate coffee cup with a melting chocolate pouch. This cup was designed to honor the close bond between coffee and chocolate. It is a cup with a pouch for chocolate that enables the drinker to enjoy a double virtue; drinking hot coffee with melting chocolate. Get at the melted leftovers hidden in the pouch with the special mix spoon to keep your inner child alive forever.
Let's eat:
Crepe and eggs: Freshly scrambled eggs, a blend of three cheeses, prosciutto and Black Forest ham with creamy spinach. Served in a homemade wheat crepe topped with a fried egg. That's heaven, that's a ticket to heaven... A large crepe stuffed to till it's ready to blow with melted cheese and scrambled eggs, moist and so juicy mixed with creamy spinach and chunks of prosciutto... Heaven it is. The quality of the crepe and its thin finish, its heart of wonders. Not only that, but a sunny side up egg decorates the plate. A bite, a second and more, it's so finger licking good!
Banana hazelnut crepe: Chocolate hazelnut spread, sliced bananas, chocolate chunks and chopped hazelnuts. WTF!!!!!! How on earth do we have a crepe so tasty?! A hardened crepe soaked in sugar is filled with thinly sliced bananas - three of them- in several layers and sprinkled with crunchy hazelnuts with a smooth chocolate cream and topped with powder sugar. On the side is a portion of chocolate syrup, crunchy Malteaser-like chocolate balls and a scoop of vanilla ice cream. Man that's good! Generosity, taste, balance. The texture of the crepe is so good and the molten heart of wonders combined all at once into something wonderful... A recipe to happiness!
What an amazing experience.
Next time I'll take that. The melting chocolate truffle heart cake and shake: Milk and white chocolate cake served with creamy vanilla ice cream, red berries and an iced milk chocolate shot.
The service is good, the staff is welcoming, the music is soothing, the ambiance rocks, the portions are generous and the food is really great. Two thumbs up.