The Creator Of The Cronut Has Released A Christmas Cereal that Costs $15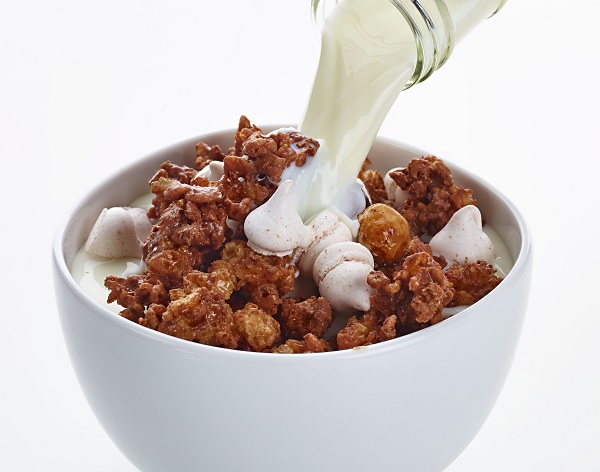 Without much ado, Dominique Ansel released his latest holiday offering: Christmas Morning Cereal packed with crunchy Valrhona Caramelia chocolate (caramelized milk) puffed rice, spiced hazelnuts, sugar brittle and topped with cinnamon-flavored Mini-Me meringues. The seasonal item is the bakery's first venture into the cold cereal game and comes packaged in a box for you can only pick up at Ansel's NYC bakery. The curious concoction will run you $15 and is described as "meringue kisses in your breakfast." This alone sounds absolutely delightful and like something we need in our lonely cereal bowls right this second.
The base consists of crunchy clusters of puffed rice covered in Valrhona Caramelia chocolate. If you're not familiar with Caramelia, it's a caramelized milk chocolate with a distinct dulce de leche flavor. There's also a plentiful amount of smoked cinnamon flavored Mini-Me meringue kisses (Though now overshadowed by the Cronut, Mini-Me'swere one of Dominique Ansel's first signature products). Spiced hazelnuts, in a sugar brittle, complete the mix. So eating this cereal is all about grades of satisfying crunch. If you enjoy sweet, crunchy breakfast cereal (and dulce de leche!) and you're intrigued by the idea of meringue kisses in your breakfast, get yourself a box. You'll love it.