What a morning! I arrived to Tripoli unprepared and without any particular place to visit. One place after the other, I found myself discovering the oldest and finest the Northern capital has to offer. From Dabboussi the king of Moghrabieh king, to Akra, the foul empire, then Al Zahra, the ice cream address and now we're at Nouh Al Haddad, to try their popular "Haléwet el Shmeisseh".
Tripoli is famous for indulging its guests with many kinds of sweets, the recipes for which have been handed down for generations, from father to son for several centuries. Ancient masters, specialists in Halawa (varieties of pudding made from grained rice or semolina with or without cheese) are rooted in the heart of the old souk. Nouh Al Haddad, is definitely one of them, his little shop dates back to the 1800's.
I was told to come to Nouh Al Haddad and Sons Pastry, facing the Uwaysat Mosque - an oriental pastry shop known for one single item, "Haléweh Shmeisseh".
After finishing from Dabboussi, the owner told us about "Haléweh Shmeisseh" found at Nouh Al Haddad, which is located in a region, I believe, is called Bab el Hadid, just a few meters away from the fish market, and a hundred meters from Dabboussi or Akra.
Osman Haddad, the founder's grandson, still prepares the same recipe, in his small shop displaying only two items, the Haléweh Shmeisseh and Jazarieh, both of which are produced in several different ways. He proudly showed us the certificate given to his great grandfather by the French authorities proclaiming him as "maitre de halawa".
"Rice and sugar," he says, "our recipe is simple and straightforward. We don't use anything other than those two ingredients, left to cook between six and seven hours on a low fire. A block is then cut in small circles and served as is with powder sugar. A tastier, more sophisticated version, has Ashta on top before we close it like atayef."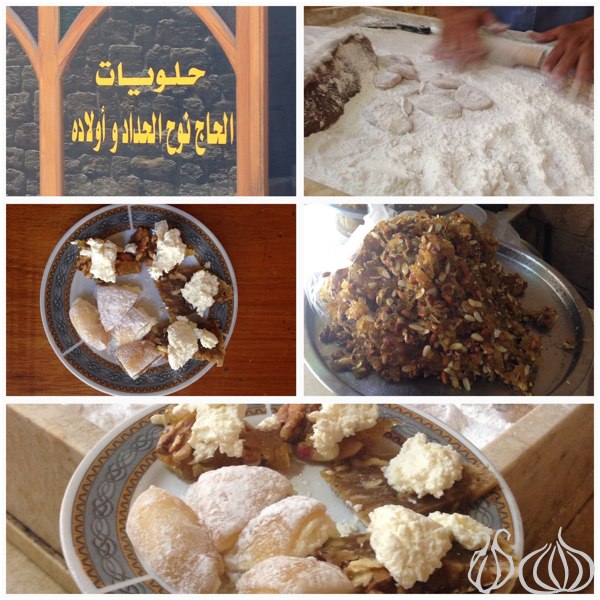 I loved the Haléweh Shmeisseh: A feeling of mastic, slightly chewy, not too sticky, adequately sweet and melts under your teeth like butter... while the ashta adds that extra cherry on top that will make you enjoy this dessert with a smile on your face.
It might look like halawat el riz but is different in texture and taste. "Halawat el riz is cooked for an hour only and sometimes comes with cheese and surely yeast," Osman tells me.
Now was time to try some Jazarieh, which is a kind of jam made from julienned carrots cooked in sugar and water and eaten as a dessert. Compared to other jam recipes, Jazarieh is healthier because it is made from a vegetable. When almonds, pine nuts, and pistachios are added, it is usually called ma3loufe.
Different types of Jazarieh are on display:
Fresh moist Jazaria, Dried Jazaria with walnuts and another Jazaria mixed nuts ... all are original and tasty.
The last time I had Jazarieh was at Babel a year ago and I didn't like it much. This one is special and unique. A fresh taste of sweetened carrot jam mixed with crunchy nuts. He's a specialist indeed.
What a day, what a morning, what a discovery. Mr. Osman's friendliness and warm welcome left me speechless. We spent more than an hour in his company, asking questions while tasting his products. We promised to come back for more and maybe tryout something new, mainly mixing his halawa with a different filling
.