I was never really interested in visiting a place called "Paris du Gout". How uncreative and pretentious of them - so I thought. But, I was wrong, it was a classic case of judging a book by its cover, right up until I entered the place and met with the owner. Paris du Gout, despite its bizarre name is, in my opinion, a very nice restaurant serving some interesting French food in an area where restaurants of this kind seem rare.
Located a few meters after the Antelias bridge up the road to Bikfaya, is an old Lebanese house and a large black sign makes sure you don't miss the place. Paris du Gout is the name of this beautifully designed restaurant, an old house with a high ceiling restored to perfection. Up a few stairs lies a large space where white takes over, guaranteeing that all your senses begin to relax. Some of the walls are painted in white, others are covered with white stones, and violet curtains add a touch of color to this well lit space opened to the world through its high windows.
Inside the space is a bar, a kitchen with a glass facade which faces the seating area, an upper floor, where the toilets are, and a dozen tables, some round and others square. How lovely it is to sit on a round table and have the chance to see everyone.
Set in this relaxing atmosphere, all the tables are covered with a pure white tablecloth and set with fine cutlery and premium Stolzle crystal wine glasses. The tables are surrounded by some old fashioned, relaxing sofas which are covered with violet, designer fabrics.
My favorite area is the hidden spot after the piano, where a round table fills the corner, an intimate area surrounded by book shelves and lit by one large hanging lantern.
The decor guarantees amazement. A beautiful setup, clean and clear, a professional ambiance, it made me wonder why a place this beautiful is hidden behind its name and its social media accounts, which publish endless photos about couples and family gatherings. I wish I came here earlier... I was just hoping that the food was as good as the place itself. Let's see.
Lunch started with a selection of small pots. A homemade light green tapenade, dried raisins and nuts with a nice butter cup, all gave an extraordinary first impression. A warm crunchy bread served in a basket, a homemade flavorful tapenade without garlic... More was yet to come.
The menu:
Starters
Pasta and risotto
Meat
Fish and seafood
Desserts
For kids
Formula
Let's enjoy a French lunch:
Perigourdine: The Perigourdine salad is a mountain of fresh crispy greenery with five pieces of meat. A loaded portion, seasoned with a subtle balsamic dressing, where a blend of interesting flavors mix together creating a delicious starter, or more of a hefty meal. A slice of fois gras, another of magret of duck, gesiers confits, rillette and aiguillette together with fresh mushrooms. A fulfilling and creative salad, to be sure.
Foie Gras: A delicious homemade foie gras, soft, full of taste and served with fig bread. Next to that came fig jam, which I personally didn't like. With a foie gras, other than the sweetness of the accompanying, the texture of the jam is very important. This jam looked like onions and tasted nothing like jam, it disappeared without leaving any impression.
Mushroom Risotto: Dry and neutral in taste, not to say tasteless, this rice is unfortunately far from the real thing. A big no!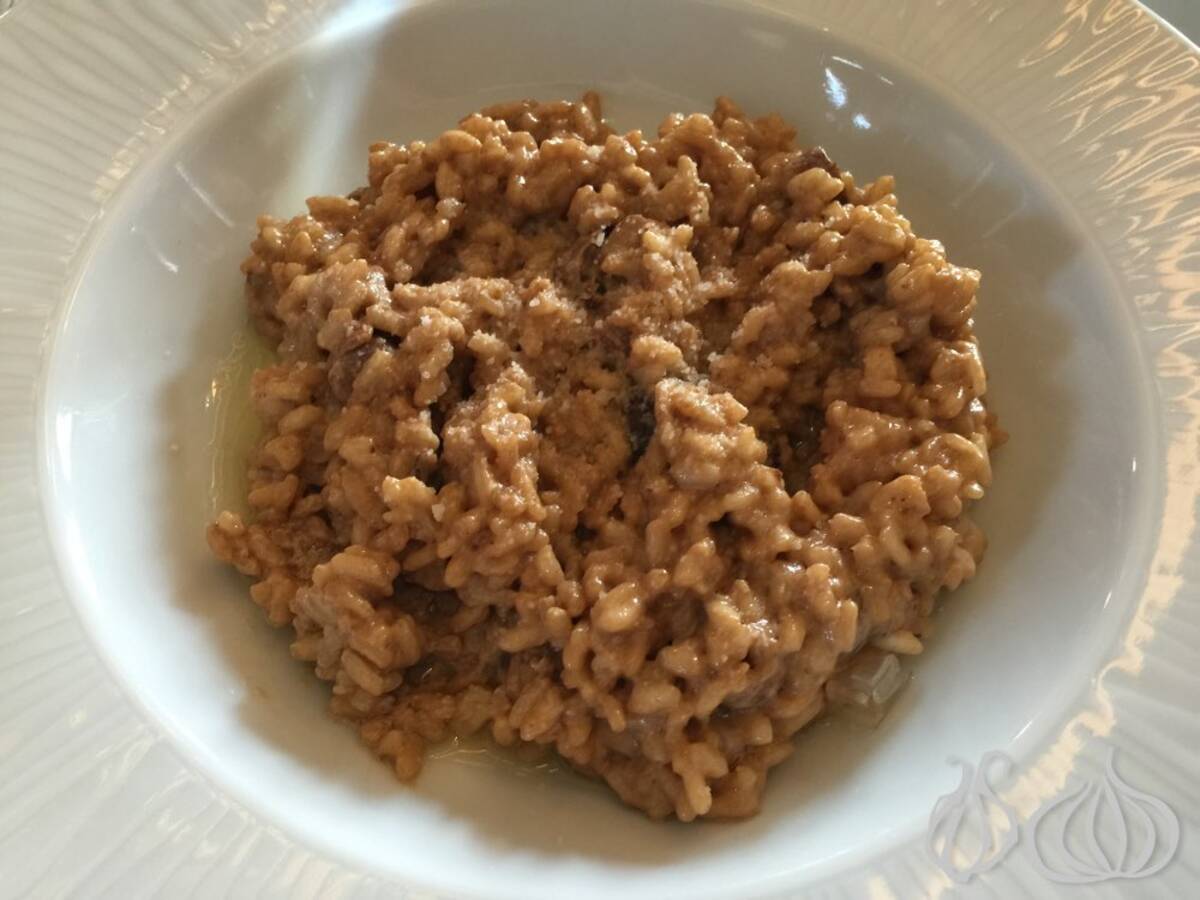 Duck Confit: A piece of duck served with diced potatoes and sliced mushrooms. A tasty sauce and a well cooked duck, but the plate is a bit dry. It needs three times more sauce, just like the salmon, the rabbit and the risotto as well. They're stingy with sauces around here.
Salmon is good but not great.
Rabbit: A juicy rabbit served with a perfectly cooked wild rice, but again, more sauce is needed.
What I noticed from this lunch is a certain finesse is missing, fine tuning is needed for everything. My little girl's pasta had a neutral taste and surely needed a lot of salt. The mushroom risotto was so dry, like Chinese sticky rice. The duck needs sauce and its potatoes lack finesse and smoothness. Some love has to be put into those plates.
I loved the homemade creations, which started with the tasty tapenade and ended with a flavorful Grillotine drink composed of vodka and Cointreau served in a shot and bathed in a cherry confit. With that, came a plate of cold dark chocolate mousse bites which I adored.
Dessert:
The chocolate fondant composed of a dark chocolate with a hint of orange is indeed unique. Firm on the outside and melting on the inside, the chocolate, of a premium quality, has an enjoyable aroma of orange. The creme brûlée is good, as good as you'd expect and the tarte tatin is fine. The panna cotta served in a cup was also good. I can safely say that desserts are Paris du Gout are well done and full of taste.
The details I loved:
There's a kids menu... But no ketchup for their French fries
The bread basket of toasted bread, which should always be available in fine dining restaurants
The place offered beautiful decoration and some good music
The owner, manager on duty, waiter and welcome host make sure every detail is taken care of smoothly
The minuses:
I would say that Paris du Gout has the potential to become known as a point of reference, but many details have to be fine tuned. I would start with a new name, a professional email address and good social media support.
I'd continue by fine-tuning the little details when it comes to the food, adding some finesse to the plates.
Reduce the size of the menu and create a special of the day board
I believe this restaurant has potential... I might come back for the decor and pleasant seating but nothing about the food left me impressed, all of which comes out at a reasonable $60 per person.