How many years have passed since I last visited Shtrumpf. A restaurant, which was once my favorite, was forgotten with time. The food industry has evolved drastically. Meeting the more demanding clientele, many diners have opened along the years, positioning themselves strong in the market. Where has Shtrumpf hiding all this time?
Shtrumpf, which has been known for its grandiose cottage style house in Sahel Alma area, was a regular hangout for my friends and I. During my school days, we would head down every other weekend for their parties, karaoke, and various other events, beer festivals every autumn... and again I ask, why did it stop? Why didn't it evolve and keep its position strong in the market. It's never too late, as the saying goes. It seems that Shtrumpf has finally woken up from hibernation and decided to join the diner tribe again. With a new opening at Le Mall and another location coming soon, Beirut's Tabaris branch, Dbayeh highway and the unique Sahel Alma villa.
Passing by Le Mall, I decided to have a look at Shtrumpf's latest opening where a revamp of the identity, architecture and menu are clearly noticed. We reached the second floor to bump into an open space mainly constituted of wood, metal and bricks. Shtrumpf today, positions itself as a healthy diner serving a large choice of pizzas, burgers, soups, platters, salads and the one and only Shtrumpf's salad bar with its 39 different items for you to enjoy without moderation. Roy, the head-waiter, approached our table and took all the time needed to introduce us to Shtrumpf's concept and menu. Here, I want to thank and congratulate Roy on his professionalism and unique approach a few master: You made our lunch memorable.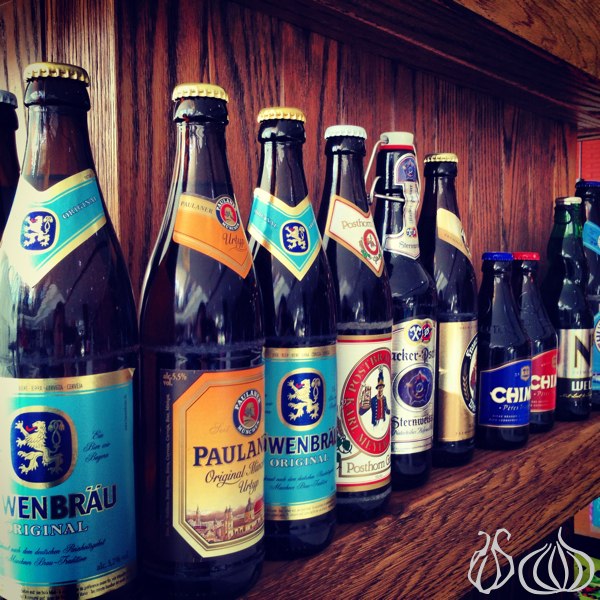 The place:
A general wood ambiance
Wood parquet, wood bars wood tables and wood chairs
A German beer wood bar welcomes you
A long salad bar positioned on decorative barrels is the main piece of attraction
12 pending lights add a touch of far west to the restaurant
Long and high natural brick wall decorated by green strips of Heineken beer unbranded bottles
A metallic structure decorates the brick wall
Shtrumpf's weekly program:
Tuesday is beer night, open beer and snatches for 28,500L.L
Buffet Sundays at the Sahel venue
Thursday is cheese and wine
Don't miss the beer festival every September
The menu:
First Thing's First (Starters, On the Side)
A Taste of Italy (Pasta, Pizza)
Blond 'n' Crispy
Fields of Greens
Light Selection
Grill Sensation
Between 2 Slices (Sandwich Platters, Burger Platters)
Light Selection
Cold Beverages (Water and Soft Drinks, Beer Lovers, Hot Beverages, Reviving Wine)
Hot Beverage
The Perfect Finish
We ordered:
Oye Nachos: Served with Mexican salsa & sour cream. Chicken quesadillas on top LL4000 LL and crushed guacamole LL2000
Salad Bar: Refill for one person only LL23500
Mozzarella Burger: Breaded mozzarella with your choice of beef or chicken loaded with iceberg lettuce & tomatoes, dressed with cocktail sauce – 120g for LL17250 and 200g for 20,750 (We ordered the 200g)
Mexican Pizza: A touch of Mexican taste with quesadillas chicken mix LL 17750
Fondue Au Chocolat – An assortment of banana, pineapple, sable sticks and mini-cakes ready to dip in warm melted chocolate LL14750
The food... Needs fixing:
I didn't like the Nachos at all. Doritos is not the kind of chips to be used in such plates since it becomes chewy after entering the oven and the powder seasoning that covers them is unpleasant to be eaten with melted cheese
The burger is not acceptable! Too dry. The taste is unpleasant burned and the meat is too condensed giving it a kebab taste. I felt I was eating the Labanese yakhnet "Kafta w Batata" at my grand-ma's. Although I ordered the 200g, the piece of meat looked smaller. It should be thicker and juicier
Frozen French fries? Why? When all the competition moved to freshly cut fries with their skin, I think an upscale is to be considered
Pizza is more of Lebanese bread covered with red sauce. White dough, chewy with a border that breaks like old bread left outside without cover. The chicken filling was found only on the borders that many people don't eat. The Pizza is a NO.
Chocolate fondue for dessert is served with Madeleine cakes, finger biscuits, banana slices and pineapple. It would have been great if only the chocolate is more concentrated. The liquid chocolate served doesn't even stick to the accompanying assortment.
My Coup de Coeur: The best salad bar in the country:
In the middle of the restaurant, on the long wooden island, is a mouthwatering salad and soup bar. (A special review on this is well deserved – coming soon)
39 different items:
Salads inside the salad
Chicken Hawaiian
Cabbage with berghol
Vine leaves
Mediterranean salad
Hummus
Crab salad
Pasta salad
Boiled vegetables
Oat
Cherry tomatoes
Fresh vegetables
Boiled potatoes
Soup of the day
More than three different bread choices to name a few.
The Salad Bar Sauces:
Exotic (curry and orange)
Cocktail
Mayo
Lemon mustard
Balsamic vinegar
Light (vegetables, white vinegar and lemon)
We chose two beers from the wide selection of specially imported German beers:
Hacker-Pschorr (Sternweisse) dark beer 5,5% alcohol
Hacker-Pschorr (Munchner Hell) light beer 5% alcohol
The pluses:
A great welcoming and professional service
The salad bar
I like the Libby's ketchup. I'm not a fan of Heinz anyway
German beer bar, exclusively imported by Shtrumpf
The minuses:
All the food we had today has to be fine tuned not to say I didn't like it
Nachos are not tasty
The Burger is far from competing with it's neighbors in the same mall
The pizza is more of a tomato man'qouche than an Italian pizza
A quick reminder: We are not in 1995 anymore... 2013's culinary trends are way too advanced.
A place with a huge potential for success, which I support and will visit again. The salad bar is simply breathtaking and I invite you all to go try it. Please guys, work on your food taste. Some huge shuffling is needed in the kitchen...and the earliest!