After last year's chocolate tasting I was invited to sample Patchi's latest offerings. I am a big fan of Patchi and am proud that a Lebanese company, that already has three factories and more than 63 shops in Saudi Arabia, seems set to expand and continue to do well the world over.
Patchi, a company that produces their own wide variety of wrapped chocolates, invited us to enter their chocolate safe to discover the latest additions to their collection.
The chocolate safe, located on the ground floor of Patchi's Beirut Flagship shop is awaiting to make your mouth water.
Today's tasting: Croquet, Amandine, Arabica Coffee, Perfetto, Craquante, Carmen, Abricot, Emotion dark, Parfait, Desir, Sublime.
The milk chocolate selection:
Croquet: These come in the form of a sphere with a flat bottom wrapped in golden paper. Chocolate cream (gendoja), rice crispies and milk chocolate, the Croquet a simply wonderful, a milky chocolate full of tiny little bits of rice crispy. Every bite offers a subtle crunch and leaves a fresh, salty aftertaste in your mouth: A tasty bite.
Amandine: A square piece of chocolate, again wrapped in golden paper. Almond with croquant, chocolate cream (gendoja) and milk chocolate, the Amandine are a classic offering and are made up of a cube filled with melting milky chocolate cream with a single almond in the middle. The hard crunch of the caramelized sugar almond contrasts perfectly with the soft chocolate; a milky flavor, a hint of sugar, a crunch and a gentle, pleasant aftertaste, Amandine is a perfect creation.
Arabica Coffee: A circle of chocolate with a ball top, all wrapped in black paper. Two coffee beans, chocolate cream (gendoja) and milk chocolate, the Arabica Coffee is an innovative and tasty addition to Patchi's lines. It's possibly one of the most aromatic pieces of chocolate you'll ever find and a series of scents prepare you for the coffee flavor as soon as your teeth break the surface. A hard chocolate, harder than the others on offer, contains two chocolate beans which crunch satisfyingly as you bite into them. The mix between chocolate and coffee is really interesting and well balanced.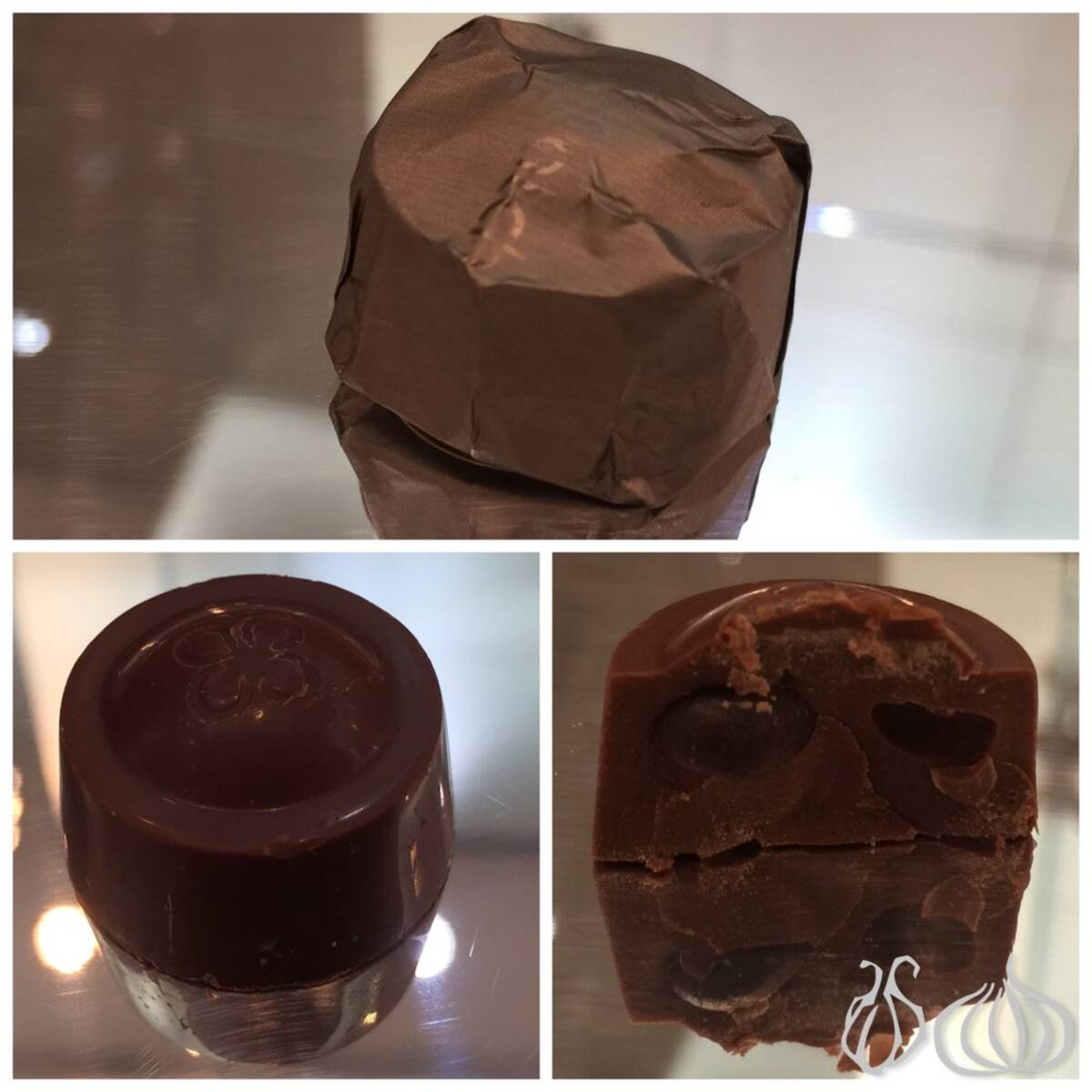 Perfetto: A square shape, wrapped in golden paper. This combination of dried raisin, orange peel, crushed almonds and milk chocolate creates a sweet chocolate, a crunch, a chewiness and combines a range of flavors into a single piece. It's not like your average chocolate, it has a real sense of body and richness. The raisins inside are still moist, which adds that little sense of luxury.
Craquante: A large, flat rectangle wrapped in golden paper. Hazelnut with caramelized sugar wrapped in milk chocolate, I found it a little too sweet! A layer of crunchy caramelized hazelnuts and milk chocolate, I loved the texture of the crunchy nuts and sugar and the contrast with the soft chocolate, but the sweetness was over powering.
Carmen: A tall rectangle wrapped in golden paper. Biscuit, caramel and milk chocolate, it has an almost commercial taste, and contains a biscuit that makes it look like a Snickers, but it's a favorite among many. It's made up of a layer of caramel, a biscuit wrapped in chocolate and yet more milk chocolate. I loved the equilibrium of textures and flavors, overall it was a great, moreish piece.
Abricot: A large chunk of chocolate, wrapped in black paper. A huge apricot, filled with four pieces of chocolate-covered pistachio, and cradled in a milk chocolate whole. As soon as I tasted it I was intrigued. A whole apricot filled with three nuts, yes three, each wrapped in chocolate and the whole bunch covered with more milk chocolate. The apricot and its filling is exceptional. That's innovation.
The dark chocolate selection:
Emotion dark: A square piece with uneven sides, wrapped in grey paper. Made of pistachio croquant and dark chocolate, the sweetness felt in the croquant disappears as soon as you taste the dark chocolate. A crunch, a sticky caramel heart and so much premium dark chocolate, it's wonderful.
Parfait: A square wrapped in grey paper. Caramel truffles wrapped in dark chocolate, this piece is all about the finesse. A dark chocolate bottom, a melting heart and a thin envelop around the truffle. A crunch, the smoothness and another crunch down within the piece. I loved it!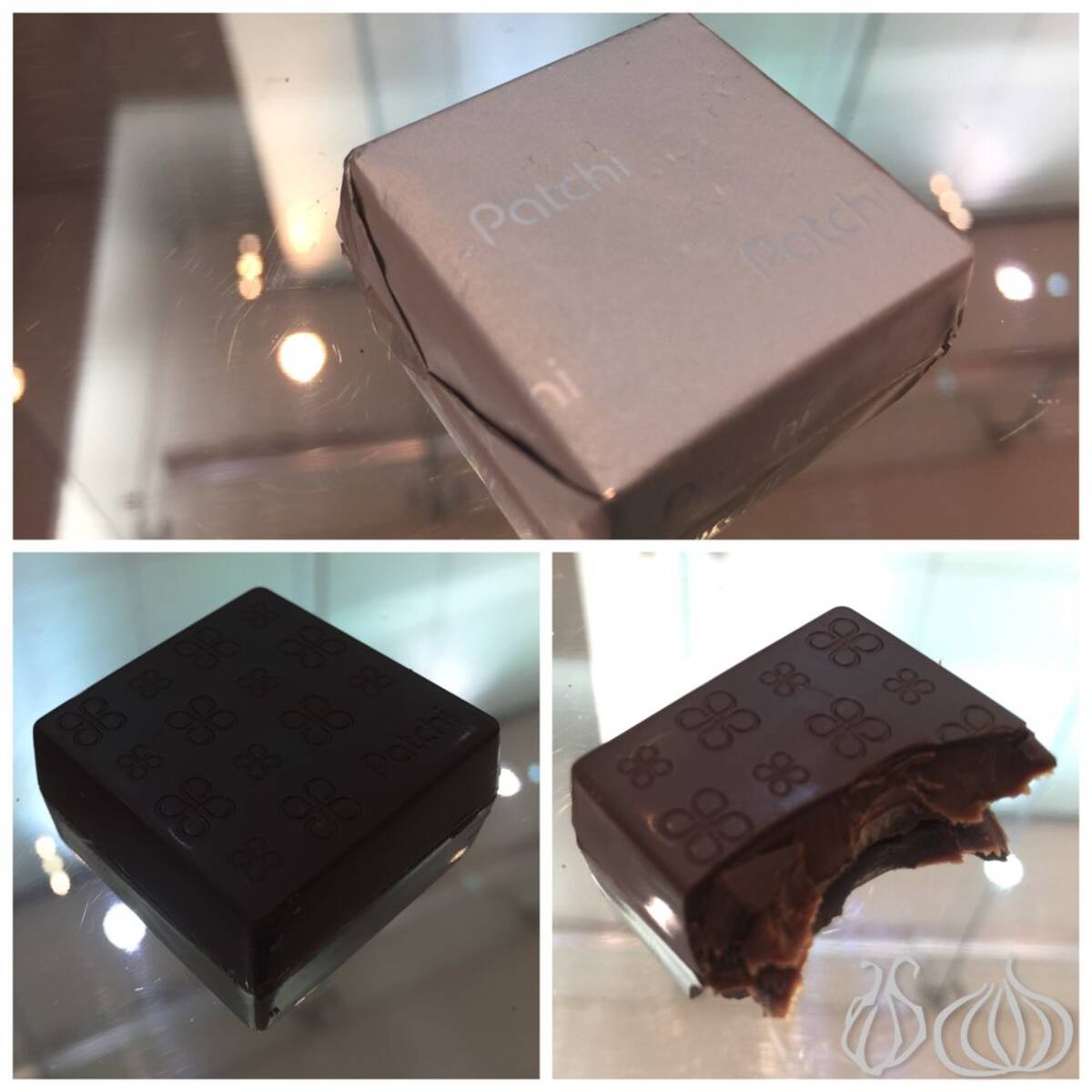 Desir: A chunk of chocolate wrapped in golden paper. A date wrapped with dark chocolate in which is stuffed caramelized almonds: Wow! So juicy, so flavorful, so enjoyable... The chocolate, the strength of flavor, the chewy dark dates and the crunch. Bravo!
Sublime: A rectangular shape, wrapped in golden paper. Strawberry with hazelnut and dark chocolate, voila! I found my favorite right at the last, the purity of dark chocolate mixed with crushed hazelnuts is something you just have to try. I loved the sense of class and the real taste of unsophisticated chocolate. Sublime, just became my favorite from Patchi.
My Favorite:
Sublime for its richness and intensity
Arabica for its texture, aroma and hard braking chocolate
I would improve:
We really need to know the pieces names and filling. Is it a guessing game? Things are really not clear and when buying an assortment for home, you won't know which is what.
Chocolate is an art, chocolate is linked to finesse... Handling should be taken care of a bit more.
Loved those chocolate pieces and the fact that Patchi is proudly Lebanese, a company that produces its own chocolate, exporting a local pride to the world.