A magical stay in a fairy-like castle... Close to where the vineyards from the Loire, Château de Noizay unveils itself at the heart of the Vouvray vineyards between Amboise and Tours. Surrounded in a halo of light so dear to Turner, the Château invites you to holiday pleasures and the finer things in life. This is the spot for lovers and families to discover its secrets, its discreet luxury, its poetry.
A lovely place where we spent a lovely 24 hours around the premisses walking and enjoying the fresh air. The grounds surrounded by tufa walls, the tennis court, heated swimming pool in summer, southern-exposed terrace, the lobby and its magnificent staircase, majestic stained glass and tapestries, salons adorned with velvet and silk hangings and the library all offer moments of joy, great and small, throughout the day. Nearby Attractions: the châteaux and gardens of Chenonceau, Villandry, Azay-le-Rideau, Langeais, Amboise, Blois, Cheverny, Chaumont-sur-Loire, Valmer, Luynes, Chinon, Breze Ussé and more.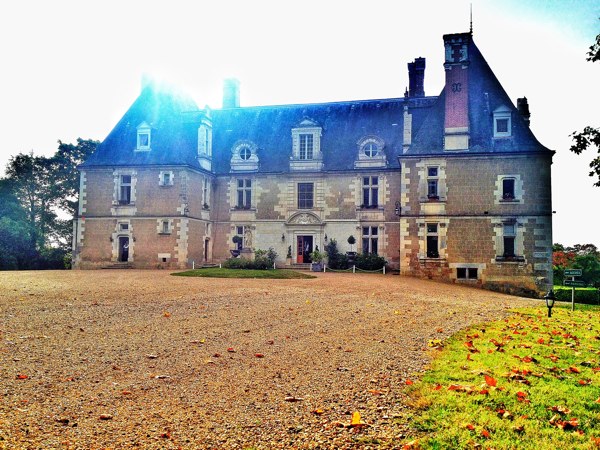 The details I liked:
Candles are lid at night all around the castle like old times
The chimney area is cosy for having a drink before dinner
Everything is kept as is, preserving the entity of the castle
A soft classical music plays in the background around the lobby area
The staff is very professional and welcoming
Every evening, a note is deposited in the room with the next morning's weather and temperature accompanied by a dark chocolate box
The house master wrote a note of welcoming with a gift of wine confits
The room:
A large double bed with an alcove, a high ceiling, flat-screen satellite TV, WiFi, minibar, safe, desk and private bathroom with marble bath, hair-dryer and separate lavatory.
Missing in the big room:
A working desk and chair. Couldn't find a place to plug my computer and organise my trip's pictures.
The bathroom amenities:
Shampoo and bath shower gel, Shoe polish, vanity set, Shower cap, Body lotion, Sewing kit, Shoe mitt, Nail file.
The welcoming note:
"Toute l'equipe du chateau de Noizay se joint a moi pour vous souhaiter la bienvenue. Afin que votre sejour se deroule au mieux, voici quelques elements d'informations sur le fonctionnement de l'etablissement ainsi que la carte de notre restaurant gastronomique. A votre demande la reception se fera un plaisir de vous apporter plus amples renseignements concernant l'hotel ou bien la region du val de Loire, ses visites et ses evenements du moment. En remerciement de votre venue au Chateau de Noizay, je tiens a vous offrir cet assortiment de confits de vins, produit typique de nos contrees, qui vous rappellera ces instants vecus parmi nous dans notre belle region lors de vos futures pauses gourmandes."
My biggest disappointment:
The Breakfast! Yes, 22euros per person for almost nothing. A very little choice at the buffet table that was not even renewed when finished.
I liked at breakfast:
The silver cutlery
The Louis XI relaxing chairs
The musical ambiance
The generous hot chocolat served in silver pourers
The mini fruit salad offered
Echire butter served at the table
The unacceptable at breakfast:
Only three kinds of cheese
Minimal choice of exotic fruits
Water was finished without renewal
A minimal croissant and bread choice
Nothing justifies the 22Euros per person
I would surely recommend this amazing castle's stay and dinner but not the breakfast.