Since they had opened more than a decade ago, Le Marin Traiteur has been providing the local market with a fine salmon quality. Every time my family and I want to enjoy some premium ,seafood, they are who we call. Last week, with a bunch of friit ends, we took a closer look at some of the available salmon varieties out there.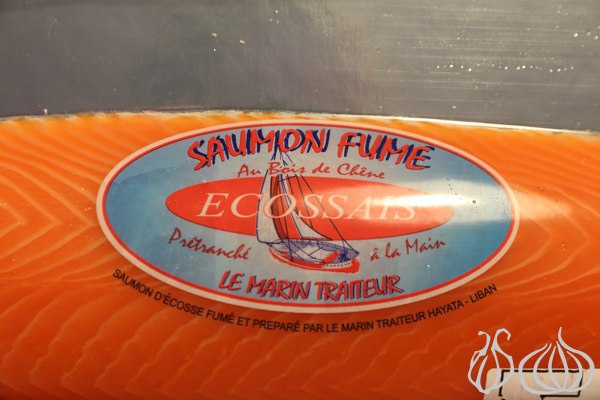 Before reaching your plate, bites that we devour in seconds, salmon undergo a long process that is interesting to know about. Fresh salmon fish is imported on a weekly basis from Scotland in large ice buckets keeping it ice cold until it reaches the factory. There, the salmon is hand-cut in half, cleaned from all its waste and inedible parts, salted than smoked for 24 long hours. After resting for a day, the fish is separated from its skin and hand-sliced a layer after the other. A long process of more than 7 days before it reaches your dinner plate.
A quick introduction and history:
Smoked salmon is a preparation of salmon, typically a fillet that has been cured and hot or cold smoked. Due to its moderately high price, smoked salmon is considered a delicacy.

Smoked salmon is a popular ingredient in canapés, often combined with cream cheese and lemon juice.
In Europe, smoked salmon may be found thinly sliced or in thicker fillets. It is often used in pâtés, quiches and pasta sauces. Scrambled eggs with smoked salmon mixed in is another popular dish. Smoked salmon salad is a strong-flavored salad with ingredients such as iceberg lettuce, boiled eggs, tomato, olives, capers and leeks, and flavored yogurt as a condiment. Slices of smoked salmon are a popular appetizer in Europe, usually served with some kind of bread. In the United Kingdom, they are typically eaten with brown bread and a squeeze of lemon; in Germany, they are eaten on toast or black bread. Smoked salmon is sometimes used in sushi, though not widely in Japan; it is more likely to be encountered in North American sushi bars. The Philly Roll combines smoked salmon and cream cheese and rolls these in rice and nori.
The Salmon imported is from a superior quality, officially endorsed by the French Government: Label Rouge is an official endorsement of the superior quality of a food or farmed product. To obtain this recognition, a very stringent set of standards prepared by a group of producers must be approved. These standards establish the criteria which the product must meet, in particular about farming techniques, feed, equipment and sites, hygiene, and staff training. Approval is officially announced through a joint decree from the Minister for Agriculture and the Minister for Consumer Affairs, on the recommendations of the National Institute for Origin and Quality (INAO). INAO is the French public body responsible for quality and origin marks relating to food products. Scottish Quality Salmon is the holder of Label Rouge No. LA 33/90. Compliance with the standards is controlled by an independent certifying body, Food Certification International Ltd.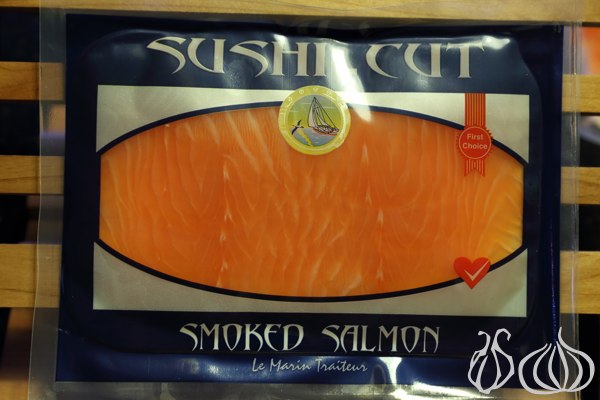 The complicated process before the Smoked Salmon filet reaches your plate:
The story stars in Scotland, in farms having the Label Rouge certificate
Fresh whole fish is imported in ice buckets by plane directly from the origin country
It is first cut in half, cleaned from the inside and salted by hand
Afterward, the salt is removed
The Salmon is here kept to rest in the fridge from long hours
The smoking process than starts, a delicate operation that takes 24 hours (1 full day)
When the salmon finishes its smoking process, the bones are removed by hand
Afterward, the smoked salmon rests for three long days giving time for the smokiness maturation
More cleaning is underway: Pealing and removing of the skin
Cutting and hand slicing while making sure to remove the black meat that usually adds weight but reduces the quality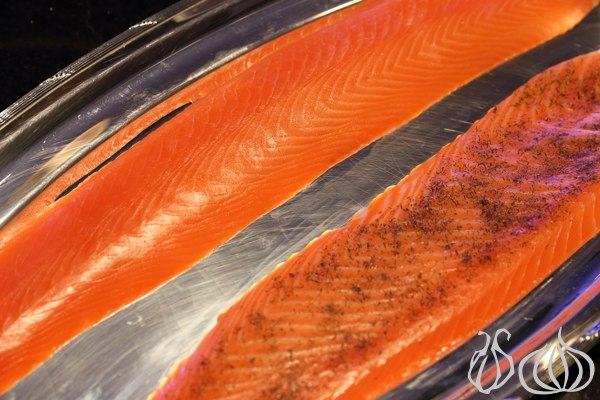 Good to know:
It is very important to salt the fish by hand and not spray it with salted water (water spraying adds 10% of profit to the producers). Le Marin Traiteur uses dry salt making the fish lose of its weight and not the contrary
After the process is done, only 40% of the original 6kgs is left to eat
The salmon is always sold at fridge temperature letting the consumer freeze it if needed
Fat in smoked salmon varies depending on the season and salmon size. You will feel less fat in winter as the fish moves more to stay warm so burns fatter
Salt conserves the fish longer
The different choices we tasted tonight:
Smoked Salmon Slices: Sushi cut. Thick, not oily, and full of salmon taste. The smokiness in this variety is not strongly felt to fit the Japanese food. This salmon has a darker color than the normal sliced one with a thickness four times bigger than the normal sliced salmon. The salmon is processed, respecting old methods and smoked in a traditional kiln.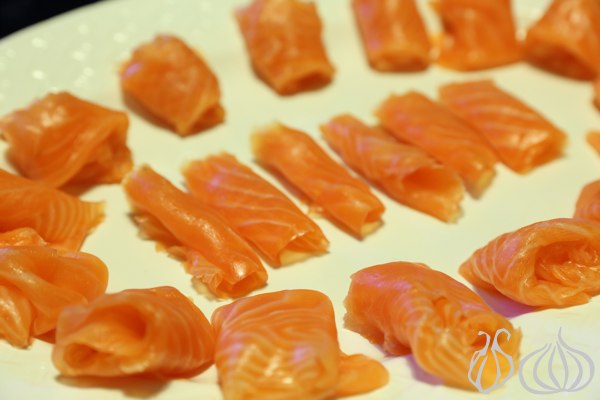 Smoked Salmon Slices: Even though it's the same salmon used for the sushi cut as well as this variation, its color is lighter with an increased smokiness and saltier feel. Since it's four times thinner than the sushi cut, smokiness and salt are strongly felt. This type is better enjoyed with lemon and capers.
Smoked Tuna: Tuna is imported like the salmon is, then cut into triangular pieces. Nonoily, nonsalty and not fatty, the tuna flavors are strongly felt. I would recommend you add some olive oil that will diminish the smokiness aromas that can mask the real tuna flavors.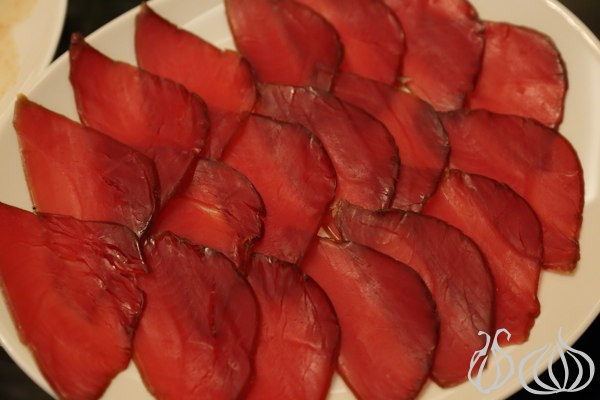 Coeur de filet: Just for information, this is the most expensive of all with a price that can be as double as the normal smoked salmon. The Coeur de filet is my favorite where a 2cm thickness of rich salmon is filled with a premium and enjoyable taste — a beautiful color and texture where an adequate quantity of oil is fully enjoyed. Perfect consistency, caliber, and shape burst into many flavors as soon as you bite into it. Some might consider it salty, but leave in mind that only 10% of the salmon constitute this heart. It's finer, smoother, and tastier.
Marinated: Marinated in salt, dill -aneth- and berry pink -baie de rose- this salmon has a beautiful texture and color. It feels like there's more fat, it's oilier and surely saltier than the normal version.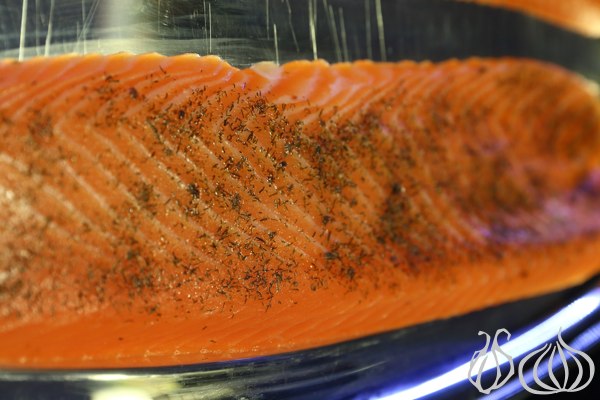 Pave de Saumon: A large piece of 1,5kgs of half-smoked salmon can be enjoyed as is, or cooked in the oven. Le Marin Traiteur chooses to pre-prepare it, making it look cleaner and easier to manipulate. We enjoyed it without cooking and loved it. A true unsophisticated salmon tastes like no other.
Smoked Salmon advantages:
Smoked salmon has nutritional advantages and drawbacks. Like fresh salmon, it's a good source of protein, B vitamins, vitamin D, magnesiu,m and selenium. Smoked salmon also contains plenty of DHA (docosahexaenoic acid) and EPA (eicosapentaenoic acid), omega-3 fatty acids linked to a lower risk of heart disease, macular degeneration and Alzheimer's disease.
Now you know that smoked salmon is produced in Lebanon and is not only the thin sliced ones we buy at supermarkets. There's a lot more to discover and I have been enjoying it for a long time and wanted to share this with you... and encourage you to try. Check out in supermarkets or in delicatessen shops like Stop&Shop, TSC Signature, La Cigale or Aziz who propose different varieties.
For more info call Mr. Toni Bassili +961-3-693936