I don't know if you have recently noticed "the battle of the ads'. On the streets of Jounieh, for example, Abdel Rahman Hallab recently opened its doors with an ad plastered on the streets "Sar bi Jounieh, 7elou..." (Sweets are now available in Jounieh), while one of it's competitors, Doueihy, answers back with another ad saying, "Wsolot m2akhar 3a Jounieh ya 7elou..." (You reached Jounieh late, sweet guy). Quite smart to say the least. It's a kind of competition that has started a few weeks ago between Lebanon's best pastry shops has become the talk of town as media also shed light on this. NoGarlicNoOnions decided to push the competition even further and see which is indeed the best...
Having dinner at my in-laws, I spotted two different Baklava plates on the dessert table. Looking into both, I couldn't choose the best one considering that the display, branding, name and history play a crucial sentimental role in taking a bad decision. My wife, asked us to close our eyes, and choosing the same piece from two different brands, asked to choose our favourite. The opinions diverged so much that I decided to do that experience on a more professional level and choose the Best Baklava in town. Inviting a bunch of friends for dinner, they were all informed that tonight's duty is to be taken seriously. Michel, Maria, Natasha, Joella, Ziad, Nathalie, Cesar, Danielle, Shady, Marc, Joseph, Christie, Jinane, Hassan, Mayssa, my wife and I, joined forces to choose Lebanon's favorite Baklava according to many rough criteria I have prepared for them.
Choosing the Pastry shops: Pastry shops were chosen according to date of opening, fame and selling power. 7 out of hundreds include companies that have more than a century of experience, and specialized mainly in Lebanese sweets before expanding their business to Occidental delicacies few years ago. I am sure that Lebanon hosts many other good names, especially in the villages and old cities, that produce awesome pieces of sweets, but unfortunately it was impossible to try them all. We chose the famous ones in Lebanon and around the world... Not to say the more commercial ones.
A quick history before we start: Baklava is a rich, sweet pastry made of layers of phyllo pastry filled with chopped nuts and sweetened with syrup or honey. It is characteristic of the cuisines of the former Ottoman Empire, but is also found in Central and Southwest Asia. In Lebanon, baklava is made of filo pastry filled with nuts and steeped in Attar syrup (orange or rose water or sugar) or honey. It is usually cut into triangular or diamond shapes.
Lebanese Sweets Brands in Competition:
Abdel Rahman Hallab
Rifaat Hallab
Bohsali Freres
Amal Bohsali
Al Baba
Sea Sweet
Doueihy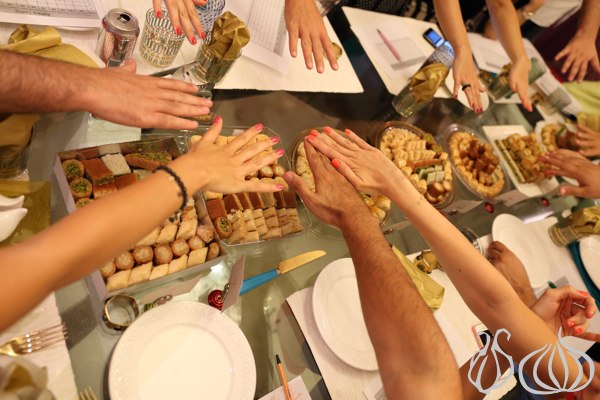 The Process:
Visiting each and every one of the 7 chosen brands
Order 1kg of mixed Baklava
Ask as many questions as possible to test the welcomeness, knowhow and authenticity of each place
Put a grading over /100
Take pictures of the boxes
Hide the packaging and prepare for the rating
Distribute a table of criteria to the 15 guests
Discuss the different experiences
Finalise the grading over /200
Show the names and find the winner
It was 5pm on a Thursday when the tour started. For 3 hours, I toured around the country, moving between Beirut and Jounieh to buy the sweets. A treasure hunt which I learned a lot from. I got to know the history of each and every place, their starting date and what are their specialties. I got to meet welcoming and funny people as well as repulsive and unpleasant ones. Each and every shop has its habits, different boxes and unique way of dealing with things. Prices differ as well in a small range of 10% only.
The grading:
Grading before the tasting /100
Look of the place /10
Welcoming and friendliness /10
Freshness /10
Cleanliness /10
Setup and display /10
Knowledge on the products /10
Varieties and availability of products /10
Packaging for travelers /10
Packaging /10
Food safety /10
Details of the sweets /100
Your favourite Shop
Packaging
Shape/Size of the pieces
Choices/variety
Freshness of the pieces
Crispiness of the pieces
Sweetness of the pieces
Quality of the filling
Value for money
Overall taste /100
Overall taste + Details of the sweets + Grading before the tasting = Total /300
During a 3 hours tour, I toured the shops buying 1kg of mixed Baklava from each. The prices are almost the same with a slight 3,000L.L difference. The cheapest being sold at 33,000L.L (Sea Sweet, Rafaat and Amal Bohsali) and the most expensive at 36,000L.L (Bohsali brothers). In the middle range, for 35,000L.L (Doueihy and Al Baba) considering that Doueihy is increasing its prices next week. Some propose an extra version of the filling adding to that 3,000L.L (See Sweet, Bohsali brothers). Two packages are proposed by all, local or travel where the travel one is 2,000L.L more expensive or the same price with a weight difference since the box is metallic.
Everything started with a big desire to eat a "Succes" which became the symbol of SeaSweet today. Young Naeem and two of his brothers were students in a boarding school in Bhamdoon. As for their parents, they lived in Zahle, their birthplace. Naeem have always loved sweets which he bought occasionally from a shop near the school. In fact, since he was a child, Naeem had a special interest in sweets. As a student in Bhamdoun, he had the chance to be introduced to many sweet tastes. He thus learned how to distinguish between different tastes, even between flavors of the same tastes. During winter, the roads between Bhamdoon and Zahle were blocked with snow. So, sometimes the brothers suffered from a lack of money. On one snowy day, Naeem asked the principal of the school to lend him some. The latter categorically refused. Therefore, Naeem made his decision, especially that he couldn't pay the tuition fees. At night, he escaped accompanied by his two brothers. Since they had no money, they clung to a passing train bearing the falling snow for two hours before they reached Zahle. They had determined to return home and start earning their own living: Naeem started in a sweet shop, the other two in a bakery. Naeem had a big dream to open his own sweets shop one day.He and his two brothers decided to unify their skills and open a business. In 1966, Naeem and his two brothers opened a little bakery in their town which people liked to buy from. They worked 20 hours per day. The bakery was a success so the brothers decided to manufacture some sweets. Every brother had his own independent ambition and went on his way to achieve. In 1976, a banker helped Naeem open his own sweets shop by the name of SeaSweet which we know today. Despite the deteriorating living conditions during the war years, SeaSweet could survive even at its own expense. After all, continuity is what matters not temporary gain. Good quality was maintained as well as the customers trust.
Sea Sweet, that has many branches around Lebanon serves a large variety of Lebanese sweets,maamoul, cakes and ice cream. We arrived to the counter and asked for 1kg of mixed Baklava. The cashier at Sea Sweet was the only one that proposed the normal or extra versions with a simple difference of 2,000L.L. I discovered later on that almost all have this choice but forget to mention it. We bought a ticket from the cashier and went to pick up the package. The girl was professional, welcoming and generous, proposing to offer us a piece of every choice to taste. Friendly, clean, wearing gloves, and having a head cover, the girl continuously talked to make time pass quicker while the order is prepared. The only unpleasant thing your eyes won't appreciate looking at, are the half empty serving trays.
Al Bohsali Sweets was founded in 1870 in Beirut, Lebanon when master "patissier" Saadeddine Bohsali founded one of the first Mediterranean sweets factories in the Middle East and was named "Saadeddine Bohsali & Sons". Saadeddine operated from a factory and outlet in Union Square in Downtown Beirut, now known as Martyr's Square. Baklava, Mamoul, and Knafeh have long been the traditional pastries and deserts for the people of Lebanon and the Middle East. Households used to compete over the quality of their handmade sweets. In keeping with these traditions, Saadeddine Bohsali, assisted by his sons, extended the range of products to over thirty, and perfected the recipes and the procedures. From his factory and outlet in Martyr's Square in Downtown Beirut, Saadeddine was able to gain a very high reputation for the best middle eastern sweets in the region catering to many countries including the Sultan of the Ottoman Empire in Turkey at the time. In 1966, Saaddine's son Mounir Bohsali, assisted by his sons, established his factory and outlet for the finest Bohsali products under the name "AL BOHSALI" in Riad El Solh Square in downtown Beirut, the then new commercial and banking center of Beirut. His devotion to his father's heritage drove him to perfect every product with AL BOHSALI name associated with it. Al Bohsali operates today from the same factory that was established over 40 years ago in Riad El Solh Square in Downtown Beirut. The fourth generation of sons is now establishing a worldwide distribution network with exclusive innovative packaging concepts in order to spread the number one brand in Middle Eastern sweets all over the world.
Bohsali, opened in 1870 is one of the oldest in town. A professional man welcomes you with ultimate confidence and years of experience. He knows all the pieces names and description by heart, taking all the time to explain. Unfortunately it stops here as the place looks old and used, you are welcomed by an electricity generator and inside, non of the hygiene rules are respected. No gloves, no head cover and a work that started without him washing his hands. The impression is not the best you expect to have and the packaging is still the same since decades, wrapped in a nylon sheet without any sophistication. In 2013, I think that using boxes is a must.
The age long tradition of Arabic pastry making has always been an essential part of Lebanese history, with Beirut being renowned for its excellence in this field. One of the first established families in this industry was the Bohsali family. In 1878, Salim Bohsali opened the first outlet in Union Square, later known as Martyrs' Square. In 1903, his son Saadeddine took over under the name of "Saadeddine Bohsali and Sons" until he was replaced by his elder son Salim in 1939. In 1947, Salim's son Ghazi stepped in at the young age of thirteen. From 1947 to 1975, Ghazi Bohsali followed in his ancestor's footsteps and business flourished at the Martyrs' Square branch. In 1975, Amal Bohsali, Ghazi's wife, opened a new pastry shop in Hamra. It was named "Amal Bohsali". In 1993, with the expansion of Greater Beirut, a new "Amal Bohsali" branch opened at Jal el Dib highway. Another branch was inaugurated in Ras-Beirut in 1998. This is still very much a family business, with Ghazi Bohsali being seconded by his wife Amal and two sons Salim and Mazen. New additions to the existing Lebanese pastries are constantly being introduced, keeping the emphasis on quality and top rate products. Since 1975, "Amal Bohsali" shops have been awarded the " **** A " distinction by the ministry of Tourism, making them a leader in their field.
This 120 year-old business is being continuously updated with the latest technology, keeping old artistic handmade methods that remain the key element in this type of industry.
AmalBohasli's welcoming was the best. The cashier welcomed us at the door than another person behind the display insisted we taste his creations by handing us two pieces of sweets in white paper. A calm place where only Lebanese sweets are sold.AmalBohsali is not sophisticated, simple and professional. I personally liked the look and feel of the place. You can go up the first floor, where acafe welcomes you all day long.
Al Baba Sweets is a family business that dates back to 1950. The business started with a 50m2 kitchen in Saida –Lebanon and flourished into 9 points of sale with more than five production lines in the Middle East. The showrooms have a unique and standardized aesthetic appearance, and are served through a 2000m2 factory in Lebanon and another 500m2 in Dubai. Two more satellite kitchens exist between Beirut and Abu Dhabi.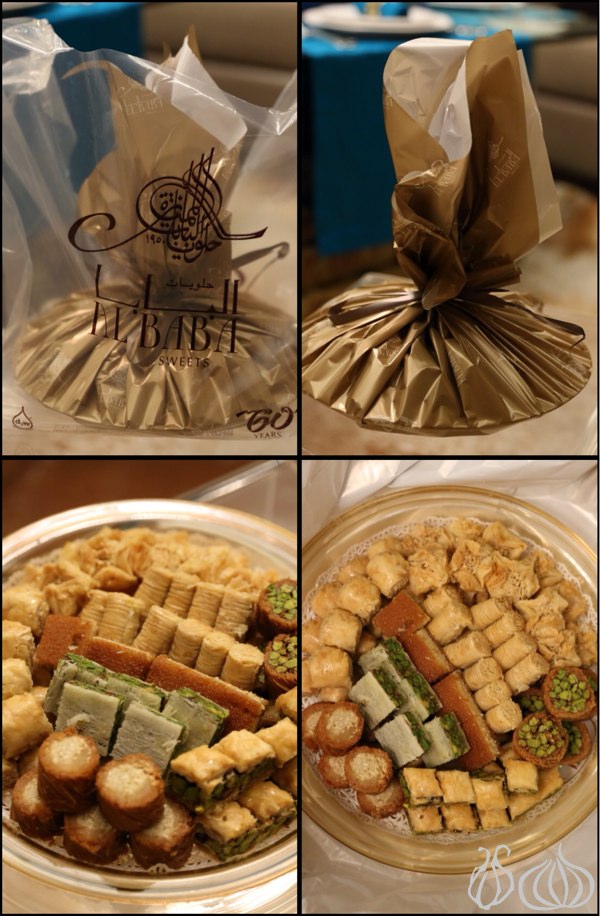 Honestly, Al Baba was the least I enjoyed. Nothing seemed to be right around here. No pictures were allowed but I managed to take some. I was not offered anything to taste, the guy didn't feel like talking and avoided answering my questions about the products. The cashier didn't feel like working at all, playing on his phone in unprofessional in the presence of customers and the place's overall look was dirty. Nylon wraps were thrown over the sweets in a disgusting way. The fridges and displays were dirty. When asked to give us 1kg of Baklava, the salesman tried to sell us the pre-prepared travel package trying to work less. The best part I loved is the waiter's chewing gum: So professional!
In 1881, the Lebanese city of Tripoli, renowned for its ancestral history and great heritage, witnessed the rise of a new dawn in the world of traditional oriental sweets. Exquisite, tasty, rich and incomparably delicious, Abdul Rahman Hallab's wide range of oriental sweets soon became the most famous in the whole region, seducing refined palates and winning the hearts of millions of authentic sweets lovers. The success story continued with Abdul Rahman Hallab's sons, in the home of their grandfather who founded the famous Abdul Rahman Hallab & Sons' "Kasr el Helou" which is considered today as one of Tripoli's most renowned tourist sites, visited by hundreds of people from all over the world.
At Abdel Rahman, you can't but leave happy and smiling. The staff seem to love their job. They are working in a fast and synchronized way. Boxes of sweets are pre-prepared making you wait less than 3 minutes. Touring along the displays, the staff explained everything calmly and with a smile. The quickest, the better lit, the most welcoming and the only of the 7 visited which has an expiry date on the package. Just for info, Abdul Rahman and Rafaat Hallab don't have the "Bukaj" kind.
In the year 1936, Fouad Douaihy & his wife established in EHDEN, in the mountains of North of Lebanon, the first shop for sweets. Father to sons, in 1979 an ambitious son named Georges left his hometown to settle in the Lebanese capital Beirut. That same year, he opened his first shop at Boulevard of Sin El Fil. The history of Douaihy Sweets or Patisserie Douaihy began.
Georges with his four sons expanded the business. They established new branches starting in Jounieh (1990), followed by Achrafieh (1993), Zalka (1996), and the latest one in Duty free at Beirut Int.Airport (1999).
Patisserie Douaihy has always been the best in sweets thanks to the effort put into obtaining exclusive quality. Freshness is essential in the making of first-class sweets. The ingredients are chosen with the greatest care and only the best natural raw materials are selected.
Today, our name represents that of one of the oldest and most prestigious sweets in Lebanon.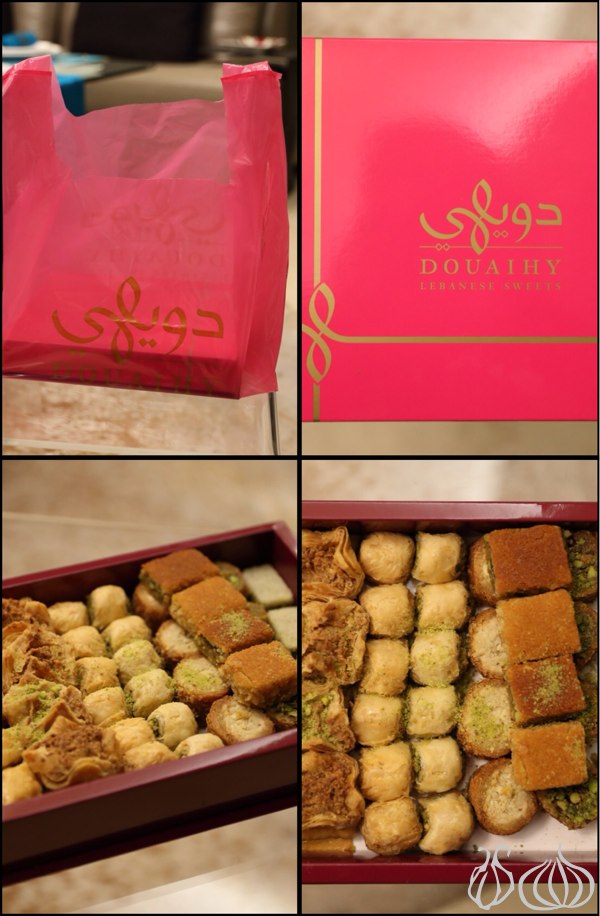 Doueihy is the funkiest of all. A pink packaging and a fresh place is interesting to visit. ADouaihy, the sweets displays are filled to the top making them look fresh and appetising. You will notice theashta and specialties of the North everywhere. Unfortunately, the ice cream fridges looked dirty and the staff is too young in my opinion, since none of the them know the history of the place or the details of every piece.
Since 1881, Rafaat Hallab 1881 SAL has been gratifying their customers' gourmet fantasies with the most delicious homemade oriental pastries. Still improving on the legacy of the past,Rafaat Hallab 1881 SAL pastries are now a reference in Lebanese sweets worldwide. Their craftsmen choose the best of nuts, pistachios, pine kernels, and other vitamin-loaded prime ingredients to give you the finest of oriental sweets. The company policy is to maintain the quality of its products through selecting the best base ingredients and raw materials, improving the industry to satisfy its clients, and serving them faster worldwide by using modern packaging techniques, continuing to maintain this artistic and traditional handcraft through choosing qualified and experienced employees. This policy is implemented through the company's ISO 9001,2008 quality system, which covers all the company's operations and activities and applies to all employees. Now Rafaat Hallab 1881 SAL focuses on customers who want high quality products, packed in a very appealing package. Our customers might be large corporations, small or medium businesses, or individuals.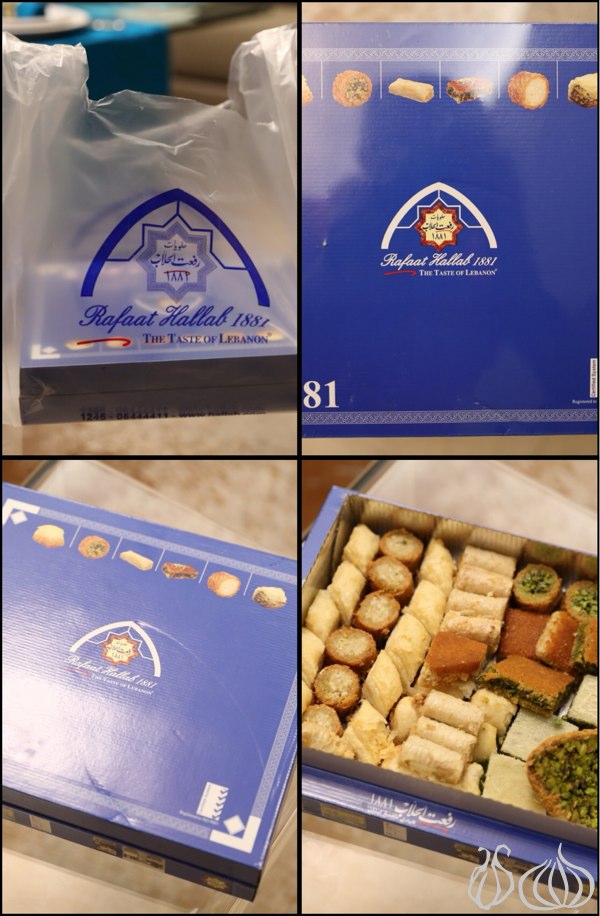 Rafaat is the smallest of all, located in Jounieh on the Maameltein highway. An old place, an unpleasant entrance but one of the most welcoming staff available. I took video shots of him as we toured around while explaining about all. But the bad location, the small place and an unpleasant neighborhood doesn't help much. The place is so small that the displays don't look nice since they are packed one on the other to fit. Rafaat has the best packaging of all, filled in a carton box and wrapped in nylon to preserve freshness.
At 10pm, the rating and tasting started:
The Shopping Experience:
The Overall Grade:

The Winner is: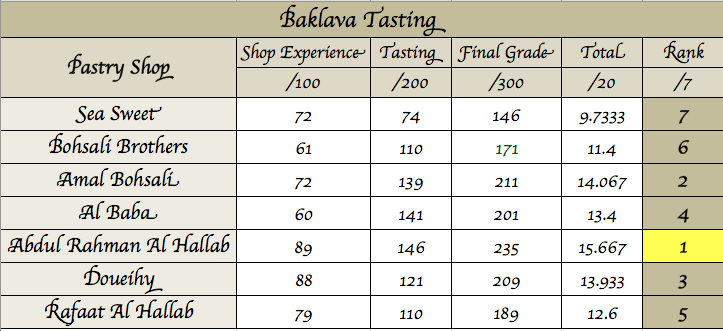 The Ranking:
Abdul Rahman Hallab: Nice packaging, beautiful box setup, crunchy pieces and an adequate quantity of sugar make Abdul Rahman the best of all. Food safety is respected: a plastic box, an expiry date and a superb staff is all what's needed to make you smile. The baklava pieces are clean and clear, fresh and non sophisticated. We all loved them.
Amal Bohsali: Amal Bohsali, the Lebanese sweets professional just needs a little bit more to reach the top. The taste is different from the one of Abdul Rahman but special in its unique way. I noticed that the older generation prefers it. Working on issues like the box, gloves and cover can make a big difference.
Doueihy: Lebanese sweets are not just simple occidental desserts and should be handled with ultimate care, knowledge and know how. Young staff doesn't fit this product, the cashier was really repulsive and this trend of forbidding picture taking without any plausible excuse is bad for the shop's reputation. The branding is nice, the box, taste and freshness of pieces puts it in a well deserved position of 3
Al Baba: I would never visit this shop again. Yes, I had the worst shopping experience of all even though the plate's presentation, size of pieces and colors are great, placing Al Baba 2nd in terms of taste. We all loved the taste of Al Baba, its crunchiness, adequate quantity of sugar, freshness and feel. I personally never liked Al Baba and have considered them to be better in better in maamoul than Baklava.
Rafaat Hallab: I am sure that the experience in Tripoli is much better than the one in Jounieh. Changing or upgrading the shop can make all the difference.
Bohsali Freres: The name and experience should have made Al Bohsali one of the best. Unfortunately, nothing seems to be right here. The most expensive box is filled without gloves and wrapped in nylon in the oldest and less appetizing place. As for the taste, I am sorry to say it bluntly, but three persons tonight couldn't even swallow it. They looked old and lack freshness.
Sea Sweet: The pieces are too big, unappetizing and filled with sugar syrup which covers all the taste if there, if any. Non crunchy, very chewy and causes a heartburn, Sea Sweet's baklava were everyone's least favorite. Receiving a below average note is justifiable and clear.
The Awards:
Best Shopping Experience: Doueihy
Best Taste: Al Baba
Best Box: Rifaat Hallab
Best Presentation: Amal Bohsali
Best Generosity: Amal Bohsali
Best Pieces size and shape: Al Baba
17 people have voted, and I think that the results are as expected. Your opinion counts...
Let us know about your preferences and hear your opinion.