America's love story with pizza is 75 years old – and Americans started flirting with pizza pie well over a century ago.
Lombardi's, in New York City, is most commonly cited as America's first pizzeria – this Little Italy joint opened in 1905. Pizza-chomping Italians had entered the States before the turn of the 20th century, but it wasn't until the close of WWII and the opening of America's fridge-freezer generation that pizza became the 'go-to' chow around the country.
The frozen home pizza forced pizzerias to make a choice: go cheap, or go luxurious. And this tension has evolved ever since, as pizza went from being a beat-era phenomenon to a billion-dollar industry by the 1980s.
Because ultimately, you eat pizza because you just got to eat. A deluxe slice is nice from time to time – but when you most want pizza, you want it fast, and you want it cheap. Expensivity.com munched the numbers, mapping the average price of cheese/plain and pepperoni pizza across the pizzerias of every American state. We also found out the average price by city and the density of pizzerias per person around the US.
The cheapest cheese pizza is in North Dakota, where the average price is $6.64.
Alaska has the most expensive cheese pizza in the US on average, at $9.21.
The city with the cheapest pepperoni pizza is Virginia Beach, VA ($6.26).
Rhode Island is the state with the highest density of pizzerias: 37 for every 100,000 residents.
Detroit, MI, is the city with the lowest density of pizzerias in the US (just 0.9 per 100k people) – while Fort Lauderdale, FL, has the highest density (95.4 per 100k people)
America's Pizza Costs in Full – on a City Level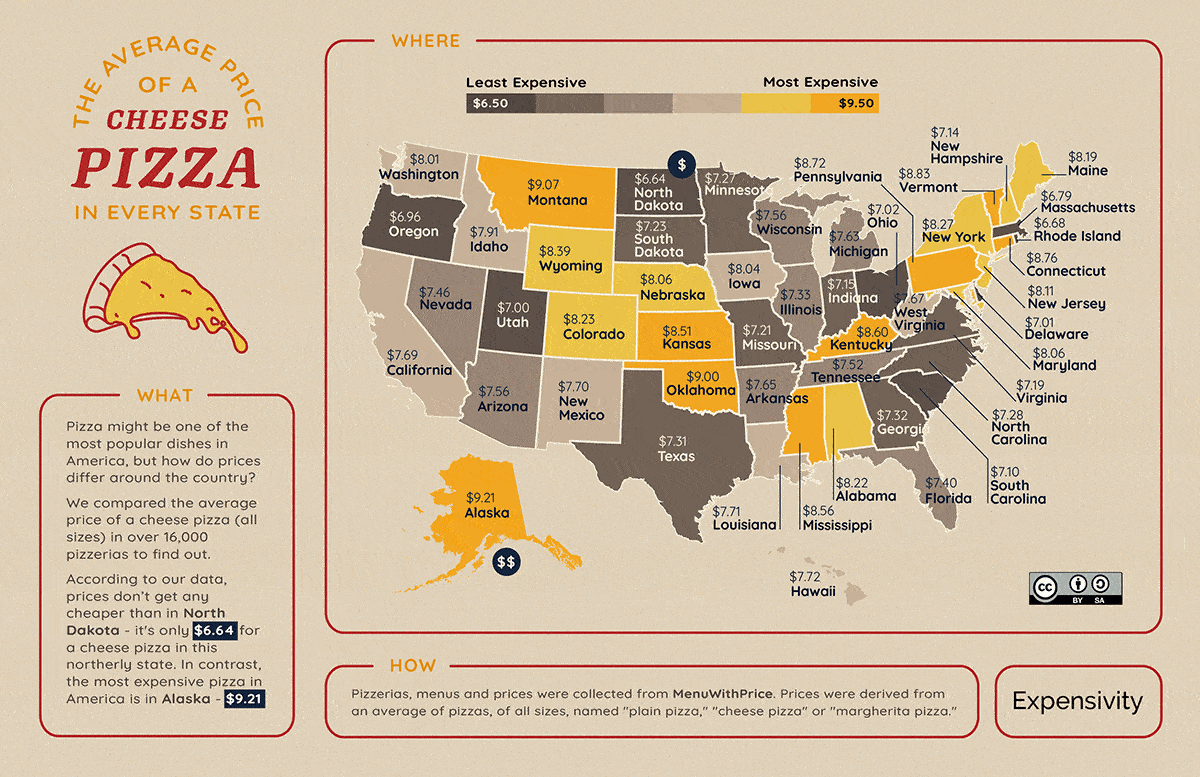 Finally, here's the data in full. Use the buttons to sort by city or state, cheese or pepperoni, or number of pizzerias.
Wilmington, NC, and Hayward, CA, are tied for America's cheapest plain cheese pizza. The average price is $6.35 in both cities, while the cheapest pepperoni is over in Virginia Beach, VA ($6.26).
You'll pay a staggering $15.01 on average for a Margherita in Eau Claire, WI. That makes it America's most expensive city for a cheesy pizza pie. By contrast, a pepperoni pie in Eau Claire costs only $11.35 on average.
You'll feel the most special dining out for pizza in Fort Lauderdale, FL, where 95.4 pizzerias per 100,000 people mean you should get plenty of personal attention. Second-placed West Palm Beach is also in Florida, but with just 58.1/100k, indicating how pizzeria-rich Fort Lauderdale is.
You're probably hungering for pizza by now. Armed with these stats, you know just where to go for the cheapest slice – or why not commence a cheap pizza tour of the US?
METHODOLOGY & SOURCES
Pizzerias, menus, and prices were collected from MenuWithPrice. Cheese pizza prices were derived from an average of pizzas of all sizes, named "plain pizza," "cheese pizza," or "margherita pizza." Pepperoni prices were derived from pizza of all sizes that had pepperoni as the singular topping.
The number of pizzerias in each city and state was estimated using MenuWithPrice andYelp API.
Due to the unstructured nature of the menu data, it wasn't feasible to differentiate pizza prices by size of pizza, meaning that average prices reflect the prices of qualifying pizzas of all sizes.
City and state populations were taken from the U.S. Census Bureau. Only cities that had at least 10 pizzerias and a population of 100,000 or more people were included in the final dataset.
Data collected in Apr 2021.