It's these kinds of stories that people should be reading about Lebanon... Success stories, courage, ambition... Just reading about 961 Beer in the New York Times, put a big smile on my face and I really wanted to share it with you in case you missed it...
[caption id="attachment_50999" align="aligncenter" width="600"]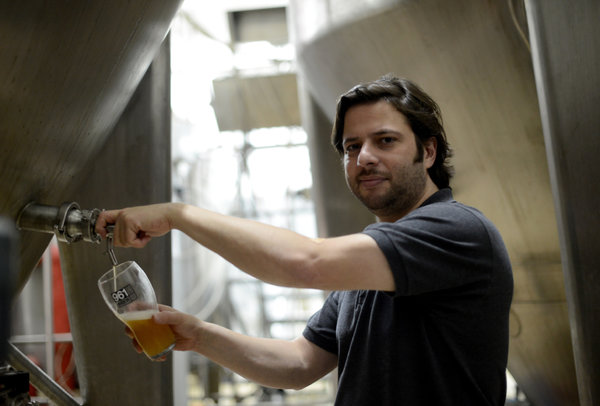 Kate Brooks for The New York Times[/caption] Last spring, at a public square in downtown Beirut, Lebanon, about 1,000 revelers attended a rock festival sponsored by 961 Beer, a very rare Middle East microbrewery. Acts included the Wanton Bishops, a band that would have been at home in Austin, Tex. In the front row were stylish women in sundresses beside men who showed a strong preference for black T-shirts and trendy eyewear.
Mr. Hajjar started brewing buckets of beer in his kitchen, using how-to books as a guide. He says the first batches were terrible.
Forget the idea that religion or the effects of war might preclude the success of a Lebanese brewery. It's true that many Muslims abstain from alcohol. But plenty of people in the Middle East love to drink, and this is especially true in Lebanon, where the religious plurality includes a thriving Christian population — and besides, people seek alcohol during hard times, said Mazen Hajjar, a former investment banker and airline executive who started 961 Beer.
But there has been a problem. For 80 years, Lebanon "has been drinking fizzy, light beers," he said. "I wanted to brew real beer."
His company makes a beer that was named best lager at the Hong Kong International Beer Awards last year. Other regular offerings from 961 include a red ale, a pale ale, a stout, a porter, a witbier and, starting this summer, a black IPA, or India pale ale.
Last year, the company sold the equivalent of 200,000 cases of beer in bottles and kegs. With sales in Lebanon and abroad, the company expects to break even for the first time this year. That is no small feat, considering that 961 began after war broke out between Lebanon and Israel in 2006, that the economy still hasn't fully recovered from the 15-year civil war that ended in 1990 and that now the conflict in Syria is spilling over into Lebanon.
"It's remarkable that Mazen has been able to put a business together in that chaos," said Steve Hindy, a co-founder of the Brooklyn Brewery and a former Beirut correspondent for The Associated Press. "Mazen is the Lone Ranger there."
[caption id="attachment_51000" align="aligncenter" width="650"]
Kate Brooks for The New York Times
A 961 Beer display at a Beirut supermarket.[/caption]
Mr. Hajjar got the idea to form 961 in 2005, when Henrik Haagen, a Danish businessman vacationing in Beirut, happened to approach him on the street and ask for directions to a restaurant. The two struck up a conversation and realized that they both wanted to start a business. After they came up with a brewery as a possibility, they set to work. Mr. Haagen returned to Denmark and began sending Mr. Hajjar hops and grain — they weren't readily available in Lebanon — by UPS and DHL.
From the kitchen of his Beirut apartment, sometimes as shells fell nearby, Mr. Hajjar started brewing buckets of beer. He used how-to books as a guide. The first batches were terrible — green, gassy muck, he said. But he kept trying to improve.
He started holding gatherings every Sunday, where he would cook food and test new ales and lagers. More and more people came to the tastings, and when the food ran out at one of them, no one seemed to mind.
On another night, two strangers knocked on the door. "I hear you make good beer," one of them said. "Can we buy some?"
Shortly after that, Mr. Hajjar and Mr. Haagen pooled their cash to start a microbrewery. Mr. Haagen traveled back and forth between Denmark and Beirut to help with the effort. They imported a complete brew works from Canada — with stainless steel tubing and giant vats for boiling, cooling and fermenting — and installed it in a small factory space outside the city. Then the company leased another space on the city's not-yet-gentrified eastern edge. It would be a pub, they decided. And it would be called 961 Beer, for Lebanon's international telephone code.
On the opening night, in September 2007, the paint on the newly built bar furniture was not dry yet, so Mr. Hajjar, Mr. Haagen and their friends feverishly started blow-drying it, Mr. Hajjar recalled. When they finally opened the roll-top security gates, they saw that 300 people were in line.
Mr. Hajjar and his crew kept a hectic pace, brewing throughout the mornings and afternoons, then racing to the pub to open to bigger and bigger crowds. "It was crazy," he said. "We just couldn't keep going like that."
In 2009, Mr. Hajjar made the painful decision to shutter the pub, and then the brewery, until a way could be found to keep up with demand.
During the shutdown, Mr. Hajjar, Mr. Haagen and a third partner, Thomas Norberg, a former hotelier, raised money from family members and friends to expand. They found a much bigger space outside Beirut and bought equipment for a new brewery that greatly increased capacity. It opened in 2011.
THE bigger operation does not solve a fundamental problem: the high cost of doing business in Lebanon. To make beer, 961 must import ingredients from Germany, Britain, the United States and the Czech Republic. It must also buy power and water in Lebanon, where utility prices are extremely high. After that, there are costs for exporting kegs and bottles. The brewer's beers are available in countries including the United States, Britain, France, Spain, Syria, Ghana and Australia.
"In the U.S. there are a lot of people importing grain and hops," Mr. Hindy of the Brooklyn Brewery said. "You're able to benefit from the economies of scale." In Lebanon, by contrast, "Mazen is the only guy there," so he cannot join with others to buy in bulk.
Joshua M. Bernstein, the author of "Brewed Awakening: Behind the Beers and Brewers Leading the World's Craft Brewing Revolution," has tried 961's beers. "They do a lot with beers of a classic style — to make these more delicate beers it takes more finesse, because you don't have a lot of hops to hide behind," he said.
Mr. Bernstein said 961's biggest hurdle might be a long supply chain. "So many things can go wrong," he said. "Delicate beers with a lot of flavor really need to find consumers as soon after they're brewed as possible."
Mr. Hajjar said he wanted to keep expanding internationally and was considering opening a brewery in the United States. Whether or not that becomes a reality, he has come a long way since making that first batch of beer in a city under siege.