The Peninsula, Italian restaurant in Dbayeh is one of those places we tend to forget sometimes, only because several other Italians have opened around town and maybe in more convenient places like malls or closer to Beirut. The food is good, the location and whole set up is fresh, a perfect spot for a Sunday family reunion lunch.
I haven't been there in a while, I was impressively surprised.
Let's not forget that Peninsula is one of - if not the first - to start the restaurant trend in the Dbayeh area.
You reach a private land where an Italian country house is built on a little cliff overlooking the sea shores of Dbayeh. A huge restaurant, divided into two floors welcomes you in a cozy and warm ambiance of wood, fabrics and light concrete, all mixed together to form a beautiful architectural setup that is relaxing to the eyes yet sophisticated at the same time.
It all starts with the white piano before moving on to the inner area divided into two rooms, the outside closed heated terrace and the garden, where we were seated.
We were surrounded by glass facades with a cover of bamboo shoots and compressed wood to neutralize the potential echoes. I liked this place, a lot. The relaxing sea view, the garden covered with green grass, a couple of trees next to the metallic high doors with outdoor furniture. The concrete floor adds a final touch making you feel in one of Italy's greatest farms, far from the traffic, especially now, during Christmas time.
The menu sections:
Insalata
Zuppe
Paste
Antipasti
Risotto
Pizze
Peninsula selection of fresh pasta
Second piatti/plats principaux
Dolce/Dessert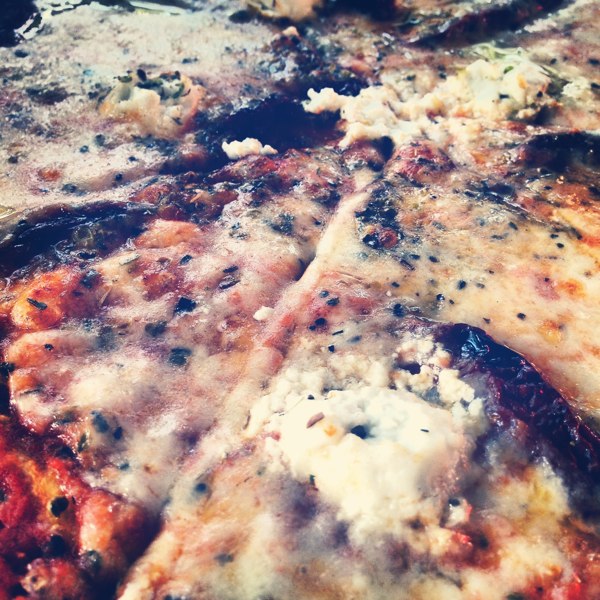 We Ordered:
Insalata Iceberg: Iceberg, Roquefort sauce, cherry tomato, walnuts
Insalata di Capra: Warm goat cheese, iceberg salad, dried tomatoes, black olives, cherry tomatoes, basil, walnuts, lemon sauce
Funghi e Parmigiano: Fresh mushrooms, Parmesan cream, Rosemary sauce
Tagliatelle della riviera: Tagliatelle, cream, smoked salmon, dill, vodka
Melanzane alla Sorentina: Fried eggplant, tomato sauce, basil, mozzarella, Parmesan cheese
Calamaretti Freschi con Salsa Limone: Fresh calamari served with lemon sauce and salad
Risotto alla Funghi Porcini: Rice, dried boletus, onions, parsley, Parmesan cheese
Pizze Prosciutto e Funghi: Tomato sauce, mozzarella, ham, fresh mushroom, oregano
Lasagne al Salmone: Lasagna, cream sauce, smoked salmon, spinach, mozzarella
Pizza Corleone: Tomato sauce, dried tomatoes, mozzarella, goat cheese, truffle oil, oregano
Lunch started when bread was served with a mix of diced tomatoes, basil, pepper, garlic and olive oil followed by the drinks, appetizers and main platters. I enjoyed their Melanzane, loved their generous and fresh salads and couldn't stop eating slice after the other of their good Italian Pizza. Everyone of us was satisfied... I could read it on their faces.
On another hand the Risotto is a total failure: Over cooked, badly presented and too watery! I couldn't eat more than a couple of bites. It reminded me of the famous Lebanese Rice and beans platter. It's a dish to reconsider.
The mouthwatering delicious desserts:
Crosta de Mela (Crust of apple, vanilla scoop, caramel sauce)
Miglia Foglia di Banana (Mille feuilles banane, creme patisserie, sauce caramel)
Trufa Cioccolato (Tartuffe chocolate, vanilla ice cream)
Tiramisu della Casa (Home made Tiramisu)
Desserts are even better than the main courses especially the Banana Mille Feuille: EXTRAVAGANT!
Some minor changes:
I would really make the portions a bit smaller even though the restaurant prices are reasonable, but with smaller portions you can lower them even more making your dishes better looking specially the Risotto that looks unappetising.
The welcoming should be more pleasant. A smile is all what people expect
It was an enjoyable lunch and a nice experience that I will surely repeat soon. Leaving the restaurant at 4pm, the manager then called, informing us that there has been a slight mistake in the bill in our favour insisting not to return for the difference. I took the bill to keep track of the items ordered for my review. We all appreciated the high level of professionalism.