Planning my trip to the French capital, I was looking for a hotel in the 9th district. I need a place close to my where my courses are held and at the same time with easy access by metro or taxi. Booking.com, my favorite reservation website, which I have been using for the past couple of years, never let me down - this time it recommended The Pulitzer. A four stars hotel, 13 minute minutes away from my point of interest, was a great choice where I spent most of my time in my cozy room working or watching TV.
The Pulitzer hotel, nestled on rue du Faubourg Montmartre amazed me from the first minute I set foot in this unique design hotel. You reach a long lobby, a reception on the left and an open space on the inner saloons and bar. Concentrated use of wood, coupled with rusted metal follows you all the way. Behind the reception, you'll be fooled by a large poster of keys, adding this old touch to a hotel mixing between art, modernism and sophistication all by maintaining original traditions.
The lobby is worth passing by for a quick look or a drink:
An open space all covered with wood and decorated with shiny objects
Long and large parquet strips cover the floor
A black ceiling keeps you focused on the art below
Three chandeliers welcome you with style
Stairs. The right leading to the breakfast area and the reception on the left
Two grey couches face the reception
Paintings and sculptures add the fine art feel you expect
Dividing the space in half is a library, more of a dining area with two metallic tables, their chairs, lighting and decoration
More inside, a large well lit saloon can host dozens of guests for drinks
Six pending glass chandeliers and a wall covered with mirrors
A slight climb to reach the intimate saloon
At the very end, Chesterfield couches and a chimney transport you into the British capital
Metal, red curtains and lots of sculptures in a space entertained with a music all the way
From the moment I entered this space, I knew that I was up for something unique and interesting at the same time. Between a normal room of 16sqm and an executive of 20sqm, I went for the executive one up on the fifth floor with a view on the Main Street below, as well as the rooftops of this busy city.
I was offered a welcome glass of wine at the bar on the first night between 19:30 and 20:30.
Facilities at the hotel:
Bar
Room service
Air conditioning
Laundry room, Laundry service
Shuttle service from and/or to the airport
Personal newspapers
Multilingual staff
Newspapers
Front desk - 24 hour
Concierge
Luggage room
Business Center
Meeting Room
Medical service, Baby sitter
Free Wifi Internet
More metal cover the elevator that takes you directly up to the room
The room:
A square space, built and painted in concrete
A bed in the middle on a red carpet surrounded by a metal furniture all around
One black closet is all you need, with a safe hidden inside
A working desk facing the 42 inch Samsung TV broadcasting more than 80 HD channels
A relaxing bathroom: large, perfectly lit and plainly constructed in concrete
A sink, a mirror and a big shower space with a strong pressure water I enjoyed
A nice room, a large bathroom, a great and calibrated air conditioning system with sound proof windows make you feel secure in a homey atmosphere. I enjoyed my room so much that I spent lots of time in it working or watching TV.
I tried to look out for anything negative but couldn't find much, the little details taken care of at this hotel just made me continuously happy:
The bed sheets smelled so nice
Bathroom amenities were changed three times this week
The towels were changed every two days even though I didn't threw them on the floor
Four relaxing pillows, not thin and not thick but studied for the clients comfort
An air conditioning system that reflects the strong air around the room without beating your bones out
Two windows, one over the other block very possibility of noise that can escape from outside
Four receptionists handling the front desk are smiley and welcoming. I salute the only man working along three women for his professionalism and fluent manner of handling any question to keep customers happy. I thank you also for offering me breakfast twice.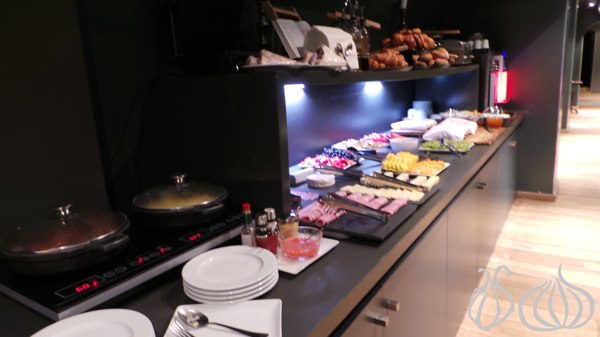 The waitress spent her time in the kitchen
She is eagerly excited to make you sign the breakfast sheet (no hotel in the world makes you sign and we do get ask about the room number before leave)
This signature details makes you feel like they they want to guarantee breakfast payment
When asked about coffee she showed me the machine without offering help
Another customer asked for tea and it was the same reaction. She should tell him, "come with me sir, which tea do you prefer, and prepare it for him"
Five plates and a bowl of corn flaked were never removed from the table in front of me, even though I stopped eating the very first minute I arrived
The milk tasted sour, I couldn't continue eating my cereals
Same chewy feel of the croissants
Again nobody proposed any eggs, so I asked and was answered: "Euh, yeah, why not, we can make you eggs if you want, but there are already on the buffet". Anything else? Crepes or pancakes?: "No, simply eggs."
I sat here for an hour, the waitress spent 50 minutes out of those in the kitchen
I suggest you you the five jars of milk and fruits in an ice container. With this summer's heat, you can get food poisoned
It's a shame to see such a great hotel have such bad breakfast. I was promised a change, let's see when it happens.
The only minus:
I woke up every day with a back pain due to the different levels between the two beds stuck to each other to create one king size bed. A king size bed is a king size bed, not two small ones. This made me mad.
I enjoyed this hotel to an extent I'll come back to it anytime I have the chance to. Everything was just perfect, especially its cosiness not felt in many others in the capital. Unlike other hotels, this one is calm. I spent a lot of time in my little room that felt as comfortable as home. I recommend it and suggest you try it when you have the chance to.