It's that time of the month… and you know which time…
Time for 'The BOX'. Has yours reached you yet? If it has you'll notice that the 7thedition is extremely rich, colorful and very tasty to say the least…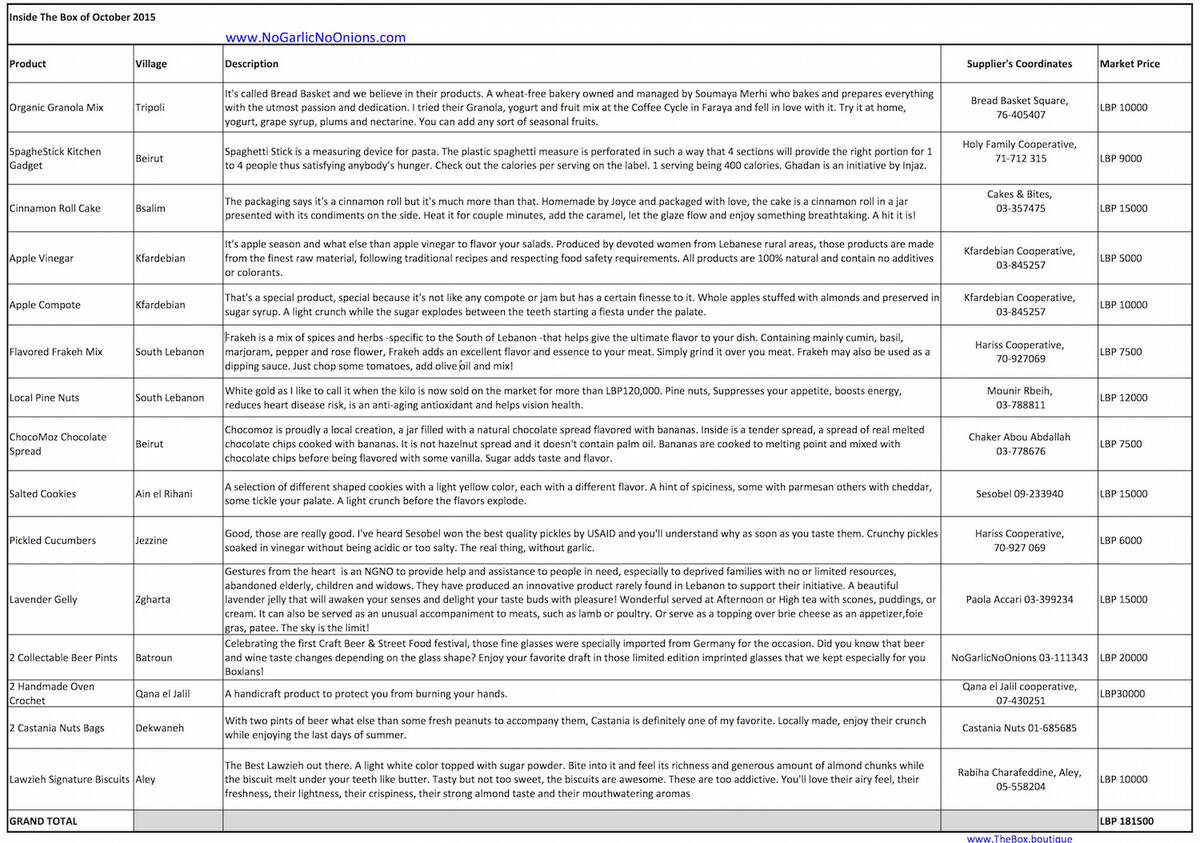 I am excited that they are out today, especially on the first days of winter rain… I can imagine some of you gathering around with friends this evening opening each and every one of the items in the box to taste it's content… They are all my favorites, so don't ask me to choose…
This month we threw in a few exciting items along with my latest discoveries around town... Check out the two strawberry hand knitted kitchen mittens that are a perfect addition to your kitchen, while the spaghetti utensil will help you know exactly how much spaghetti to cook for a certain number of people... and two personalized beer glasses from Colonel Beer and NoGarlicNoonions.
Chin chin every time you use the special glasses and bon appetite when trying each of the items in the BOX.

Start traveling around Lebanon with me through flavors and rich products prepared by local food experts...
Organic Granola Mix (Tripoli): It's called Bread Basket and we believe in their products. A wheat-free bakery owned and managed by Soumaya Merhi who bakes and prepares everything with the utmost passion and dedication. I tried their Granola, yogurt and fruit mix at the Coffee Cycle in Faraya and fell in love with it. Try it at home, yogurt, grape syrup, plums and nectarine. You can add any sort of seasonal fruits. Bread Basket Square, 76-405407
SpagheStick Kitchen Gadget: Spaghetti Stick is a measuring device for pasta. The plastic spaghetti measure is perforated in such a way that 4 sections will provide the right portion for 1 to 4 people thus satisfying anybody's hunger. Check out the calories per serving on the label. 1 serving being 400 calories. Ghadan is an initiative by Injaz. Holy Family Cooperative, 71-712 315
Cinnamon Roll Cake (Bsalim): The packaging says it's a cinnamon roll but it's much more than that. Homemade by Joyce and packaged with love, the cake is a cinnamon roll in a jar presented with its condiments on the side. Heat it for couple minutes, add the caramel, let the glaze flow and enjoy something breathtaking. A hit it is! Cakes & Bites, 03-357475
Apple Vinegar (Kfardebian): It's apple season and what else than apple vinegar to flavor your salads. Produced by devoted women from Lebanese rural areas, those products are made from the finest raw material, following traditional recipes and respecting food safety requirements. All products are 100% natural and contain no additives or colorants. Kfardebian Cooperative, 03-845257
Apple Compote (Kfardebian): That's a special product, special because it's not like any compote or jam but has a certain finesse to it. Whole apples stuffed with almonds and preserved in sugar syrup. A light crunch while the sugar explodes between the teeth starting a fiesta under the palate. Kfardebian Cooperative, 03-845257
Flavored Frakeh Mix (South Lebanon‪‎): Frakeh is a mix of spices and ‪herbs -specific to the South of Lebanon -that helps give the ultimate flavor to your dish. Containing mainly cumin, ‪basil, marjoram, ‪pepper and rose flower, Frakeh adds an excellent flavor and essence to your meat. Simply grind it over you meat. Frakeh may also be used as a dipping sauce. Just chop some ‪tomatoes, add ‪olive ‎oil and mix! Hariss Cooperative, 70-927069
Local Pine Nuts (South Lebanon): White gold as I like to call it when the kilo is now sold on the market for more than LBP120,000. Pine nuts, Suppresses your appetite, boosts energy, reduces heart disease risk, is an anti-aging antioxidant and helps vision health. Mounir Rbeih, 03-788811
ChocoMoz Chocolate Spread: Chocomoz is proudly a local creation, a jar filled with a natural chocolate spread flavored with bananas. Inside is a tender spread, a spread of real melted chocolate chips cooked with bananas. It is not hazelnut spread and it doesn't contain palm oil. Bananas are cooked to melting point and mixed with chocolate chips before being flavored with some vanilla. Sugar adds taste and flavor.Chaker Abou Abdallah 03-778676
Salted Cookies (Ain el Rihani): A selection of different shaped cookies with a light yellow color, each with a different flavor. A hint of spiciness, some with parmesan others with cheddar, some tickle your palate. A light crunch before the flavors explode. Sesobel 09-233940
Pickled Cucumbers (Jezzine): Good, those are really good. I've heard Sesobel won the best quality pickles by USAID and you'll understand why as soon as you taste them. Crunchy pickles soaked in vinegar without being acidic or too salty. The real thing, without garlic. Hariss Cooperative, 70-927 069
Lavender Gelly (Zgharta): Gestures from the heart is an NGNO to provide help and assistance to people in need, especially to deprived families with no or limited resources, abandoned elderly, children and widows. They have produced an innovative product rarely found in Lebanon to support their initiative. A beautiful lavender jelly that will awaken your senses and delight your taste buds with pleasure! Wonderful served at Afternoon or High tea with scones, puddings, or cream. It can also be served as an unusual accompaniment to meats, such as lamb or poultry. Or serve as a topping over brie cheese as an appetizer,foie gras, patee. The sky is the limit! Paola Accari 03-399234
Collectable Beer Pints (Batroun): Celebrating the first Craft Beer & Street Food festival, those fine glasses were specially imported from Germany for the occasion. Did you know that beer and wine taste changes depending on the glass shape? Enjoy your favorite draft in those limited edition imprinted glasses that we kept especially for you Boxians! NoGarlicNoOnions 03-111343
Handmade Oven Crochet (Qana el Jalil): A handicraft product to protect you from burning your hands. Qana el Jalil cooperative, 07-430251
Castania Nuts Bags: With two pints of beer what else than some fresh peanuts to accompany them, Castania is definitely one of my favorite. Locally made, enjoy their crunch while enjoying the last days of summer. Castania Nuts 01-685685
Lawzieh Signature Biscuits (Aley): The Best Lawzieh out there. A light white color topped with sugar powder. Bite into it and feel its richness and generous amount of almond chunks while the biscuit melt under your teeth like butter. Tasty but not too sweet, the biscuits are awesome. These are too addictive. You'll love their airy feel, their freshness, their lightness, their crispiness, their strong almond taste and their mouthwatering aromas. Rabiha Charafeddine, Aley, 05-558204
Subscribe today www.TheBox.boutique
See you next month