Roadside diners are one of the most iconic symbols of U.S. culture to emerge this past century. Not quite fast food, but also not a typical "sit-down" restaurant, these unique attractions have treated hungry families and early-morning workers to hot plates of cheap food for decades.
If you're thinking about a road trip this Spring Break or summer, roadside diners will definitely be your friends. Though they may not provide the healthiest food around, it's good, it's affordable and diners are often located conveniently off the highway.
More than that though, diners hold nostalgic value for many visitors. The hearty, at-home meals may remind you of childhood brunches with the family after church, greasy comfort food with friends late at night or just of simpler times in general. The next time you are driving across state lines, make sure to stop into a few of these hidden relics. You'll enjoy some greasy food and learn about the history and culture of the region through the best diners in America.
History of Roadside Diners
The first diners in the U.S. appeared during the late 1800s and were actually not buildings at all. The original diners were horse-drawn wagons that served coffee and sandwiches to late-night workers. These later evolved into dining railcars, which became the architectural inspiration for many non-mobile diners.
The first stationary diner was established on the east coast in 1913, and diners soon began to crop up all over the U.S. A few years later, they were even shipped to Europe! The diner aesthetic that we know and love today is the result of many years of transformation, from chrome paneling in the 1930s to the bright, Coca Cola-esque themes of the 1950s.
Today, diners have maintained many of the attributes that made them popular throughout the decades. Most diners are still open 24 hours a day, 7 days a week, so third-shift and early morning workers (as well as hungry college students!) can grab a bite when most other establishments are still closed.
Today's diners also continue to serve "home-cooked" breakfast plates all day long, often consisting of omelets, bacon, scrambled eggs, waffles and hashbrowns. Lunch menus usually consist of a few varieties of burgers with a big helping of fries, and of course, chocolate shakes and pie slices of the day.
Now that you know a little more about where the "classic" diner came from, we're going to take you through some of the most iconic and best diners in America that are still serving guests today.
15 Iconic Roadside Diners: From Northeast to Southwest
Representing the characteristic architecture, hospitality, roadside access and, of course, cuisine of the classic American diner, here are our top pics.
Palace Diner: Biddeford, Maine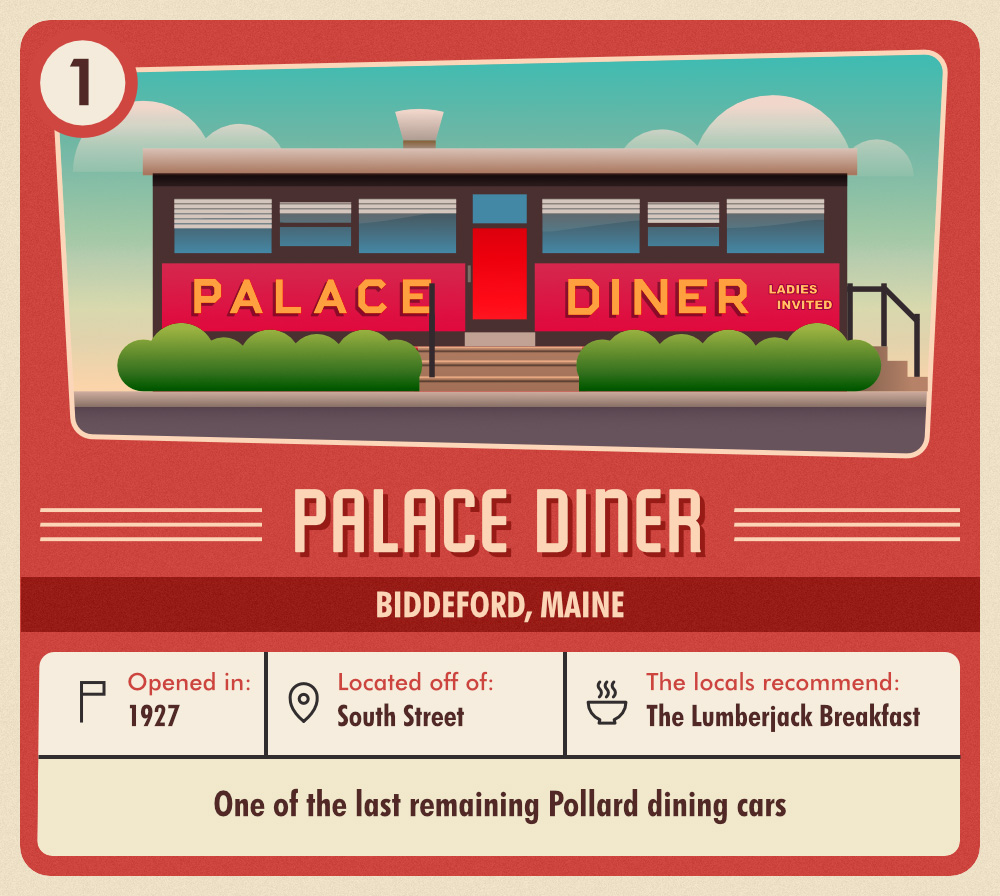 Located in downtown Biddeford, Maine, just off South Street, the Palace Diner has been around since 1927, when it was shipped to Maine from Massachusetts. The Palace is actually one of the only two remaining Pollard cars in the U.S, the Pollard Company being one of the original manufacturers and distributors of diner railcars.
The Palace was originally frequented by local mill workers who often worked round-the-clock, and it serves similar breakfast and sandwich platters today, including the famous "Lumberjack Breakfast."
The Blue Benn: Bennington, Vermont
Located in Bennington, Vermont, the Blue Benn Diner Inc. (to use its full name) has been standing since 1948, when it was originally delivered from New Jersey. This diner truly is roadside, conveniently located right off of North Street, or Route 7.
As you might expect from the name, the diner's decor is completely blue-themed and also boasts an old-fashioned jukebox where you can play your choice of two songs, for just 25 cents. You'd better queue up early for this one, as lines regularly stretch out the door and around the building.
Olympia Diner: Newington, Connecticut
As with many retro diners, the Olympia Diner was shipped from Massachusetts to its permanent home in Newington, Connecticut, just off Route 5/the Berlin Turnpike. The Olympia has been in business since 1954, and is known as the longest stainless-steel dinerin the U.S.
Serving cheap breakfast all day, along with the standard array of sandwich platters, the Olympia also boasts a few unique Italian-style specialties, along with tabletop jukeboxes so that you can listen to your favorite retro hits while chowing down.
"Historic" Village Diner: Red Hook, New York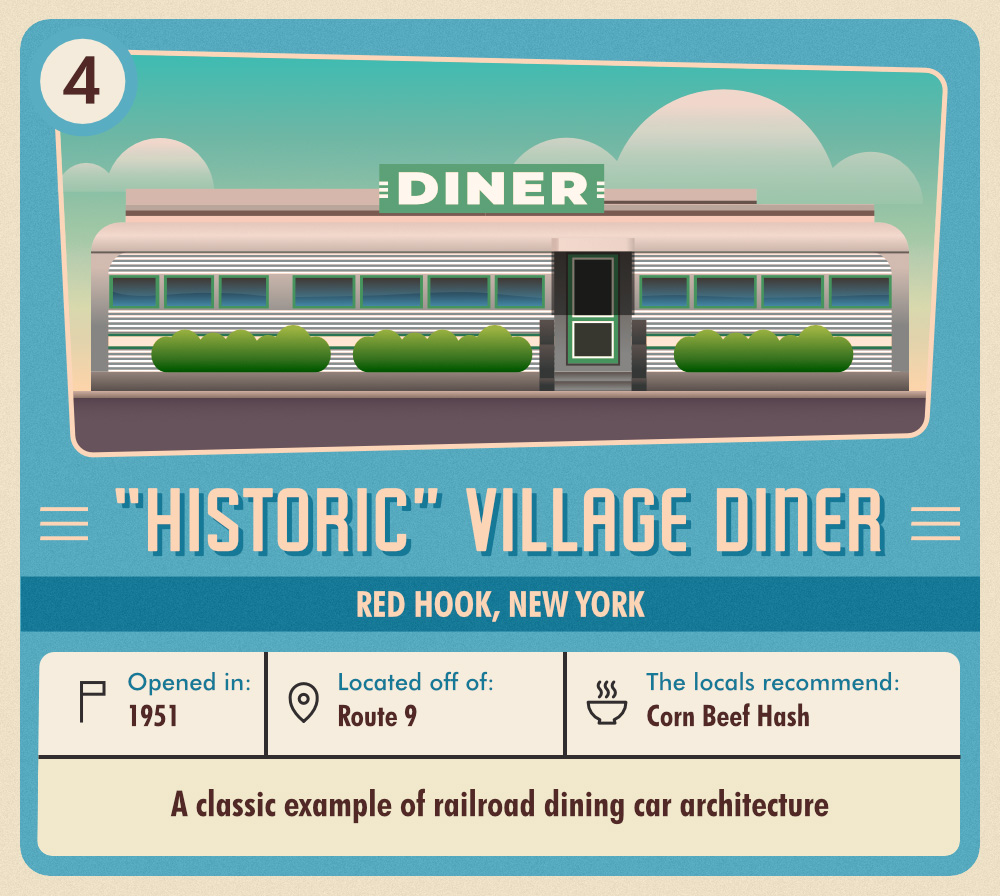 Famously the first diner in New York, the "Historic" Village Diner was originally located in Rhinebeck, New York, but has been in its current home of Red Hook in the Hudson Valley since 1951. The "Historic" Village Diner is also a prime representation of 1920's diner architecture, mimicking the railroad dining car design.
Today, the diner hosts both a take-out and dine-in menu with an assortment of breakfast plates, sandwiches, soups and most famously, desserts. The "Historic" Village Diner can be found on North Broadway Street, also known as Route 9.
White Mana Diner: Jersey City, New Jersey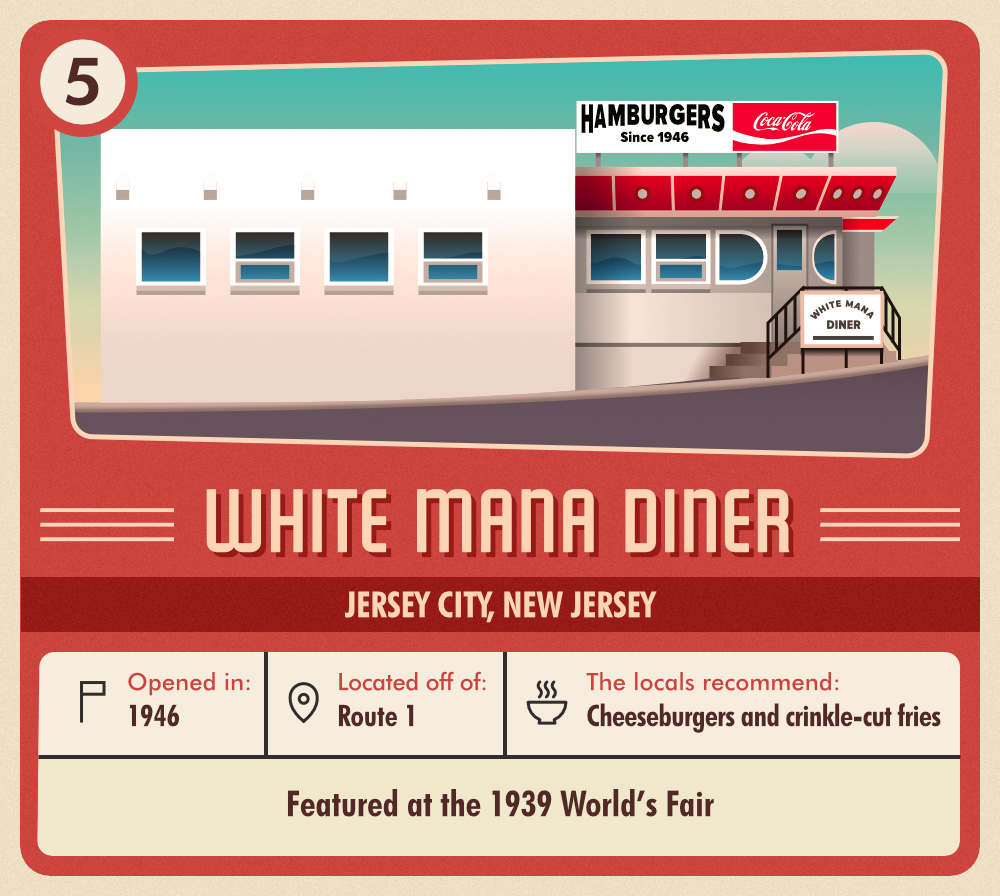 Hailed as the "diner of the future" at the World's Fair in 1939 where it was exhibited as a prototype, the White Mana Diner has been in business since 1946. With architecture inspired by dining railcars, this establishment is much more of a burger joint than a breakfast spot.
With a simple menu of burgers (a single hamburger is just $1.12!), hot sandwiches, chicken fingers, fries and chili, this is an especially popular lunchtime joint with lines often stretching around the building. You can find the White Mana in Jersey City, New Jersey, just off Route 1.
Lawrence Park Dinor: Erie, Pennsylvania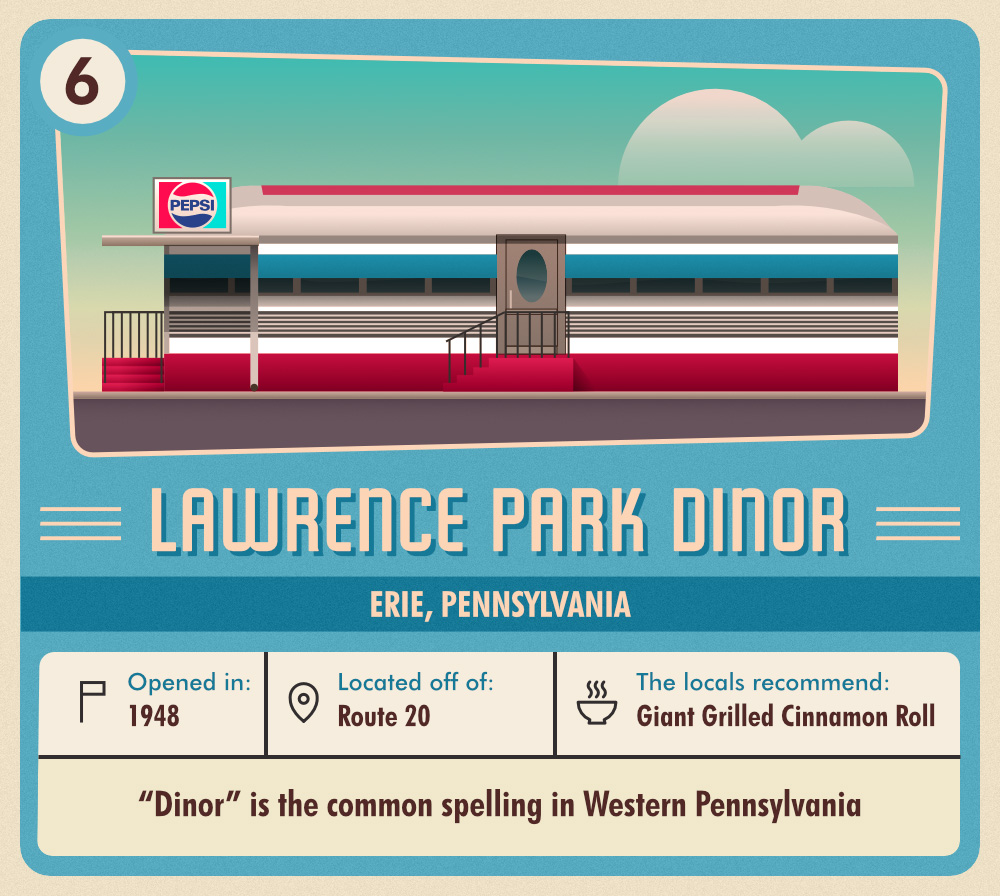 The Lawrence Park Dinor (yes, that's "dinor," a spelling found only in Western PA) is located in Erie, Pennsylvania off Route 20. Built in 1948, the diner is a true testament to the classic American style, with a railcar-inspired exterior and just 16 barstools and five booths inside.
The only Pennsylvania diner on the National Register of Historic Places, the Lawrence Park Dinor was added in 2004. Serving a large selection of reasonably-priced omelets and cold and hot sandwiches, the Lawrence also has a small array of Greek-inspired foods, along with popular homemade soups.
The Breakfast Club: Tybee Island, Georgia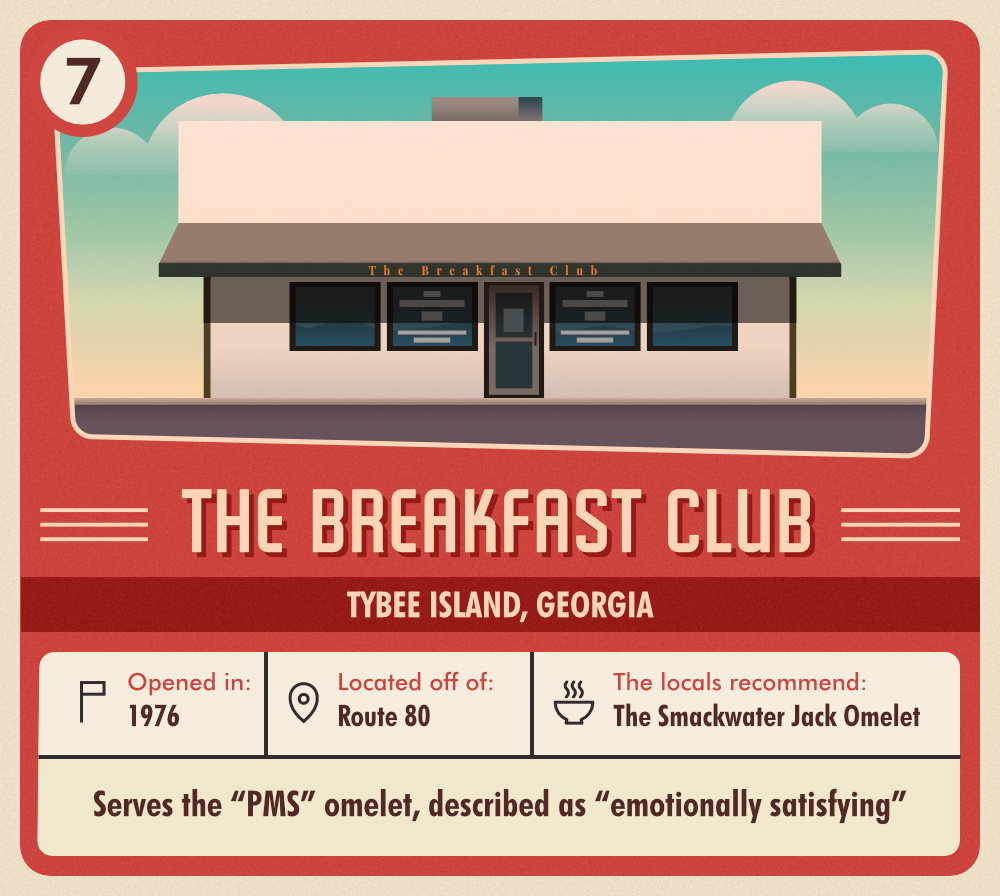 Located a little off the beaten path at the end of Route 80 on Tybee Island (outside of Savannah, Georgia), The Breakfast Club has been in operation since 1976. Long lines are the standard at this tiny counter-service joint, so be prepared to wait on the beach!
As you might guess from the name, breakfast is definitely the focus at this diner, though you can also find burgers voted the best in Savannah. Popular dishes include the Smackwater Jack Omelette and the PMS Omelette, described by the owner as "emotionally satisfying!"
Big Time Diner: Mobile, Alabama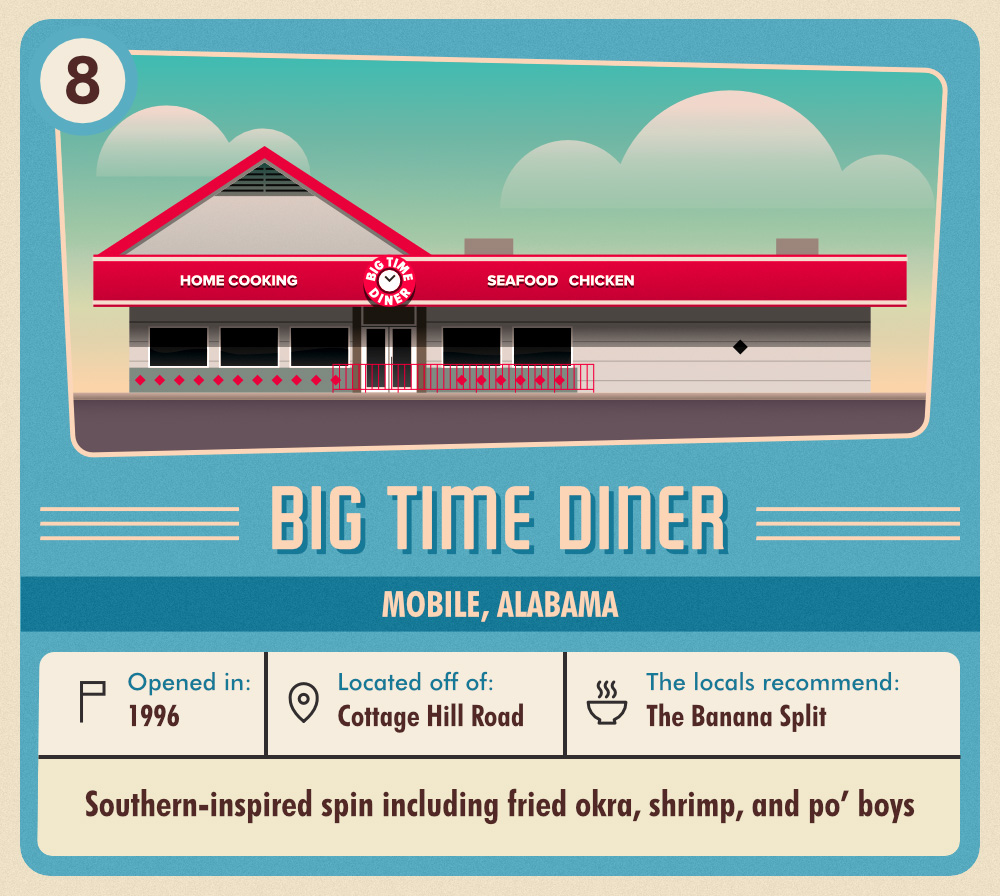 If you head on down to the southern states on your road trip, you may have the opportunity to visit the Big Time Diner in Mobile, Alabama. Though not as historic as other locations on this list (Big Time opened in 1996), the restaurant has a distinct, old-timey diner feel that complements its Southern-inspired menu.
Visitors to the Big Time Diner can expect to dine on favorites like pie, burgers and banana splits, along with more unique dishes such as fried okra, shrimp and po' boys. Big Time can be found off Cottage Hill Road which runs through Mobile.
Brent's Drugs: Jackson, Mississippi
Originally opened as a pharmacy and soda fountain in Mississippi's first-ever mall, Brent's Drugs has been a community staple since 1946. Located in central Jackson off Route 51, Brent's has gone through a few renovations, though the original soda fountain and bar stools remain.
Today, Brent's retains its air of southern hospitality and 1950's nostalgia and serves a variety of breakfast foods and sandwiches, including breakfast tacos, Brent's biscuit sandwich and Brent's burger. Best of all, you can still treat yourself to an old-fashioned soda or shake, and the diner hosts a speakeasy-style bar in the back room. Keep an eye out for Brent's the next time you watch the movie "The Help" as well!
Oark General Store: Oark, Arkansas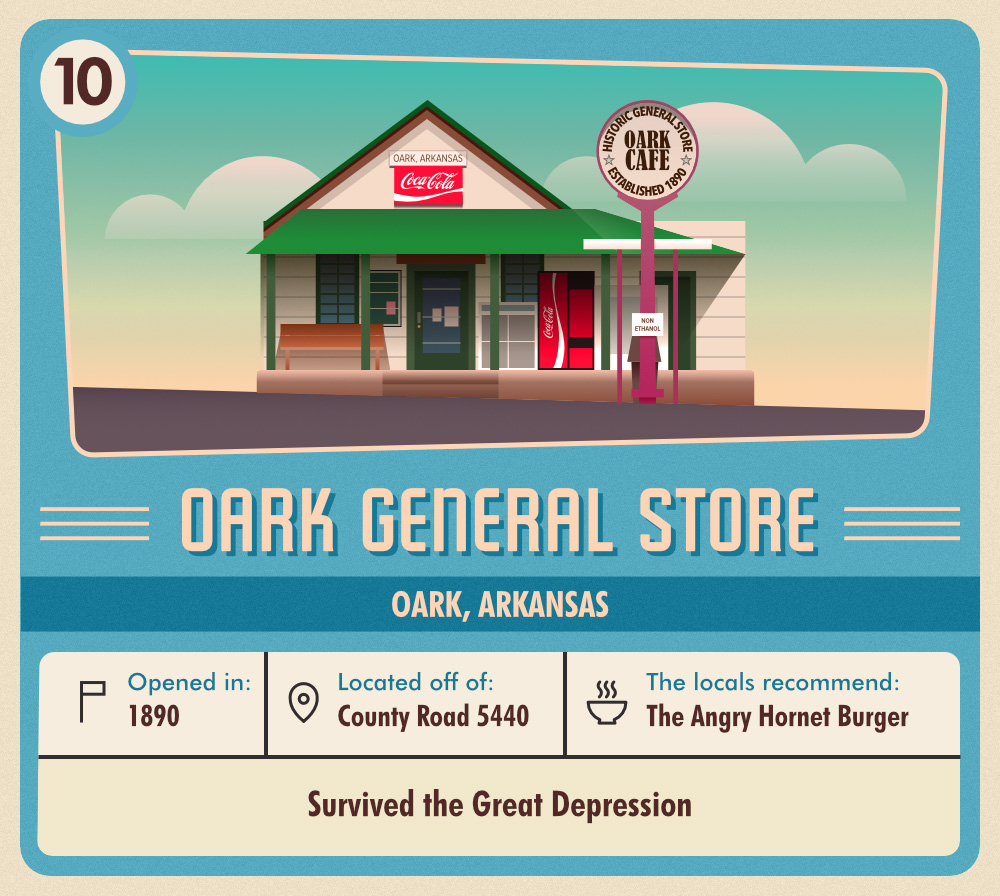 The Oark General Store and Cafe has been serving residents of Oark, Arkansas for over 100 years. Originally opened in 1890 as a food, grain and wilderness supplies retailer, the joint survived through the Great Depression and continues to thrive today.
Serving classic diner fare like burgers and pies, and still maintaining a basic supply of groceries and gas, the Oark retains its rustic, feed-supply-store look from the 1930's. Open every day of the week and located just off County Road 5440 and Highway 103, this would make the perfect stop on a retro road trip.
Bluebird Diner: Iowa City, Iowa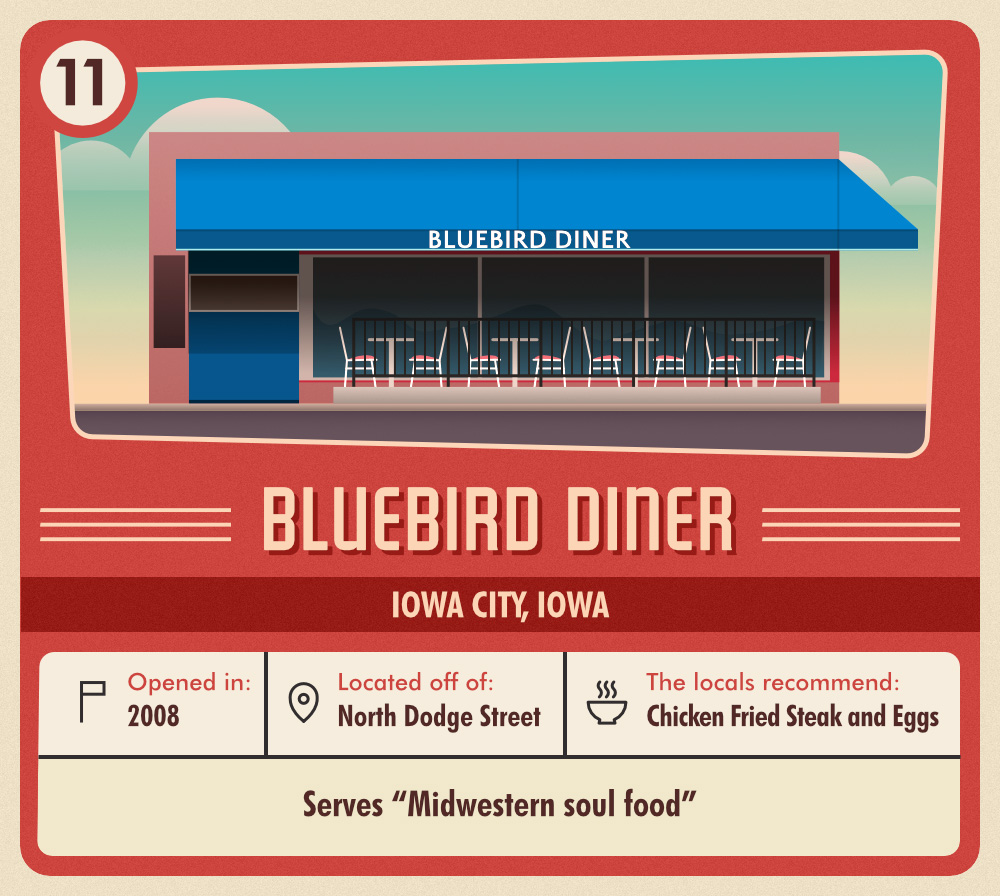 Another recent addition to the roadside diner scene (founded in 2008), but still an iconic Midwest location, is the Bluebird Diner in Iowa City, Iowa. The Bluebird caters to a wide variety of customers including families, large parties and students at the University of Iowa.
The decor is mainly, you guessed it, blue, and has the look of a cute old diner combined with a cafeteria. The Bluebird boasts an impressively large menu of what they like to call "Midwestern soul food," which features breakfast all day long. The Bluebird can be found in downtown Iowa City off of North Dodge Street.
Davies' Chuck Wagon: Lakewood, Colorado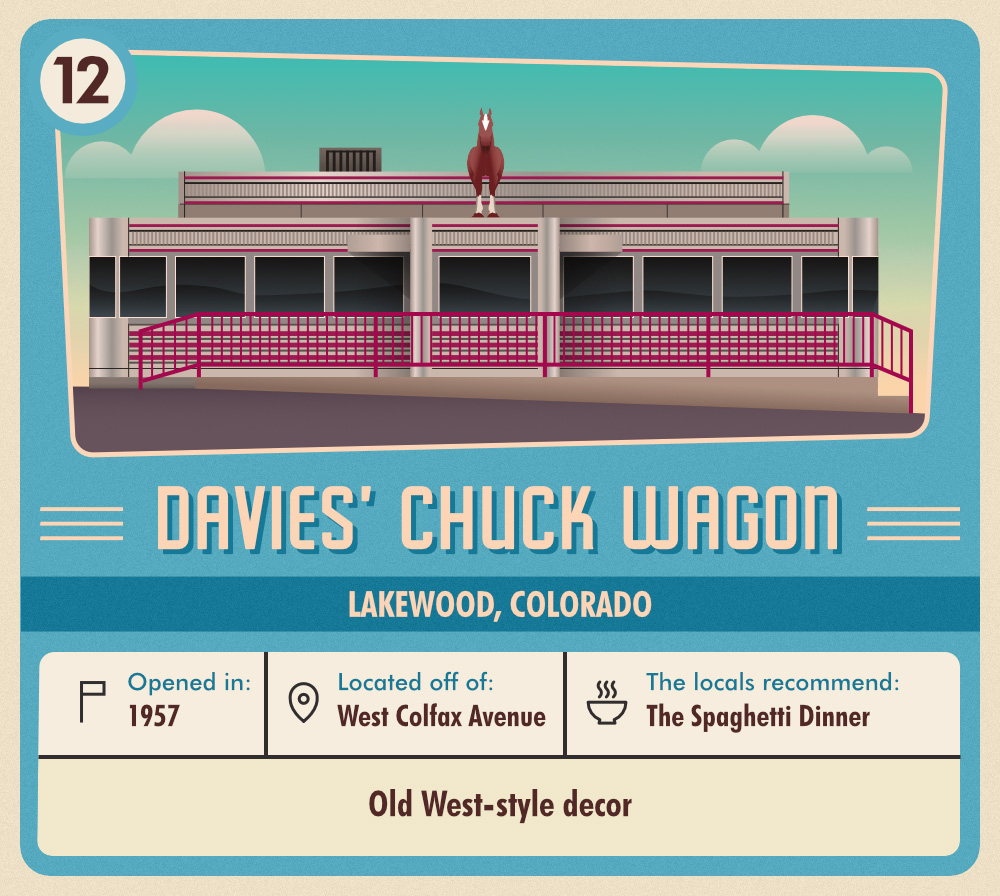 Davies' Chuck Wagon Diner was originally transported by rail from New Jersey, all the way to Lakewood, Colorado, where it has been since 1957. Featuring Old West-style decor, including a model horse on the roof and a giant cowboy on the sign, Davies' Chuck Wagon was added to the National Register of Historic Places in 1997.
The menu boasts a wide variety of diner dishes, including burgers, shakes, steak, chicken-fried steak, spaghetti and chili. Best of all, the Chuck Wagon has table-top jukeboxes featuring country and rock & roll hits, and is located just off the main thoroughfare of West Colfax Avenue.
Pann's: Los Angeles, California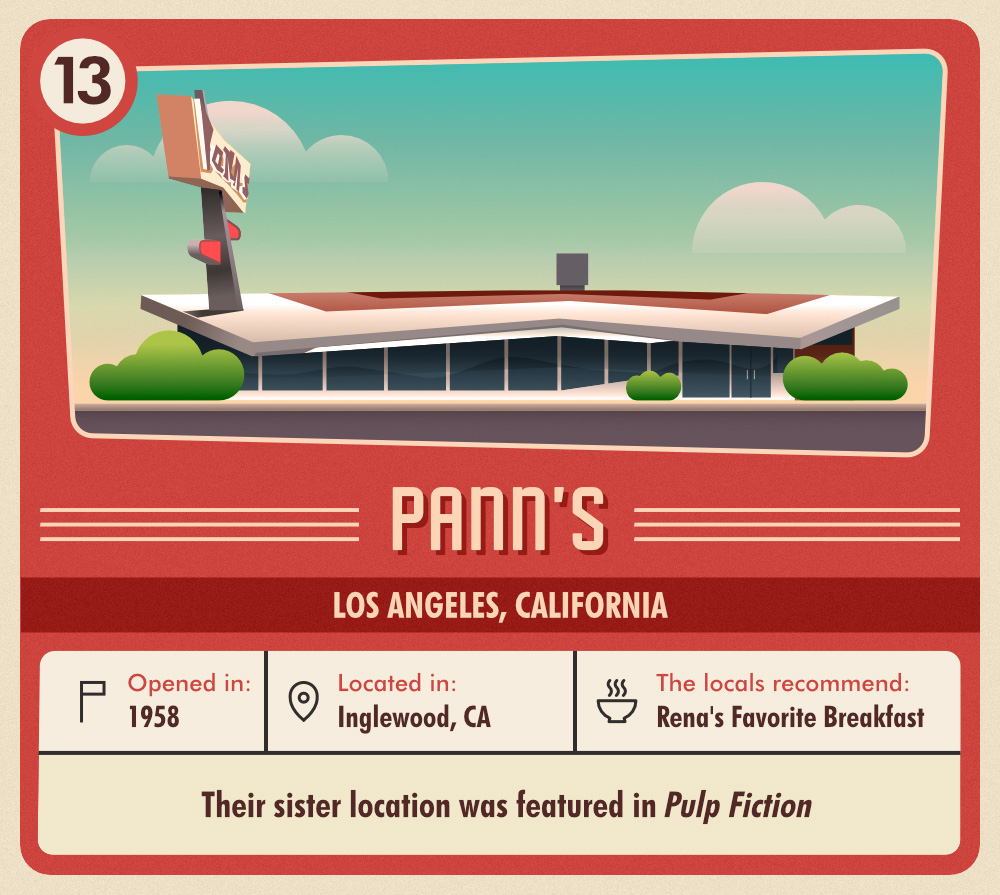 "Serving the community since 1958," Pann's was created by a Greek immigrant couple in the Los Angeles neighborhood of Inglewood, not too far off Interstate 405. Pann's is an excellent example of the "Googie" architectural style, represented by its retro decor, big neon sign and distinctly-shaped roof.
Their former sister location, Holly's, was even featured in the film Pulp Fiction! Featuring typical diner breakfast and lunch plates, Pann's is also home to more unique dishes such as Greek-inspired sandwiches, the heavily-topped "Dreemburger," and their renowned chicken and waffles.
The Horseshoe Cafe: Bellingham, Washington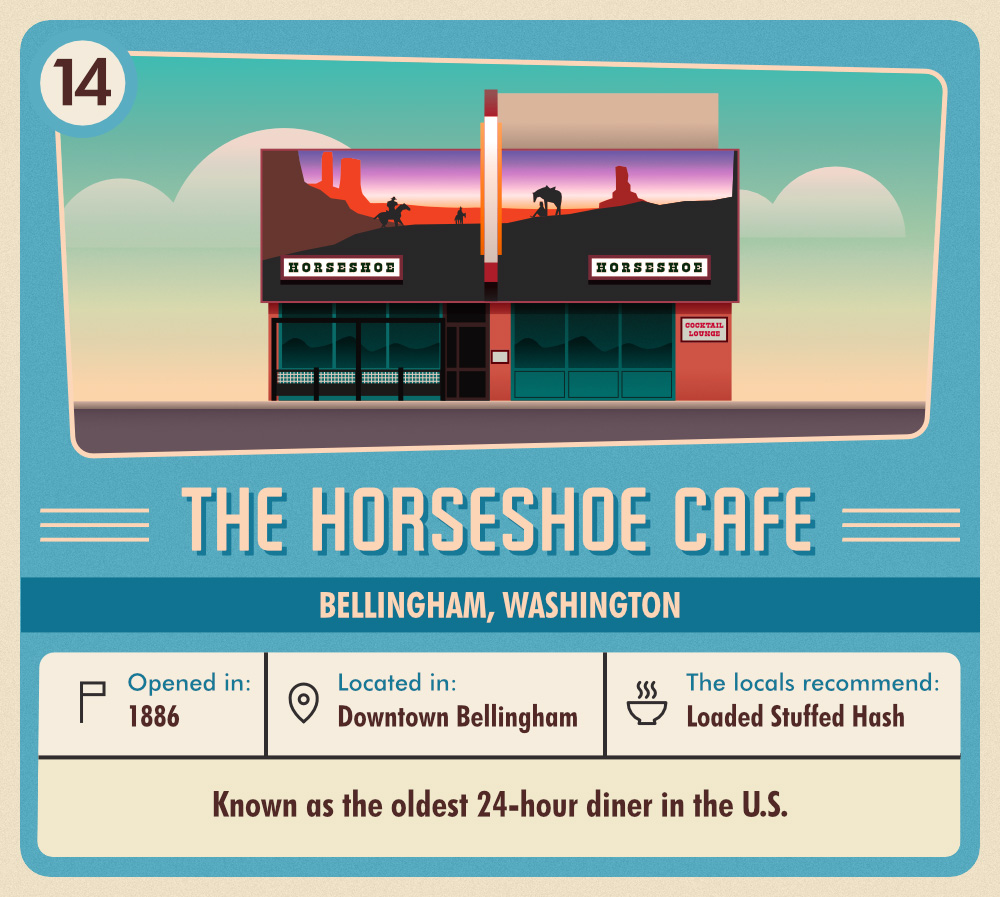 Known as the oldest 24-hour restaurant in the U.S. (though now only open until 4 am), the Horseshoe Cafe was established in downtown Bellingham, Washington in 1886. Though its location has moved a couple times around Bellingham, today the Horseshoe maintains its vintage style and some of the original wallpaper can still be found in the building.
The Horseshoe is unique in that it is not only a cafe and diner, but a bar as well. However, you can still find delicious diner food here such as chicken fried chicken, chicken & waffles, eggs benedict and a churro waffle.
City Diner: Anchorage, Alaska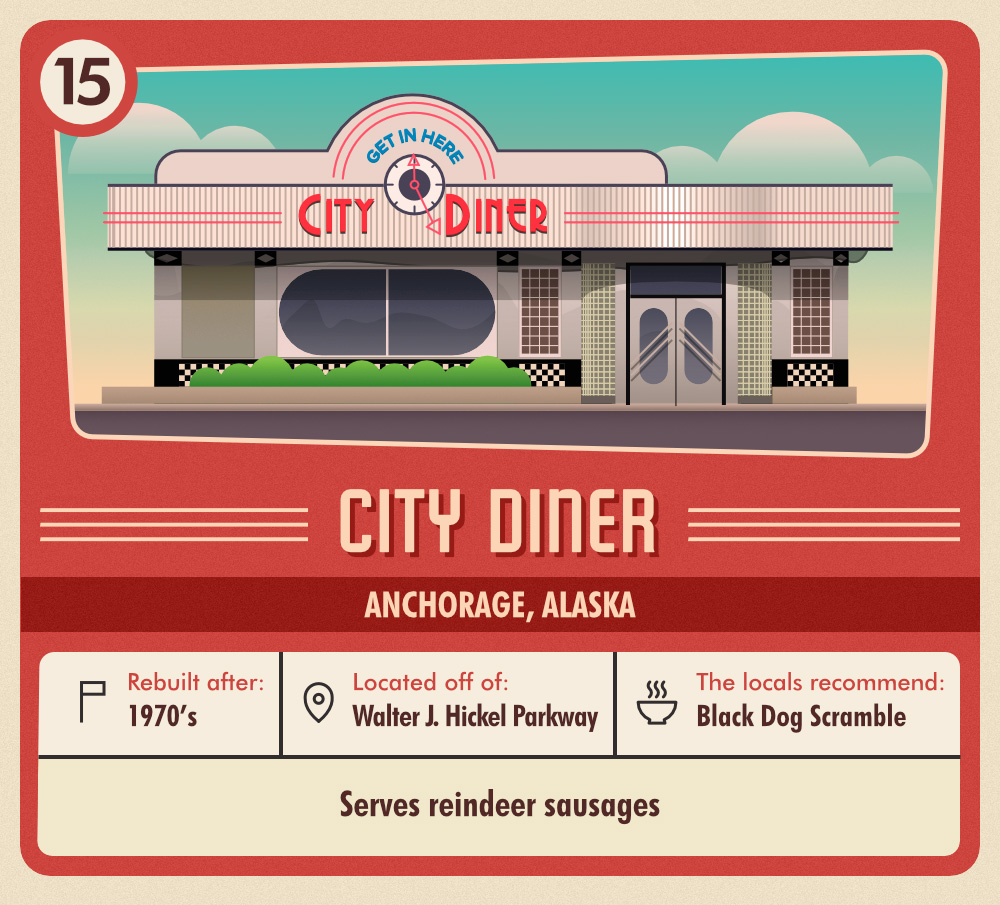 Though it might be a very long road trip to get there, City Diner in Anchorage, Alaska is a prime example of the classic 50's style. Featuring the recognizable shiny chrome exterior, City Diner is a popular gathering place for locals and tourists alike. Though the building was torn down during the construction of the Trans-Alaska Pipeline, new owners have restored the diner to its former glory.
Visitors to City Diner (located just off Minnesota Drive/the Walter J. Hickel Parkway) can expect a less daunting menu than at some of the previously listed locations, with hearty breakfast fare including ham steak, a variety of omelets and biscuits and gravy. And if you're really feeling like a local, you can check out City Diner's reindeer sausages!
Retro Road Trip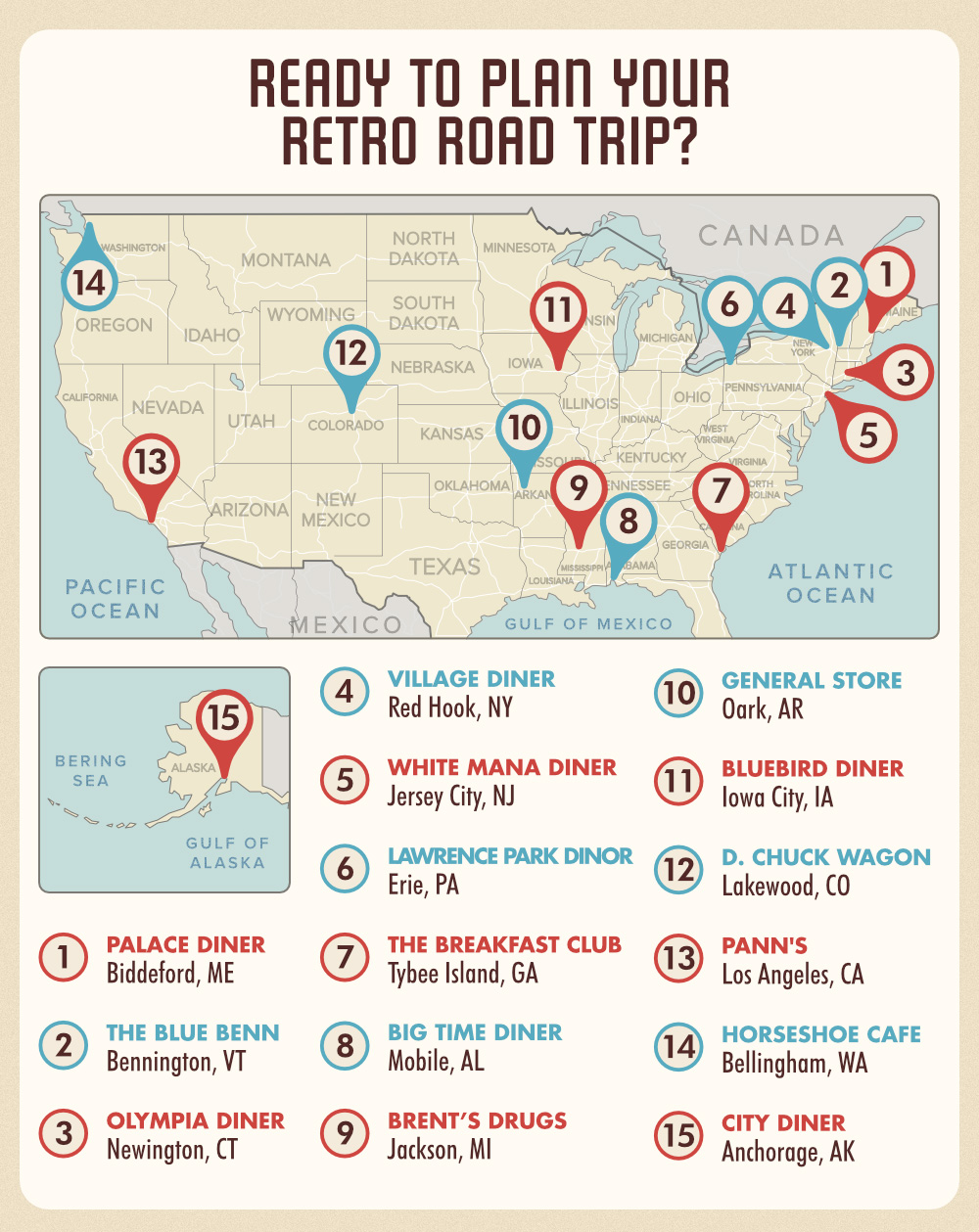 These are just a few examples of the best diners in America that you can visit. These delicious and casual joints can be found in every state in the U.S., and hopefully, you now have an appetite and a good idea of what you can expect when visiting a classic diner.
Not only are roadside diners a convenient way to grab a quick bite, but many of them are also filled with history and regional culture, and can be a great way to learn a little bit about the states you are passing through.
So, are you ready to hit the road and plan your own retro road trip? In addition to these amazing eating establishments, there are plenty of other iconic museums, cultural centers and landmarks to visit across the U.S. Whether it's next week or next year, begin planning your road trip now! And remember, we've got your transportation covered!