Where can we go to have a good piece of meat around here? Surely you or some of your friends have asked that same question often times. There are plenty of places to go to, where you can enjoy a decent piece of meat.
Before we start, let me take you on a tour around the world of meat. As many of you may already know, meat comes from different parts of the world and they also vary in name depending on many factors. Do you ever feel lost when choosing what you want to eat?
The most famous cuts are Wagyu and Angus. These days, going to a steakhouse is much more complicated than years ago, when all you could chose from was a ribeye and filet mignon. Whether you like your steak lean, marbled or flavorfully fatty, here is a resume of the cuts in our country.
Let's check out some definitions before we go into each place.
Chateaubriand
: A piece of the tenderloin (the pointed end of the short loin), sized to feed two or more people and traditionally roasted.
Filet mignon 
Think French! The name of this cut translates as tenderloin and it is the tapered, fork-tender end of the short loin.
Prime rib
: The bone-in rib steak, cut from ribs six through twelve, that often contains a bit of gristle but is full of flavor.
Ribeye
: A rib steak without the bone; prized among steak lovers for its marbling and flavor.
Sirloin steak: 
Sitting between the short loin and the rump steak is the sirloin, less tender than the short loin but still full-flavored.
T-bone: Named for the t-shaped bone running down the center of the steak.
Angus, Wagyu or Kobe beef:
Angus: Angus is the name of a specific breed of cows that came to America from Scotland in the late 1800s. Angus cattle are typically black and hornless.
Wagyu: Kobe beef comes from the Japanese Wagyu cattle. It's called "Kobe" after a shipping port in Japan. Breeding of these cows does exist outside Japan like Australia.
Come with me to discover my favorite meat restaurants around the country:
Located in a Lebanese old house in the historical Gemmayze neighborhood, La Parrilla, a steak house and bar, has been delighting Lebanese gastronomes with the finest cuisine and the best meat in town since 2007. The revisited menu, already offering one of the finest meats in town, now includes a large selection of gourmet dishes. I recommend the Coeur de Filet de Boeuf, for a soft and very tasty medium cooked piece of Argentinian meat.
The Gathering Butcher Grill, Rue Pasteur
I like the ambiance, the smell of the place, the music and the lighting: A relaxing combination. The Gathering brings to the table exquisite Italian dishes, hearty premium grills, and bar gastronomy bites. Composed of three turn-of-the-century old houses, located in Rue Pasteur, the project retains the beauty and charm of its aged stones. One of the places is "The Butcher Grill" offering fine quality meat and burgers. You can see the live preparations while fresh aromatic preparations take over the place.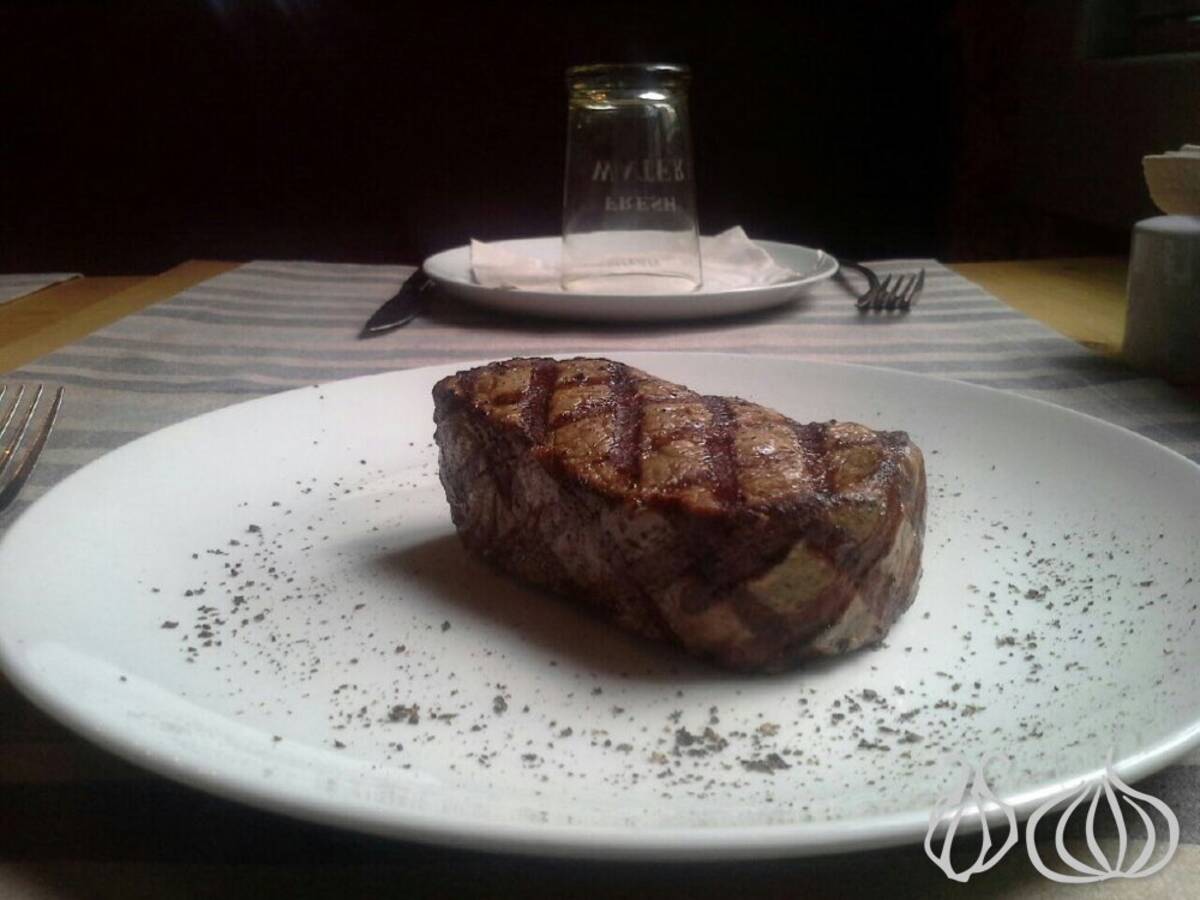 LVD: The Latest Version Diner, Dbayeh
LVD takes the concept of a hearty American diner and cooks up a unique twist by serving sensational high quality steak burgers and premium steaks in a casual setting that will transport your taste buds to another world. And the secret's all in the fresh, never frozen, premium Black Angus and Wagyu beef and all the other high quality imported ingredients. Imported Wagyu or Angus beef, from grass- or grain-fed cows:
The succulent low to high marbled fresh meat, imported by air from abroad, crowns the menu and yet every item is a true delight. Most of the ingredients are imported from the USA and Australia to guarantee you enjoy big, authentic flavors. Because the meat is truly outstanding, it is served grilled, braised and oven baked to seal the flavors and is never well done and always at a succulent medium to medium well.
With so many places opening in the country, we often forget about the older generation of eateries that started the trend. Rare is one such place. One of the first specialized meat restaurants to open, Rare serves good food prepared by Chef Cynthia Bitar with a degree from Institut Paul Bocuse-Lyon, France. Rare offers a large selection of prime cuts guaranteed to make you drool.
The Happy Prince, Mar Mikhael
The Happy Prince has a fine selection of meat, superb burgers and some tasty drinks to enjoy. This restaurant has a lot to offer and I invite you to give it a try of you didn't do so already. Dry-aged T-Bone: Here is where the amazement starts. I've rarely seen such a piece of meat in the country. A huge 1.2kg premium cut, dry-aged for 45 days and served in a pan. Red on the inside and roasted on the outside, this meat, that might look undercooked, is grilled to perfection without a single drop of blood left around. An extremely tender piece of meat that doesn't even require chewing, soft, tender and juicy, it was devoured to its very last bite. The cuts are separated by the T-Bone, leaving the sirloin with its fat on the right side and the loin, clean and tender, on the left side. Add a bit of sea salt and enjoy. The T-Bone is served with sautéed mushrooms and an exquisite, signature potato puree.
Blackrock, as almost all of you know by now, is a restaurant that has introduced a new way of grilling and eating your meat by using the lava rock, commonly known as the black rock. They offer a large variety of meat-based items, as well as salads and starters in a fresh, spacious interior. The Argentinian Entrecôte Rock (Black Angus beef, 300g): Soft and tender is simply wow! While their Black Angus Tenderloin makes you hum like a bird while enjoying them.
The Grill Room, The Four Seasons Hotel
The Grill Room is a place I would take any good friend out for exquisite food. Try their American USDA, a piece of medium cooked, tender, like butter and served with a kind of conical bread that tastes like an ice cream biscuit. A simple plate when combined with the cauliflower gratin or the cream spinach that will just make your mouth water. The side dishes are all creative and very tasty.
La Petite Maison, Le Vendome Intercontinental
My story with La Petite Maison has come a long way since the very first time I tried its beautiful location in Dubai. I am happy to have it in Lebanon. Pieces are marinated, prepared in advance and removed from the fridge and left at room temperature to rest. Afterwards, they are cooked in La Petite Maison's "Josper" signature charcoal oven for few minutes, removed again for the blood to rest and the meat to maintain its rich color, then cooked for the second time before being served. All of this results in meat that's so tender and so juicy, like no other in town. The Grilled Ribeye Steak: Believe me when I say that this is one of the best pieces of meat I've tasted in Lebanon.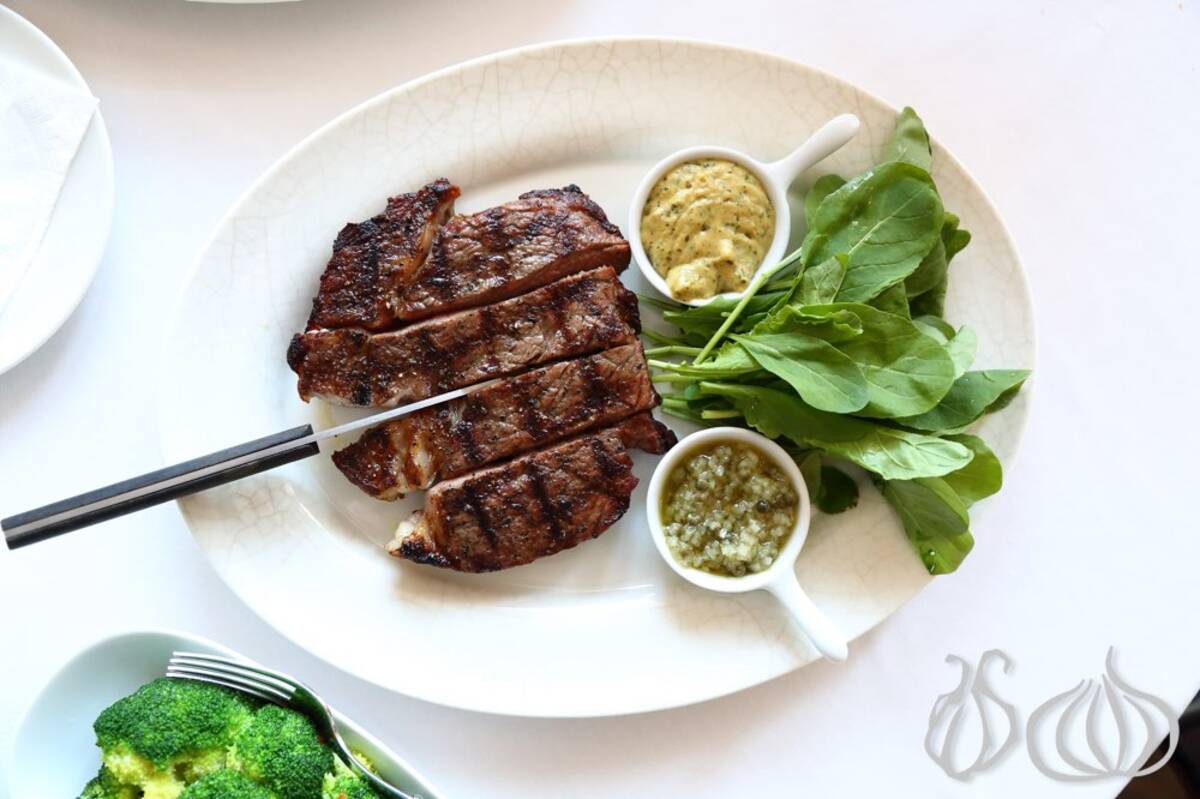 The usual at Couqley... Nothing beats the comforts of habit and having the steak et frites at Couqley is the perfect meal for any day of the week. As expected, the side salad was served with the freshest leaves and the most balanced and tasty sauce. Small, thin and crunchy fries, typical of French bistros, generously garnished the plate. The meat is perfectly cooked and placed to rest amidst the famous Couqley sauce. The extra pinch of salt in the sauce falls within the plate's balance and the overall satisfaction from the dish met my expectations: Cozy and tasty, supreme excellence is always simplicity.
I like this place. Their Steak Frites is impeccable: soft and tender meat. With perfectly cooked fries, delicious sauce, a plate I enjoyed with a smile. Entrecote Black Angus is unique! Great meat and delicious sauce.
Al Mandaloun is a place I love. I often come here for their signature ice creams but now also for their Steak Frites. Steak frites façon café (prime Australian beef served with Al Mandaloun Café sauce. A prime 200g meat is perfectly cooked, just cut into each piece and watch it separate gently. Biting into it is even better... It's like butter. Superbly tender and served with a special sauce made from thyme and herbs: Delicious! A unique taste in every bite. Of course, with it you will enjoy a bowl of American fries that are best enjoyed with the sauce.
Dos de Biche: If you think you have tasted tender meat before, think again. Two blocks of meat, tender and soft like butter, beautifully presented on a plate - a piece of art. It is mouthwatering; green beans, potato purée, juice and onion confit, the plate is a starred chef marvel. I loved the red color it offers without being bloody, its shape, its tenderness and accompaniments. Next to that, you'll find homemade potato purée: Perfect! You can order this same purée with truffle oil.
More is yet to be discovered in 2015.