Does anyone remember the series called "Happy Days" - an American comedy show that pays homage to America of the 50's. A typical American diner, Annette's interior is reminiscent of the rock 'n' roll era with a giant burger and fries, a big salad or a milkshake served by waiters on roller skates.
The American diner, which also celebrates 20 years of existence closed a month for refurbishment. Recently opened again, you reach a huge glass facade at Disney Village where an old pink Cadillac at the entrance welcomes you. You stand at a take away window and get served in minutes or wait for an hour or so in line to get seated. Since I only wanted to check if the food in here is better than the one of the park, I ordered take away and took a seat on the terrace.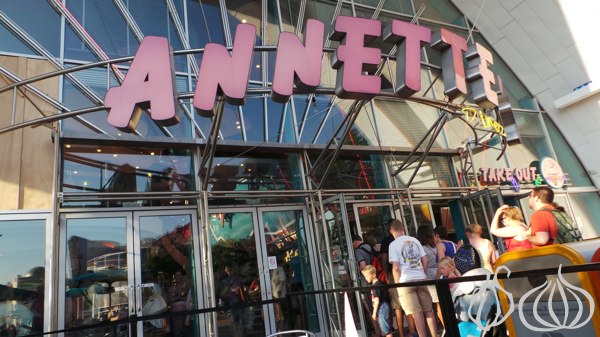 I really am not understanding the secret behind bad food served at Disneyland. Last year, I tried Planet Hollywood and it was very bad and this weekend, I can assure you that I ate the worst, cheapest and unhealthiest food in my entire life. It all started with a burger inside the park and ended with another one at Annette's.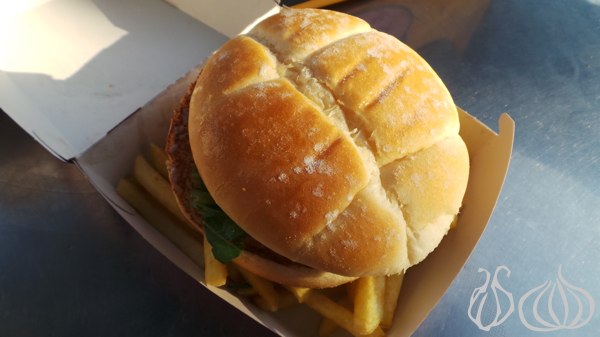 The take out menu:
Cheese Burger ... €11.20 Burger, cheese, bun, Annette's sauce
Green Piece (V) ... €11.20 Potato tortilla, Annette's sauce, salad, Mozzarella, aubergine, courgette, mushroom, avocado, sun-dried tomatoes
Rock 'n' Roll Burger ... €12.20 Burger, cheese, bacon, bun, Annette's sauce
The "Euro Chick" ... €12.20 Breaded chicken breast, bun, salad, tomato, mayonnaise and cheese
Chicken Salad ... €11.20 Grilled chicken breast, Cheddar, tomato, hard boiled eggs, black olives, salad and vinaigrette sauce
French fries ... €3.20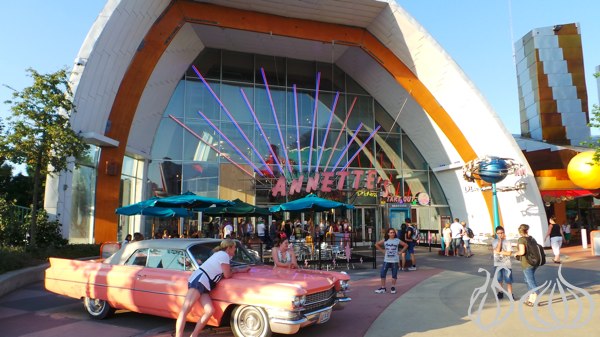 The menu for 16€: A burger, milkshake and fries
You get served a milkshake that cannot be substituted with a soft drink
Oily fries containing more oil than a car's engine
A greasy and oily burger that is extremely small for its price
Burger and fries are served one on top of the other in an unappetising way, in one single box
Not worth the wait, not worth the money, not worth the experience. Next time, I'll manage to eat on the way before reaching Disneyland.