I recently heard about Bioland, a project up on the hills of Batroun, nestled in a small village called Sghar. I believe in fate and honestly believe that this place was attracting me to come visit it... First came across it on Facebook, then taken some photos of their stand during Horeca and, at a dinner last week, Joe, Chef Joe Barza, asked me to go check out their open buffet this Sunday while he cooks.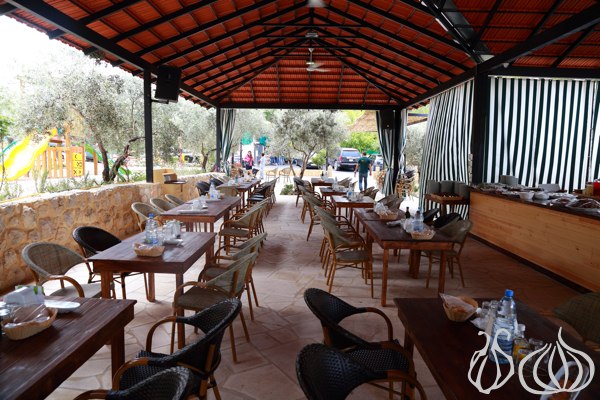 Up the road to Saint Rafka, a few kilometers into the mountains and you reach Bioland, a land of authenticity, a land of joy, a land of simplicity. Chickens, goats and lambs wander around thousands of trees where kids can enjoy a beautiful time while parents eat organic food from the land. Henry Bou Obeid, the owner and a passionate engineer, came back to Lebanon to take care of the land. He says that we Lebanese are not taking care of our land as much as we should be, so he created a concept where organic food is affordable to all and can be enjoyed everyday. Who said organic food is a luxury, who said the word organic should raise the price by so much? I want to plant, I want to live a real life, produce quality. This is what being Lebanese is all about... Our ancestors did a great job and we can do the same.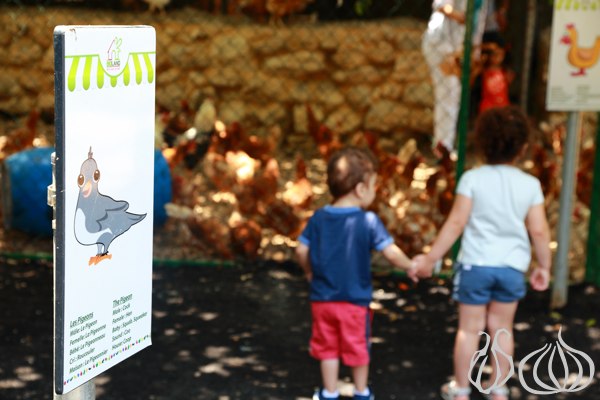 While organic food in the market is too expensive, Henry opened his site so that he could sell his produce at affordable prices. For example, a premium extra virgin olive oil dark green 500ml bottle certified by the EU and IMC is for LBP10,000. With three farms around the country to date, one in Lassa, Hbeline and the main reception in Sghar, Henry Bou Obeid offers a large selection of vegetables, legumes, fruits of many kinds, avocado, guava, mango, nectarine, kiwi... That's not all, on the sites 46 different kinds of trees have been planted. The farm has chickens for their eggs and also a number that are eaten, goats and lambs. While touring around, Henry opened a small bag and asked me to taste what was inside. Ouf! Unbelievable! Guilt free snacks: baked apple chips. Lightly chewy, a bit sweet and super enjoyable. Awesome, and without fat. The concept is simple: "from farm to fork". I think it says it all. The products are sold in the Beirut shop and in Sghar and distributed to a few locations like "A New Earth", the organic shop. In Achrafieh, Bioland has a fully-fledged shop, offering everything organic with a restaurant, a central kitchen and a delivery center. The menu includes le plat du jour bio for LBP16,000, a 30cm sandwich for LBP6,000 and a salad with organic eggs with organic chicken breast for LBP11,000. It's all not only affordable, but local and organic as well.
Let's enjoy a day up the village of Sghar:
Now for the food: Today's experience was unique, as Chef Joe Barza was here himself. A large buffet of Lebanese specialties all prepared with products of the land. The idea is simple: Everything is fresh and organic, produced to perfection with love and dedication. Fattouch, tabboule, shanklish, moughrabiyeh salad, kale, loubiye bel Zeit, hummus, fried and grilled kebbe, stuffed vine leaves, moutabal, mdardra and with that four hot dishes: kafta, chicken, makanek, kharouf mehche. Food was excellent.
Bioland has also a wine selection produced with the collaboration of Batroun Mountains. A fine selection of Riesling, Syrah and Chardonnay wines and another bottle, called Ruby, which is a mix of a number of grapes. And now was dessert time: Arishe w 3assal, chocomax with Ghandour biscuits, fresh fruits, Turkish delights and sfouf. Everything was mouthwatering, especially an interesting innovation: a layer of mashed bananas, a layer of shredded crepes all topped with organic honey. A cake-like presentation you can prepare for your kids at home.
We were a group of thirteen people, everyone loved the ambiance and setup, adored the beautiful weather, were enchanted by the authentic feel of the food, and enjoyed seeing our kids have fun and surely promised ourselves to visit again soon. That's an idea to spend your upcoming sunday...