Colours restaurant is all white. Despite its name, the whole place is bright white with a general clean and clear feel. Colorful touches add character to the space from the paintings over the buffet area, the ceiling details, the dangling chandeliers that overlook the pool area...
Five distinctive sections:
the eggs cooking area, bread and cereals, cooked items and two long ice bars with a large choice of cold cuts and fruits. There is a mini diet station as well where labneh and cheese is offered making those on a diet happy. But what's not going to make anyone happy is their unwelcoming staff. It's a sunny Friday morning and we are having breakfast, why the long face, why the negative vibes. Unfortunately, many Arab hospitality employees are like that. Their unprofessional and unfriendly behavior and mannerism is something that I have gotten used to unfortunately. It doesn't shock me anymore... But this is not something acceptable.
The choices:
Juices, cereals, cold cuts, cheese, yogurt, compote, fruit salad, labneh, hummus, moutabbal, vegetables, salad, hotdog, potato, mushroom, beef bacon, grilled tomato, baked beans, foul, pan fried tomato, bread, Danish pastries.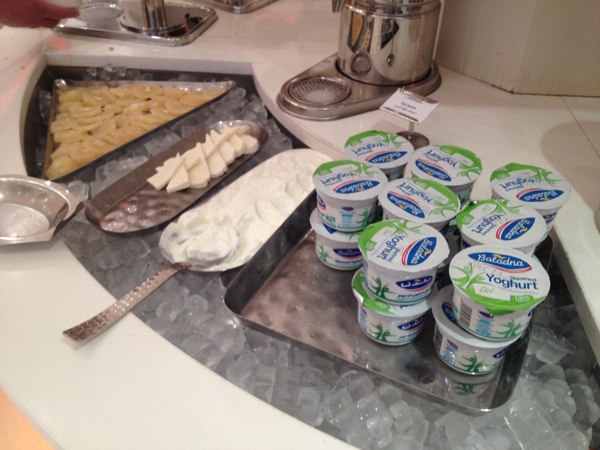 The minuses:
It's a casual breakfast that lacks a certain finesse.
Some of the kitchen staff went out to change the dishes while I was moving along the buffet, they just pushed me as if we were competing in a Marathon without even apologizing.
The smell of eggs is so strong that it leaks into your clothes
I didn't enjoy their mini chewy and empty croissants
I cannot accept the fact that some waiters don't make you feel at ease while making your order. I asked for a cup of coffee from a waiter who obviously was having a bad day. I got no response and I didn't know if he was going to come back with the coffee. He came back with the same look on his face and poured the coffee. Whether I wanted milk or not was not a choice... When I asked him for the milk - you can't imagine his expression. I was asking for too much. He transmitted his negativity to me - no customer needs that.
Don't expect anyone to ask you about your eggs. You will have to go and stand in line and block the passage to ask the chef to cook for you.
The major plus:
The lighting of the restaurant and its pool relaxing view.