We arrived in London and were staying at the Hoxton Hotel, situated in a busy neighborhood of the capital. The first impression was strange yet good at the same time, as you have to pass through a busy bar to reach the reception. The ambiance was festive and pumping with the night's action, so we went straight to our room, put our bags away and came back down to enjoy the party.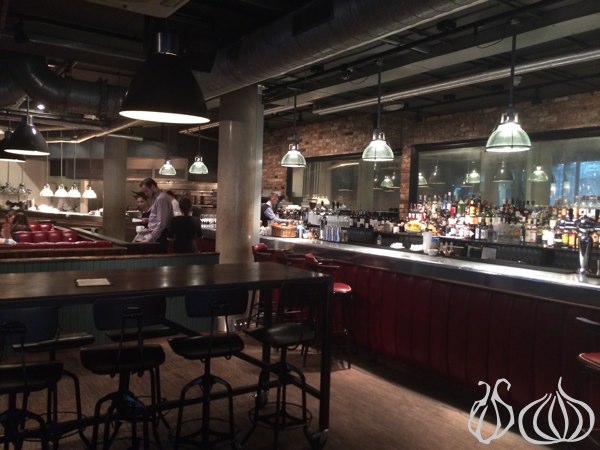 Whether you're up for breakfast, a little later for brunch, or a fancy feast at any time of day, the Hoxton Grill has got it covered. Open seven days a week, the staff rise bright and early at 7am and keep on serving food until midnight, and drinks right through until 2am. If you get the chance, bag a booth and work your way through the menu. Its 9am, in the same spot, the Hoxton Grill, the bar-restaurant of the Hoxton Hotel, where things have changed like magic. There are more lights, soft music and a fresh ambiance to start your day in style. The Hoxton Grill resembles the hotel's decor, with its red leather benches, long bar, low ceiling, metallic structures and real wooden floor. Served by women in black, I sat and waited to be approached.
The Place's Little Secrets
Facing the hotel entrance, the Grill is located at the right side of the lobby
You're welcomed by a large rectangular table before entering the dining space
To the right is a long bar and an open kitchen delivering orders
A couple of round tables are found in the first seating area and more rectangular ones up front surrounded by green leather sofas and long red leather benches lie further back
All the tables are made of dark brown wood
Suspended from the ceiling are a dozen industrial lamps
An old-modernized and industrial style sweeps through the grill
Before the order comes, the table was set up with salt and pepper mills, a Heinz ketchup bottle and a bowl of sugar cubes. I ordered the eggs Benedict, an Americano coffee, a muffin and a pain au chocolat.
Let's Eat
The eggs Benedict are marvelous: Two round toast pieces covered by two thick slices of ham each and topped with poached eggs. On that is a rich lemony and fresh sauce hollandaise served warm. What a great way to start your day. A lightly cooked egg that flows around the toast while the sauce caresses your palatal buds. Biting into the ham is enjoyable as well. Thick slices of pure ham rounded with some chewy fat. As for the bun, consistent and fluffy as it should be, it supports the mix in style. London: where else to have the world's best eggs Benedict... Those were awesome.
The muffin is interesting, very interesting: Not dry and not fluffy but slightly moist and full of flavor. It has a condensed feel and some fine textures that you'll start analyzing while it crumbles under your teeth. On the menu that day was the blueberry muffin, which I honestly felt was more of a walnut muffin. In any case, it had a subtle sweetness, crunchy bits and dough that melted smoothly under the tongue.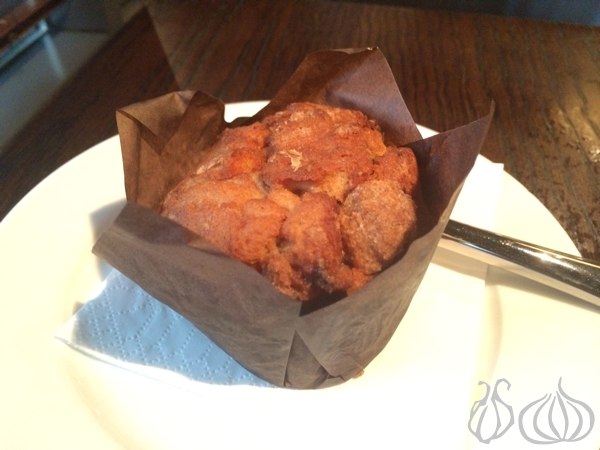 The pain au chocolat, or chocolate croissant in this part of the world, was simply excellent, even better than many I've had in France. A light-colored and crunchy dough hid a fluffy interior embracing two fingers of dark chocolate. I honestly wasn't expecting it to be that good. Delicious! I bit into it, enjoyed its textures and different flavors than bit again and listened to outer layers crunching musically. Yum!
Unfortunately, you'll have to ask to know what's cooking on any day. On the menu the menus are made up of titles alone and the waitress will give you hidden clues. A tasty breakfast, in a nice place, surfing on free Internet, sipping a tasty coffee... Soon it was time to move-on and start exploring London. For a business meeting in the area, this was the place to be.