Close your eyes and travel back in time to when old Mercedes taxis used to glide round Beirut, to when Martyr's Square was the heart of the Middle East and to when Abou Salim used to entertain our grandparents on television. Kahwet el Mandaloun is your new place for such time travelling: located on Dbayeh's seaside road next to the beach club, where music and great food blend together in an upscale Lebanese cafe.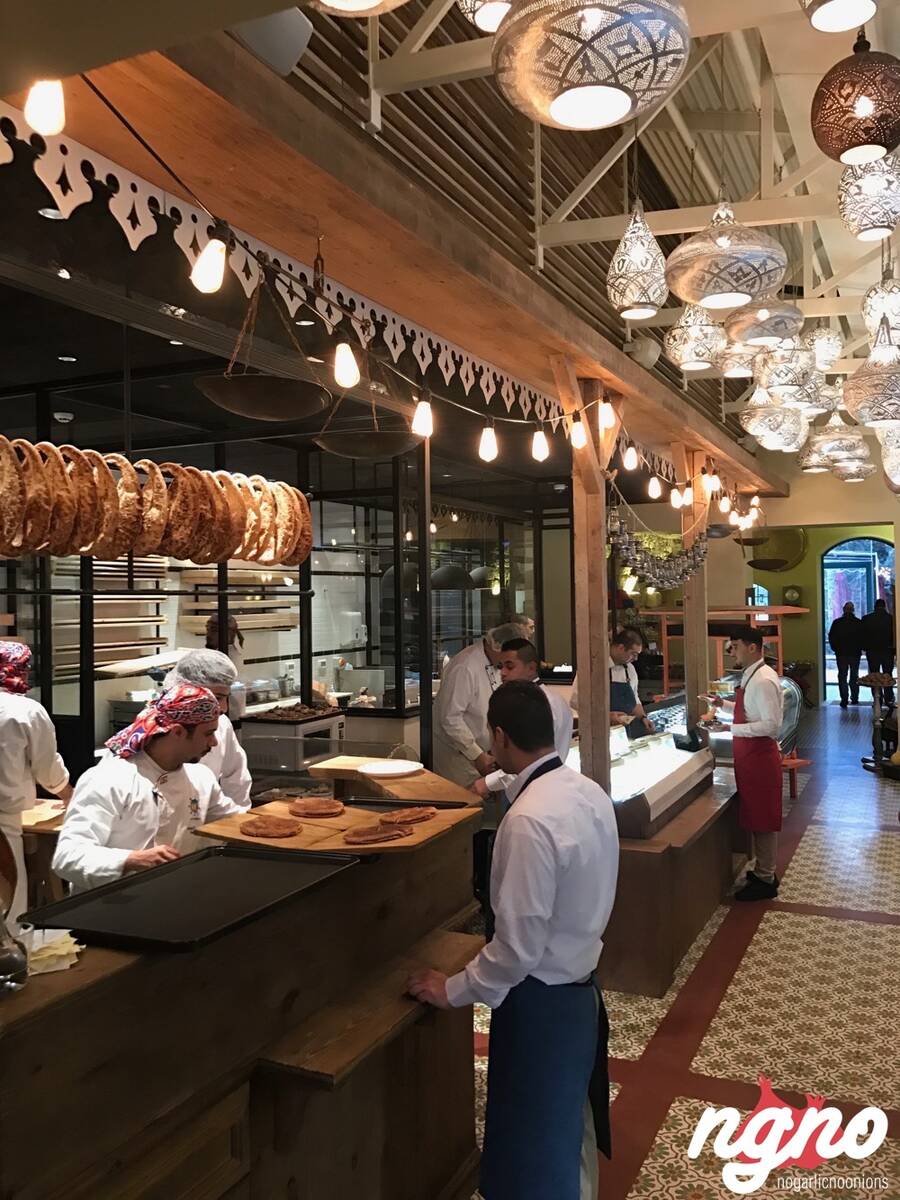 The interesting journey starts outside. An old house hosting three distinct restaurants: the beach club; the coffee place and the upper floor fish restaurant. Walk along the alley and enter the Lebanese restaurant on the ground floor.
With Fayrouz singing in the background you are welcomed by the Kaak bakery, manakish and the oven, the dessert parlor, the fresh juice corner and the bar.
Stones decorate the walls over a floor carefully designed with our famous Lebanese tiles. Light green metallic windows, a high ceiling finished with wood, drawers, mirrors, old radio monitors and many more of the tiniest of details help transport you in time to the days of your grandparents.
Loved this place which takes after the "Al Falamanki" style with more class and more finesse.
The menu:
From the oven
The Fokharat
Charcoal grilled meat
Sandwiches
Special salads
Cold Mezza
Hot Mezza
Freshly made foul and hummus
Loved the food, enjoyed my lunch:
"Kallita" or "Kaaka Traboulsiyeh" stuffed with ham, cheese and butter. A thin dough is tender with a light crisp, loaded with ingredients and another with white cheese. Loved the toasted sides and the soft heart and the way it's presented on a wooden board with side vegetables.
Try the stuffed grapevine leaves, so soft and perfectly cooked, they are as lemony as a grapevine should be. The quality is of a high-end Lebanese restaurant.
The malfouf salad is so yummy! Finely shredded cabbage mixed with rocket leaves in a strong lemony marinade. As simple as it is, it's one of the tastiest salads I've had in a Lebanese restaurant.
What I said about the Tabbouleh is; "Raw3a". "Hamod el 7osrom" provides the strong acidic zest, along with olive oil and finely shredded parsley mixed with diced lemon.
Try their manakish. Lovely manakish, a fresh and soft dough spread with a light bodied Zaatar from the village. Bravo chef.
Mini Kebbeh balls served in a basket are delicious on their own and also best enjoyed when filled in hummus. A crunchy outer around a juicy mix of ground beef.
The grilled falafel sandwich... it's like nothing you've tried before for sure. Grilled falafel on a Saroukh, the same great dough, tomatoes, tarator, mint leaves, roquette and pickled turnip. Crunchy vegetables, moist falafel, the real taste, soft bread... it's an interesting creation.
Foul is probably not their thing especially when you compare it to the ones I always enjoy in "Mar Elias" at Al Soussi and Le Professeur.
Rass Asfour, Makanek and chicken liver, three distinct plates. Diced potatoes for the mini makanek, pine nuts for the rass Asfour and pomegranate molasses for the liver.
Manté, this famous Armenian speciality has a new address. Yogurt - which I ordered without garlic - and finely crafted meat pockets used as a bed under it. Beautifully done!
The serious stuff:
Shawarma is to die for. A toasted markouk bread loaded with the most tender shawarma meat you could ever have. The Saj bread makes all the difference, the toasting adds a special touch and the inner filling is juicy, tasty and perfectly marinated.
Kaaka, as simple as a normal kaaka you can eat on the streets, but in this case the kaaka is so soft and fresh, lightly salty like it should be and ready to be torn. The Kaaka comes with cheese and Zaatar.
After lunch came dessert:
karabeej, nammoura, baklava and Halawat le Jeben. Good quality sweets, crunchy and fresh. They're too sweet for my taste, they could remove at least 10% of the sugar.
Halawat el Jeben is good!
Chocolate custard is yummy - reminded me of my childhood.
Loved this place! I personally have a new favorite Lebanese cafe and it's located in Dbayeh.