On the ground floor, next to the entrance of The Westin, the restaurant/bar welcomes you for breakfast every morning from 6 to 10am. In a pleasant and calm atmosphere, flaming with soft musical tunes you'll be enchanted a typical Irish ambiance offering guests premium breakfast.
This was the first time I have been given vouchers for breakfast at any hotel I've visited to date. Usually a check mark is written next to the room number on the guests sheet... Here, eight vouchers had to be delivered to us to be handed to the welcoming host.
Breakfast is served in a stylish restaurant & cocktail bar, The Exchange, a stylish, relaxed brasserie flooded with natural light,  featuring a stunning Art Deco style mural, plush leather benches and intimate corners. For breakfast, you're welcome to a choice of food across three different tables, adding to that a cold fridge for items that require refrigeration. The choices are enough to start your day in style.
The table setup to start with is interesting and reflects the style of this establishment. A full set of cutlery wrapped in a white table cloth, glass cups, a set of four jams and a flower pot.
The place described:
A large rectangular shaped place opened with a view to the busy street ahead
Light enters from the large glass facades keeping a natural feel
A fruit tower and the day's newspapers welcome you as you walk in
To the right, a long wall covered with colorful wallpapers
To the left, a bar, filled with a rich variety of drinks
Real wood flooring cover the entire area
On the right hand side, there are square tables surrounded with beige chairs while on the left side, there are a couple of sofas in burgundy that can welcome families of four in a relaxing feel
The choices proposed:
Roasted tomatoes, clonakilty black pudding
Clonakilty white pudding
Hash browns
Button mushrooms
Irish bacon
Pork sausages
Scrambled eggs
Gluten free sausages
Chicken sausages
White and brown square bread
Blueberry banana smoothie
Peach and strawberry smoothie
Jing choices of tea
Margarine
Danish pastries, breads and croissants
Bagels
Brown scones
Chocolate and blueberry muffins
Croissant and Belgian waffles with maple syrup
Fresh fruits and cut fruits
Yogurt
Five choices of cereals
Nuts seeds and honey
Fresh milk
Ham, salami, salmon, cheese
The food:
I tried as many items as I could during our four days stay and almost everything was great. The sausages are excellent, juicy and full of taste. Bread is freshly baked every morning. The ham is exquisite. I had one of he best smoked salmon ever. The preheated croissant is crunchy, fresh and empty in its middle making it light even tough its size is big for a hotel breakfast. The almond and chocolate croissants are great as well. Yum! Cheese, muffins and bagels are all superb. Two thumbs up for the chef. The colors of the smoothies intrigued me to try them. The blueberry and banana is exquisite, the peach and strawberry is even better.
Tasty Special requests:
Sunny side up eggs are simple yet tasty
The scrambled eggs can be better presented but they do taste good especially that they are not oily
The salmon with eggs, from the special menu is 13€ but worth every penny, served on two thick but light pieces of toast! The salmon mixed with scrambled eggs are so light. A beautiful decoration of green herbs adds the fine touch to the mix.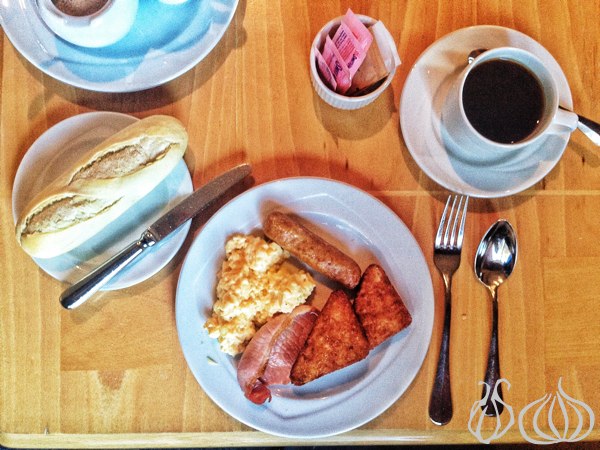 Accompanied by a pleasant and smiley waitress, breakfast was the best part of the day to start our day in style.
Deserves a minute: The chocolate muffins are out of this world. A premium dark chocolate constituting a moist muffin with a soft inner core of melting chocolate that caresses ally our taste buds. Amazing! Don't miss the blueberry muffin as well. An orgasmic piece of creation. I had two of those every morning
Worth Trying: The Eggs Benedict are fabulous. I've tried a handful load of this creation and I can safely say that this one is part of my Top3 list. A soft tender English muffin with poached egg on a premium non chewy ham. The sauce makes all the difference as its lemony flavor caresses your taste buds. Bravo chef!
The pluses:
The presentation of items is mouthwatering
The service is good
The choices are quite enough
The minuses:
The music is not constant. Sometimes soothing, other times they play more dancing tunes while others create headaches
All breakfasts end at 11am. Why is this one stopped at 10am?
The staff is nice but can definitely be much better, more pleasant and looking better: "Your hair dangling from all sides and looking shiny is not acceptable".
The staff has to be more pampering to guests and act with more finesse
I enjoyed this week's unpretentious yet tasty breakfast... One of the things that will make me come back to this fine hotel.