Evason Ma'In Hot Springs has the reputation for serving some of the best food in the region and I personally believe it's true. Offering Jordanian specialties, Middle Eastern bites as well as a variety of international choices, this restaurant situated on top of a cliff at the edge of the Dead Sea, facing the waterfalls. Guests can enjoy a selection of dining options while catching a glimpse of the nature. "At the Springs" offers a buffet and a la carte breakfast, lunch and dinner with live cooking counters and fresh juice station as well as a glorious daily sunset. The freshest ingredients are sourced from the resort's own organic herbs and vegetable gardens.
The place:
Dim lit large space
Large white marble tiles cover the floor with black lines
Dark wood tables fill the space surrounded with big design chairs
All the tables are decorated with a full cutlery set and a violet fabric placemat
Indirect lighting decorate the walls creating a soothing and relaxing ambiance
Along the windows wood curtains block the day's sunny spells
On the right side, along the wall, different food stations offer a choice of cooked dishes, live cooking stations and salads
Tonight's menu:
Steamed vegetables
Beef stroganoff
Hamoor fish with tomato sauce
Mashed potatoes
Mixed grill station
Pasta station
Chicken with oregano sauce
Lamb curry
White rice
Soup
Bread a salad bar with hummus and moutabal
Fruits, cakes and Um Ali dessert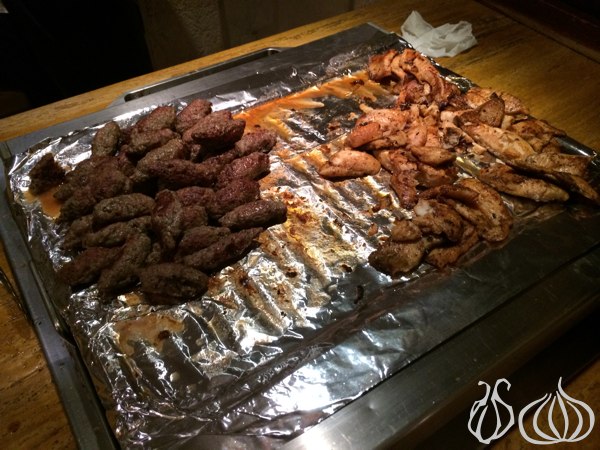 The food: I enjoyed what they call a strogonoff but in reality it had nothing to do with the strogonoff that we know. Meat slices mixed with steamed vegetables and lots of spices in a herb stew. Add rice and enjoy. The steamed vegetables were well cooked. The basmati rice was really tasty, well cooked and seasoned. I then enjoyed some fish that was tender and juicy, but the curry was my least favorite that night, lacking consistency and flavor. Desserts were fine. I enjoyed the coffee aroma, the chocolate flavor, the crunchy nuts and the juiciness of the cakes. Don't expect to be amazed but you'll definitely eat good food. The pluses:
A lovely ambiance and beautiful setup
Tasty food mastered to perfection, all served fresh and hot
The minuses:
Again, the service was unprofessional. Empty plates remained on the table, questions were remained unanswered and the staff seemed to disappear often
Tasty yes, but a minimal choice of items; you would expect more from a buffet
Half the dishes were empty and even when they were almost empty, no one took them away before dessert time...
Dinner was fine. The food was decent and rich in flavors. If you're spending the weekend at Evason, dining at Ma'in Hot Springs is fun, especially on the terrace overviewing the waterfall. I suggest you don't put the idea of coming in for a 'cure' experience, as it will diminish your high expectations.