It was 6pm when we reached the Captain's Camp, a desert camp located in Wadi Rum, Jordan. "Yalla Antonn," the man called out for me, as we arrived at exactly the time they were preparing a feast and the limelight was what they call Zarb - one of Jordan's known culinary wonders prepared in a very original and cultural manner. Attending the process from start to finish was crucial and definitely worth seeing.
The Captain's Camp
is one of 17 different others located in Wadi Rum offerings guests the real Bedouin experience with all its little details. Located in the heart of the dessert known for its beautiful sandy mountains each having a unique shape. In 2011 this part of the world has been accredited by the Unesco as a protected site.
Wadi Rum is a protected area covering 720 square kilometers of dramatic desert wilderness in the south of Jordan. Huge mountains of sandstone and granite emerge, sheer-sided, from wide sandy valleys to reach heights of 1700 meters and more. Narrow canyons and fissures cut deep into the mountains and many conceal ancient rock drawings etched by the peoples of the desert over millennia. Bedouin tribes still live among the mountains of Rum and their large goat-hair tents are a special feature of the landscape.
To safeguard its unique desert landscape, Wadi Rum was declared a protected area in 1998 and an intensive conservation program is now underway.
Preparing the Zarb is a tradition of its own. Zarb is the Bedouin way of cooking meat, rice and chicken. In a prepared hole, a fire is lit until red hot. After that, a multistory large metallic tray is prepared with all the food to cook. The marmite of rice is posed at the bottom to collect all the fat from the meat and chicken. The meat goes on the second level and the chicken with vegetables is posed on the third. Sent below ground, the hermetically closed hole is left to cook for three long hours.
I had the chance to meet Mr. Oussama Abou Taleb, the owner of this camp who was there to welcome us. Opened in 1986, this camp was build to offer the real Bedouin experience to the world's tourists. The real one as you expect it to be. With only solar energy, solar electricity and solar water heating, the camp has won the Green Key certificate since its opening following international guidelines of cleanliness and environment protection.
Oussama tells me more about the region. Despite its desert climate, Wadi Rum hosts one of the Arab world's biggest underwater natural containers as well as the Aldeseh, damn (it's an Arabic world known to have lots of trees). It also provides all the region and the country with vegetables of all kinds.
The idea of the camp started as a location to offer lunch and dinner services and some desert tours. Tourists could book camping in the desert until the concept developed into a natural hotel offering a good service at reasonable prices. Following me around and making sure I was happy and satisfied, Oussama became my new friend on Facebook and I invited him to visit Lebanon where I promised to take him around the villages to enjoy some great food.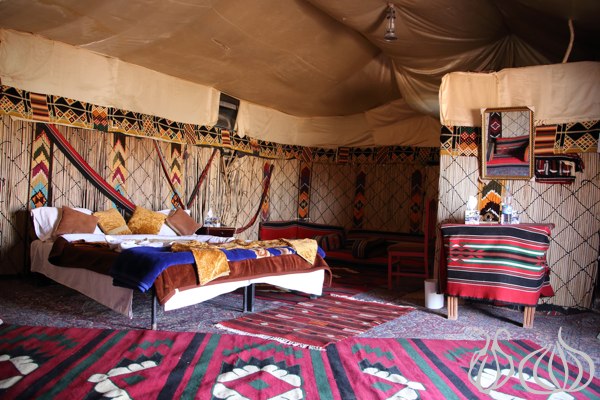 The different rooms and their prices:
Standard: A 16sqm Bedouin goat hair tent divided to compartments and provided with beds, sheets, covers, pillows and furnished with carpets and mosquito net. Guests share the restrooms and showers in a separated unit. The tent is proposed with breakfast and dinner for $50/person ($100/couple)
Deluxe: A 16sqm private Bedouin goat hair tent provided with beds, sheets, covers, pillows furnished with carpets and mosquito net. The tent is proposed with a private bathroom, dinner and breakfast for $75/person ($150/couple)
Suite: For luxury and great space that's your choice. A 48sqm Bedouin goat hair tent with more space at the front with Bedouin rugs and carpets, king size bed, Bedouin low seated table and full bathroom served with private staff. $300 for a maximum of 6 persons.
Good to know:
Some tents have Air Conditioning system on demand
The suite and deluxe room have their own bathrooms
All prices include dinner and breakfast
Buffet dinner is served every night:
A buffet of salads
A choice of there hot dishes changed every day
BBQ (arayess, chicken, meat)
Sweets
Fruits
Shrak bread (the Bedouin saj bread)
What is Zarb?
As ancient and traditional cooking practices go, the zarb is perhaps the most dramatic. It consists of lamb or chicken, sometimes herbs and vegetables, which have been buried in an oven with hot coals beneath the desert sands. When it's time for the meat to resurface, the sand is brushed away, the lid comes off, and the glorious slow-roasted fragrances billow into the air.
For centuries the bedouin have been cooking like this throughout the Arabian peninsula. When tribesmen roamed across the desert in search of water and pasture for their animals, they kept their cooking equipment to the bare minimum. An earth oven could be dug quickly, and hot embers and stones from the campfire could be placed inside. The meat would be wrapped in palm leaves, and a mound of sand would seal in the heat.
Eat zarb with the bedouin in Wadi Rum today, and you'll see that only a few things have changed. The meat is still cooked underground, but often in an iron pot with a heavy lid that gets covered with sand. The meat may be wrapped in foil rather than palm leaves, but the lamb falls off the bone just as would have hundreds of years ago. And the glittering jewel-box of stars above shines just as brightly as ever.
Plan your next visit to the camp:
Arrive 3 hours before sunset
Take a 2 hours tour around the dessert to watch the sunset
Tea is served as a welcome drink
At 8pm, music starts around the camp with Oud and Tableh
Buffet opens at 8pm after the Zarb cooking ends
Folklore dance is a ritual after dinner
It's 10pm already, don't skip the fire and shisha gathering
Coffee and tea are offered free of charge all day long
The next morning, start by a camel ride around the desert
You can also arrange a hot air balloon to fly over Wadi Rum
Jeep tours, camel rides, hot air balloon, horse ride, hiking , and local food like zarb, mansaf, maglobeh, BBQ... all are available at the camp
At 8pm sharp, the 3oud and derbake started playing. The enchanting music which played in the background accompanied us all night long. Beautifully sounds...not a single bad note, the minutes spent at the camp on the indescribably relaxing sofas awaiting the Zarb to finish cooking before the buffet opens.
Tonight's buffet:
Arabic salad
Cut cucumbers
Cut tomatoes
Cut pickles
Cut red cabbage
Mashed potatoes with mint and parsley
Hummus
Tahina salad
Macaroni
Moutabal
Kechke Harra
Green olives
Spicy salad
Kafta wou batata
Zarb
Fried tomatoes
Cake, Asabe3 Zeinab (ma3kroun)
Watermelon
Let's eat some authentic food like the Bedouins:
I decided not to eat anything else than the Zarb. I was so excited to eat like the Bedouins, some real and authentic food from the kingdom. After removal from underground, the meat is first layered on a large metallic tray, followed by the chicken and then the rice comes on top covering the vegetables. On my plate was a mountain of food: Onions, chicken, meat, carrots, eggplants, tomatoes, cauliflower and rice. Let me tell you about the juiciest and most tender meal I've ever eaten in my entire life. The carrots are softer and juicier than an orange, potatoes melt under your teeth like butter, tomatoes are crushed under the chicken weight exploding their sweetness around the dish. Chicken and meat taste amazing, nothing like you have ever had in your life, you won't even need to chew since the meat and chicken were so juicy and tender.
Vegetables can be cut with your fingers while every bite combines a hundred flavors of pure passion. I was amazed, I was in awe. What might look as a "khabsa" or an unorganized meal with no planning, is in fact a rich smokiness, tender and tasty ingredients with an interesting salty aftertaste and an enjoyable sweetness. To make this mix a special one a secret recipe of Arabic spices add the needed flavor and aromas. You can't picture how happy I was.
We had a long way back to Al Aqaba the same night so we had to leave the camp at 10pm. The ambiance was so enchanting that I promised Oussama that I will surely be coming back with my family soon.
If you are the outdoorsy type and enjoy the adventure of camps If you're used to camps and like adventures then this is a place you should not miss. Combining an interesting experience, good food in the company of real authentic people, you will spend a memorable 48hours with the Bedouins.