Arnaoon Village launched its "Arnaoon Christmas Village" on Saturday 7 December. The Main objective of the "Arnaoon Christmas Village" was to take part of a Humanitarian and Social Act by offering gifts from sponsors and individuals to specialized associations such as SOS Village – Kfarhay for orphans, Akrem Abaka wa Ommak for elderly and Bonheur du Ciel for drug addicts in an event on the 22nd of December known as the "Boxing Day".
Witnessed by a large number of guests, associations, VIP's and regular clients, the event kicked off with a Christmas Parade, then a ride in the Village Truck to the Big Manger made out of humans where live Christmas Carols were presented by the SOS children. The guests had also a tour in the Christmas decorated Village and enjoyed a cocktail break. The Christmas themed decoration featured Santa's house, Christmas authentic market and village workers such as smith, carpenter, potter, and cook preparing Kaak with cheese, Saj, copper polishing, hay chair making and wool gazing, workshops, ginger bread house making, Christingles, tree ornaments, Christmas karaoke songs and photo shooting with Santa Claus in a beautiful setting.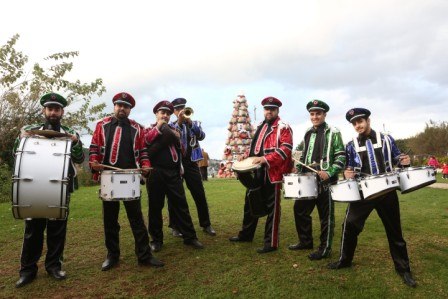 The Village will open its doors every day starting Sunday 8
th
of December 2013 till Monday 6
th
of January 2014 from 10:00am and 6:00pm and throughout the season, to welcome Students from schools, corporate events and individuals with special events every Sunday, Christmas Lunch and New Year's Eve. Not to forget kids' games.
"Arnaoon Christmas Village"
is a full theme located in the whole village where activities, animation, games and Christmas Carols will be carried out, targeting all age brackets visitors coming to enjoy the spirit.
ARNAOON is a 300-plus year old village that existed during the Ottoman days and its name stood strong throughout the years keeping its geography rising on a hill-top overlooking the historic Msaylha Fortress along the Batroun Highway, North of Lebanon. The villagers back then decided to defend the glory of Arnaoon and refused to give it away to the Ottomans. Team Arnaoon's aim is to cherish this heritage by reviving the old ruins and beautifying the landscape rendering it a heart-pounding venue that fully caters to memorable weddings and all sorts of occasions ranging from private dinners to corporate events.