After wrapping up the Chowzter Awards, I thought why not go and try the 2013 winner and check it out for myself... Story Deli, down in a small alley of London, located at 123 Bethnal Green Road, has a selection of interesting pizzas they say. Knowing me, I have to have first hand experience to understand why Story Deli the award. Story Deli happened to be close by and believe me what I tell you... the experience was the best way to end this trip to London in style.
Of course I checked it out online - nice website, nice photos... Before getting there, I imagined to reach a place where hundreds of people are waiting in line for a chance to try it...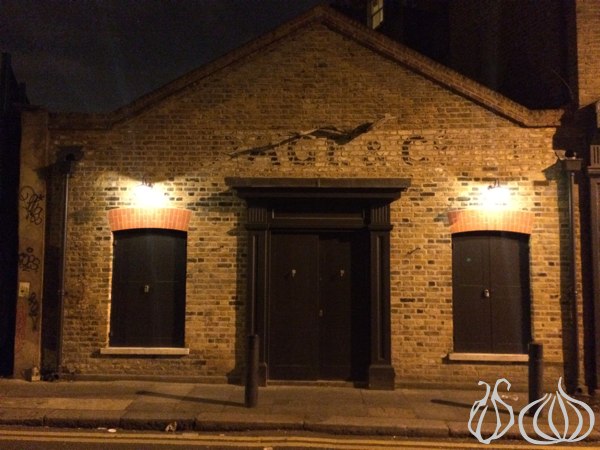 On our way we asked a few people if they knew where "Story Deli" was... Finally, a woman with a smile on her face looked at me saying, "It's on this street, just follow the smell".
We reached a calm place - there was no sign, no lights - only a paper on the door asking you to knock. I pushed the door to discover what looks like a kind of kitchen, a place that doesn't look as a restaurant. It was dark, candle lit and three long wooden tables take refuge. Three long wooden tables on which a set of knives, forks, napkins and olive oil bottles are posed. Still not realizing what's happening I lifted up my eyes from the iPad to discover the little details that constitute the place. A long wall of white fabrics separates the dining space from the kitchen and still calm takes over... Pure silence in a purity of white. Under the high white ceiling, a square restaurant oozes positive vibes, served by a single woman who barely speaks English. A paper menu, a table shared by many, sounds of the pizza oven and the candles that give some light, just for you to read the menu. I knew that food was going to be great, I just felt it.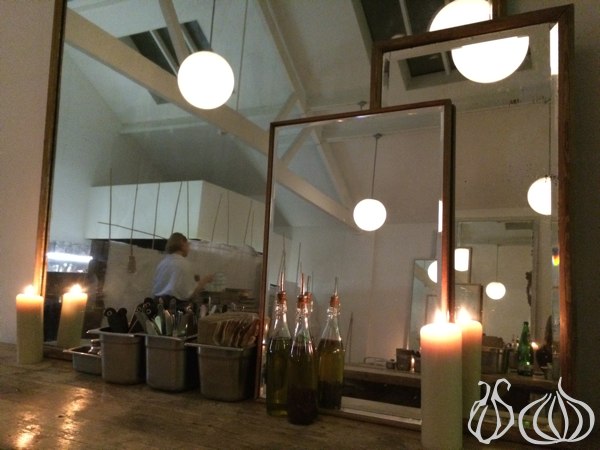 We ordered:
Fico: Goat's cheese, fig and olive tapenade, fresh red onion, capers, thyme and Parma ham served with a big heap of rocket, freshly grated Parmesan, a little roasted red pepper, olive oil and balsamic vinegar.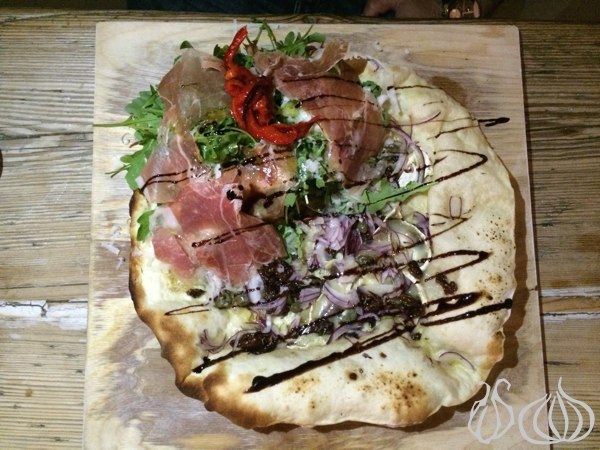 Ham, Spinach and Gorgonzola: Prosciutto cotto, baby spinach, garlic, Gorgonzola, olives, mascarpone and a pinch of nutmeg served with freshly grated Parmesan, a little roasted red pepper, olive oil and fresh buffalo mozzarella.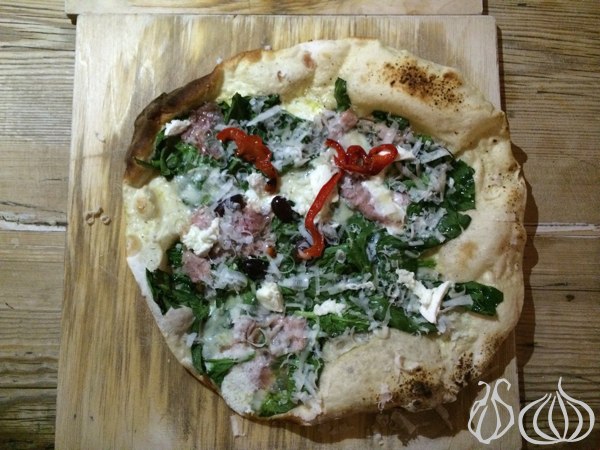 Dora Romero: Chorizo, smashed tomatoes, tomato passata, fresh red onions, mascarpone, rosemary oil, basil pesto and fresh buffalo mozzarella.
Spinach, Spicy Sausage and Egg: Baby spinach, garlic, spicy sausage, egg, Parmesan, of pinch of nutmeg and a little crushed birds eye chilli served with freshly grated Parmesan, olive oil and sweet chilli sauce
I was so amazed by the taste of this pizza and how they are freshly made and presented, that I asked to go in the kitchen and check closely how things are done. The welcoming staff told me a couple stories about the concept, created by a man called Lee who invented a dough of flour, water and salt mastering the equilibrium of the three ingredients without the use of yeast. They do not consider themselves as Italian pizza creators but simply a different pizza place.
The pizzas are simply unique on all levels. Every ingredient is felt richly and purely without covering the other. An olive oil like no other, tomatoes treated differently, peppers roasted with care, rocket leaves that cut so easily, Parma that's full of taste, chili to add a hint of sweetness, cherry tomatoes cut in half and cooked on the dough and organic rockets that erupt flavor... Unbelievable mix of heavily ingredients created an unidentified pizza that is so orgasmic.
The pizza with an egg is outstanding. Am I expressing myself enough? The chorizo pizza with all its ingredients is sweet and sour combined. Fico, with its figs and mountain of rockets is simply wow... I was there, after tasting four pizzas, and wishing I could eat more.
The best part is obviously the dough: A thin dough, thinner than a French crepe that's constituted purely of flour, water and salt. The thin, transparent dough that's so fresh and so crunchy reminded me of the Markouk bread we have back home. Despite its thinness, the dough isn't even slacked by the hundred ingredients, soft in the middle and crunchy on the borders, it just makes you moan from joy.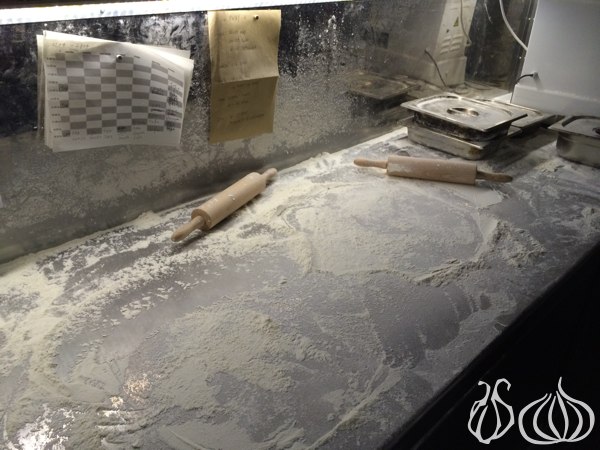 You know what, this is a pizza that will make me want to come to London again. This is a pizza I'm going to remember as being the best I've had to date. This is a marvelous jewel few masters know how to make.
Blending together all the flavors of the world, the owner deserves more than a simple award.
Dessert? Why not? If the pizza is that good, how about the dessert? We were recommended the cheesecake served on a piece of wood. A small rectangle that made me tear. An extremely thin pastry dough -not the usual McVities biscuit - and a thick condensed cheese filling all topped with flour and watery cream. That's heaven, simply heaven: Mamma Mia!
I don't only recommend the place but actually insist you try it. If you live in London, make it a point to visit this place this week, and if you're not, then book the first ticket to the British capital. Yes, it is that good...