I was in Beit Merry attending the LIVCD (Lebanon Industry Value Chain Development Project) press conference and heard that a new organic shop had opened in the area. Grabbing the opportunity, I went off searching for it.
Take the internal road of Beit Merry, reach the St. Georges church where Srour Pharmacy is located. Facing Srour is Cosy Foods, the organic shop I found that day. Started by Adrian Basheer, Lina al-Ashkar Basheer, and Iman Hani, Cosy Foods is all natural (no colorants no preservatives), carries organic foods and specializes in "Mouni" products and herbs, and a hefty assortment of organic Japanese items.
The shop is a kind of Ali Baba taverna where holes in the wall host a selection of items from the four corners of the country. We were welcomed by Adrian who introduced us to his shop, and I was happy to discover a large variety of items, things I've been wanting to write about individually, like the Jabal El Sheikh products, the Bread Basket creations and the food from Rashaya.
Why Cosy Foods, I ask: "We got literally fed up with all the low quality foods that are full of colorants, preservatives, and artificial flavors. We really wanted to start a new lifestyle where we are not continuously stuffing our bodies with vague and unhealthy ingredients, especially now, with a new baby boy who we want to take care of to the best extent possible."
You can find a wide range of products and services, including:
Organic Products: These are mostly imported items, but some are made and certified in Lebanon. Examples are Japanese tea, grains (quinoa, flax seeds, chia seeds), sea herbs (Wakame, Arame, Kombu,...), pastas, sea salt, sugar cane and more.
Lebanese "Mouni": These follow the mantra, "No colorants, no preservative, and no artificial flavors". They include pickles, jams, goat labneh and goat's cheese, pomegranate molasses, rose water, orange blossom water, etc...
Honey: Orange Blossom honey, Oak Honey, Shandeeb Honey, Bee Pollen, Honeycomb, Royal Jelly, and small honey jars with customize labels for special occasions.
Bread: Fresh organic bread on Mondays and Thursdays from the Lebanese Organic Bakery. Fresh wheat-free bread from the Lebanese BreadBasket Square's wheat-free bakery every Tuesday, along with oat maamoul, and oat cookies (orange, dark chocolate, herbs).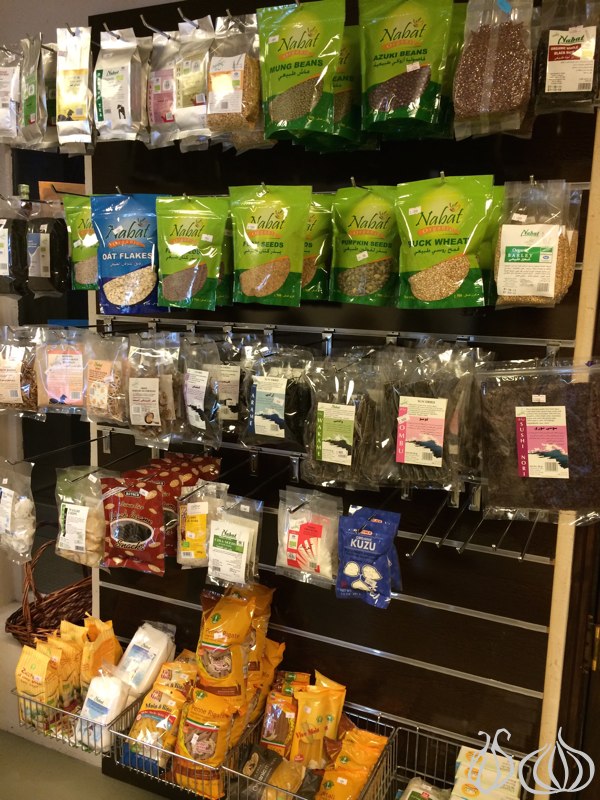 Walking around and searching extensively, I picked up some items to taste once I was back home:
Every Monday and Thursday, Cosy Foods receives fresh bread from The Organic bakery. The Organic Bakery produces whole grain bread, cakes, cookies and grissini sticks. All the products are produced with whole grain flours, organic yeast, agave and organic olive oil. Organic Bakery's products are considered prebiotics due to the presence of inulin fiber, which has many benefits. These products are 100% free of added sugar, lactose, dairy products, cholesterol, chemical additives, preservatives and artificial colorings. I bought the organic whole grain square bread, which I found very tasty: A moist and very airy bread that's fresh and aromatic. As is or heated, the bread is perfect with Labneh, jam or honey.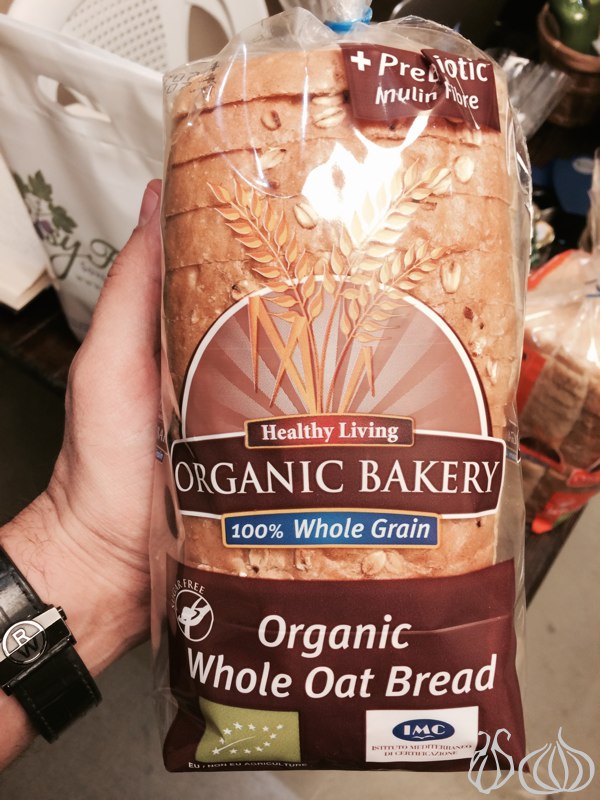 From Bread Basket Square, the wheat free bakery, I got myself a Lebanese square bread whole wheat selection. Those loafs are 100% natural, containing no white sugar, no white salt, no preservatives and no dairy products. The bread is thin and a bit hard compared to normal bread. The pieces crumble before reaching your mouth. This is the only downside for such a premium healthy product that tastes fresh.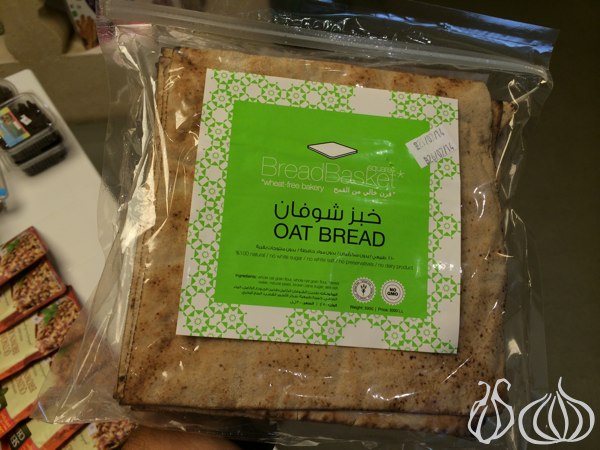 The same company, Bread Basket Square, produces, for the first time in Lebanon, an energy bar "TaqaBar". It's a natural dried fruit and nut bar with a complex mix of natural fructose, complex carbohydrates and mono-unsaturated fats. The bars are natural, vegan, and are mainly made of nuts. 50g at 226 calories.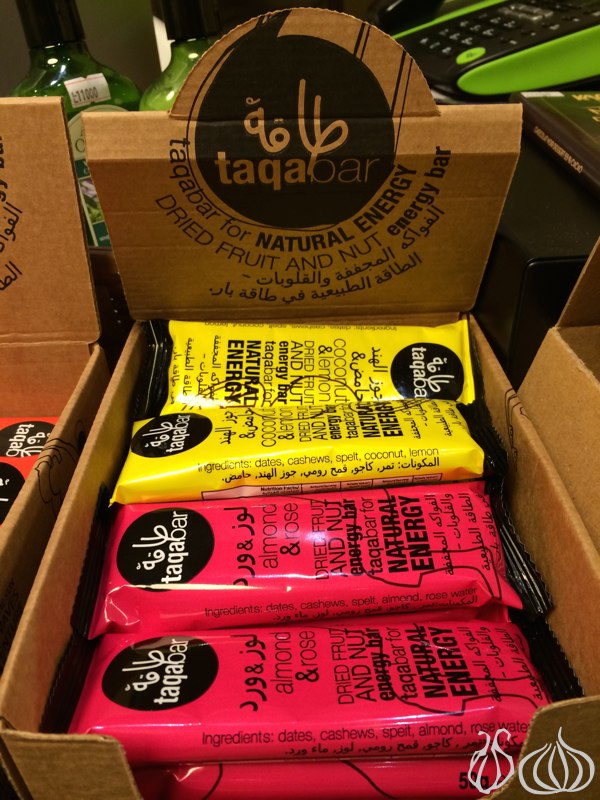 Labneh balls and goat cheese are brought in from Rashaya. Rashaya's products are divided into two categories provided by "Khayrat Rashaya" and others by "Rashaya Gardens". You have to try the dried blackcurrent.
Honey from Jabal El Sheikh. The Orange Blossom Honey is mouthwatering. This fragrant honey is mainly extracted from orange tree blossoms with assorted wildflowers of the season, giving it its light amber color. It is rich in vitamins, amino acids and flavonoids. Its mild and citrusy flavor is great for sweetening fruit juices, cocktails and smoothies, plus it is great when lightly added to stir-fries for a tangy flavor.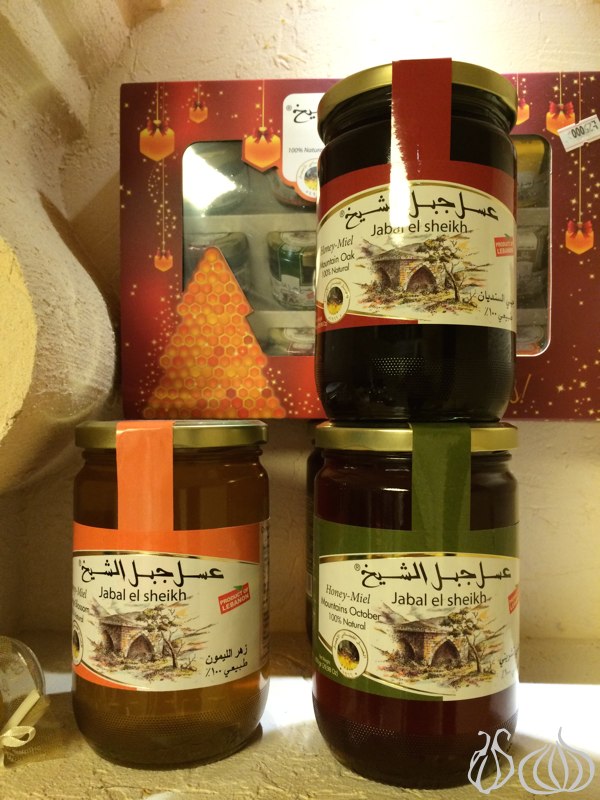 Olive oil from Hasbaya is a premium product
I also found some organic chocolate. Kaoka is a fair trade organic chocolate for gourmets.
Healthy homemade baked goods are also on the menu. I've tried the Lawzieh and the cinnamon cookies with grapes molasses; both excellent for a healthy product. Really, the taste is very good and guilt free.
Something that's going to be a big hit in the years to come is Grape Syrup, something Adrian explained as being "the Lebanese answer to maple syrup". 250ml sold for LBP5,000. We do have lots of grapes in our country and most of them end up in wine bottles... but more can be done.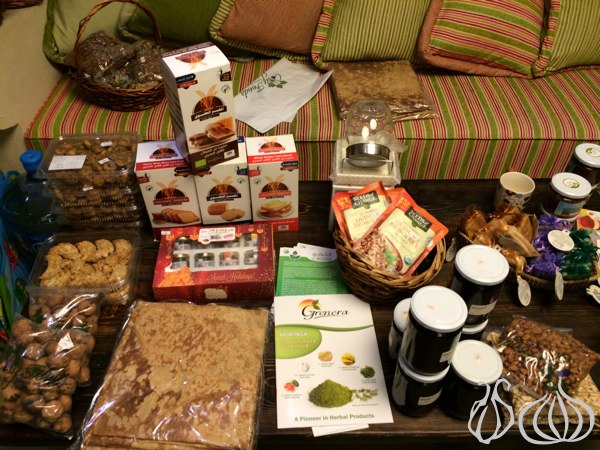 I wasn't sure what to expect when entering Cosy Foods. Was it a kind of a supermarket? What would I find to write about? I left happy, buying many items for the next day's breakfast, products that are healthy and tasty at the same time. If you live in the area or even far from it, I think it's worth the trip to Beit Merry where the finest from Lebanon's organic produces are sold at affordable and reasonable prices.