Dedicated to food and cooking, Kitchenlab is a new and unique concept that will change the way you view food, cooking, socializing and gathering with friends. Set up in an old house in Gemmayze, KitchenLab is divided into three spaces: Organic grocery, professional kitchen for cooking classes as well as a shop for cooking accessories and "Art de la Table" items, Kitchenlab is something to look out for...
Opened just three weeks ago, KitchenLab is the baby of Michelle Jbeily and Youmna Ziade who have joined ventures to realize their dreams. A dream of having a new kind of space where women and men alike can meet up to learn the secrets behind cooking, in a cozy atmosphere. The two have joint forces with many renowned chefs in town, Kitchenlab is taking part in improvement the culinary know-how in Lebanon on a micro scale.
The idea is simple: You can book the class that suits you, then come prepared to cook your own meal which you will then taste later on in the dining room. Or, prebook the entire space that can host up to 16 guests, cook together then enjoy a dinner around the same table where every cook shares his preparations with the others. Personalized dinners can be hosted by any chef you desire depending on the style of food and associated with any wine that goes with it.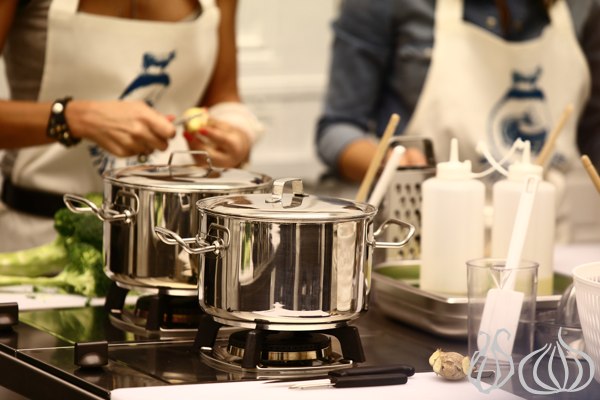 The 150sqm space, guarantees to transport you into another world. What used to be a bar (Gem) has now transformed into an architectural wonder divided into several spaces. The open terrace, the shop, the organic fresh goods, the kitchen and the dining room. Lockers on the side will safeguard your belongings while you cook.
The place described:
In the middle of Gemmayze's Saint Nicolas stairs, look left where Kitchenlab is located
What used to be a pub, known as Gem, is now one of the most sophisticated kitchens in Lebanon
A nice cozy terrace with a tree in the middle
The house's old windows have been kept as is to preserve the traditional aspect of the place
A display fridge of organic products appears to the right
The shop to the left constituted of two rooms is filled with many interesting kitchen items
Go deeper and enter the lab. A room cleaner than a surgery room is the main kitchen able to host up to 16 students
White ceiling, white walls and white reflective marble floor
A beautiful room filled with kitchen utensils from all kinds
All the house is covered with old tiles left here for centuries
Inside the dining room, my favorite room is the stone arcade where a thick heavy wooden table under three lamps can host 16 guests
Brands available at KitchenLab:
Joseph Joseph
Normann Copenhagen
Gizzini
Leque
Peugeot
Staub
Cuisinart
Ratatouille homemade aprons
Zejd oil
Biomass products
Jakeman's
The kitchen is really beautiful to see and discover. 16 distinct working stations with a complete arsenal of kitchen utensils. Each one of the apprentices can work on his own, with his own knife, fork, casseroles and fire. Stay tuned to discover all the upcoming courses, you might be attending the next one.
Opening hours: 10am-7pm
Minimum number of persons to book t he place completely for an event is between 12 and 14.