I couldn't visit this place the last time I was here, but passing by New York and not having dinner at Daniel Boulud is considered a sin; here I was again in the Big Apple so dinner at DGGB was on top of my list of things to do.
A beautiful place welcomes you. A huge space well lit and amazingly decorated takes your breath away as you walk down the aisle to the host. The bar occupies the first area before opening up to the main dining area set in a rectangular space and decorated with dimmed lights and metal casseroles.
Write ups decorate the walls, large lit balls hang from the ceiling, candles add a touch of romance, a large screen plays the latest sports, and the kitchen, a long open kitchen, makes you feel the action from within.
On the menu is a selection of sausages which are the place's specialty, as well as burgers and the signature menus and "while beast feast". The raw bad, appetizers, signature sausages, dogs on a bun, sides, seasonal, signature burgers, the menu is interesting. There's a prix fixe menu and then the whole beast feasts.
It's better to order for sharing, so we did. The chop-chop salad, the flatbread, the three burgers on one plate and the Beaujolaise sausage and we were ready to go.
The burgers are delicious. A high-end version of a simple burger, three pieces, each stuffed with a super thick and juicy piece of meat inside a tender and lightly sticky bun. Flavorful, slightly fatty, but worth every bite. Some cheese from here, crunchy lettuce from there, onion compote or sweet notes with pickles to make it special. Those burgers are recommended. Eat the meat alone, leave it a couple of minutes to cool down and you'll understand what makes this burger special. Real meat!
The flatbread is cut in four pieces, each with a quail egg, chorizo, ricotta cheese and basil. It's indeed something different and unique, a crunch on the side, a tender juicy heart and those ingredients mixed together make of their flatbread a signature many come here to order.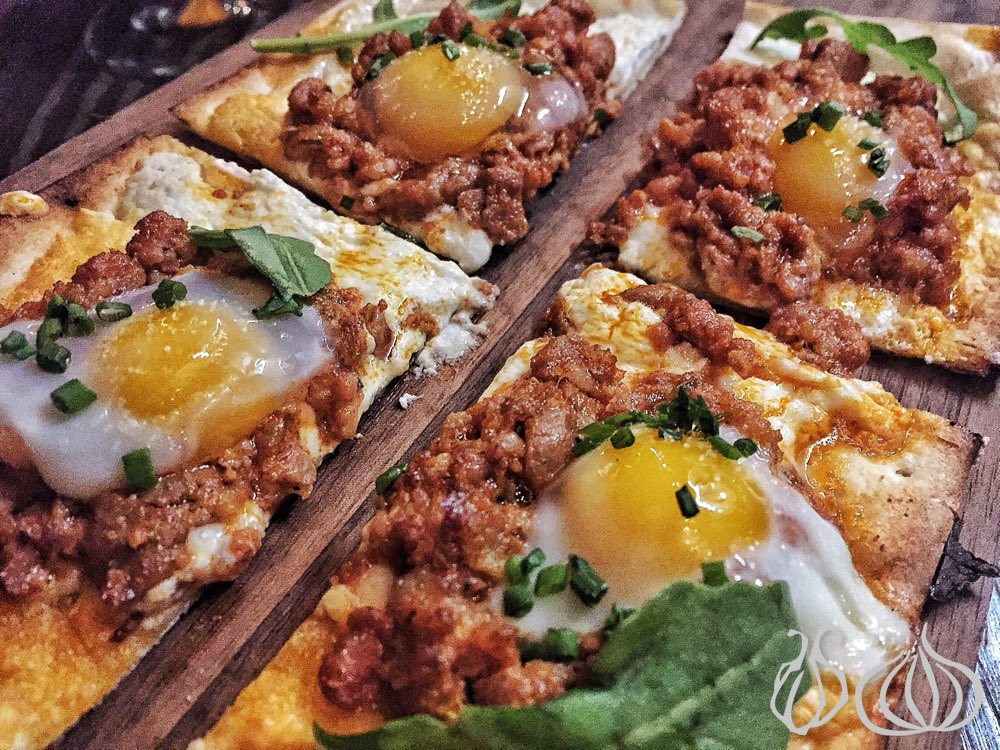 The Beaujolaise sausages are made of pork, mushrooms, onions, bacon and red wine with lentil du puy. A sausage bathing in lentil sauce. A kind of sausage with thick envelope and condensed heart of meat, rich full bodied meat.
The fries are cut small, fried to crunchy level and sprinkled with salt. I loved them.
Delicious food it is and the place is really cool! Enjoyed dinner.