Choosing where to have your wedding in Lebanon is not an easy task. We all know it: Today everyone wants to have the best wedding, the most fascinating and always follow the 'trend' - trendy places, trendy themes... leaving little for what can be innovative and at the same time reflect your personality as a couple... I enjoyed the last wedding I was at because it was different. Dinner at Indigo on the Roof at Hotel Le Gray Beirut was definitely a night I enjoyed and I wanted to share the details with you...
Hotel Le Gray is like no other hotel in town as it doesn't have a ballroom that can host hundreds or thousands of guests. On the rooftop, a classy restaurant, Indigo, can welcome up to 150 persons in summertime distributed between the inner dining area and the terrace over viewing Downtown Beirut.
Take the elevator up to the 6th floor then go right to enter Indigo. Indigo-On The Roof is the hotel's exclusive restaurant, receiving much high praise for its outstanding cuisine and service. The contemporary interior, designed by Mary Fox Linton, provides a spacious environment to compliment the stunning panoramic views of the city from every corner of the hotel. The open plan of the restaurant with its multi dimensional quality creates an overwhelming feeling of one being in touch with the urban environment surrounding the hotel. The Grand Mosque of Mohammad Al Amin is captured in picture-like precision from one angle and from another a captivating view of other modern high-rise buildings in the neighboring area. The fresh transparency of the space at Indigo - On The Roof is demonstrated by the display, in clear view, of its exclusive wine collection. The 650 wines displayed are from many regions of the world, including: Italy, France, South Africa, Chile and Lebanon to name but a few.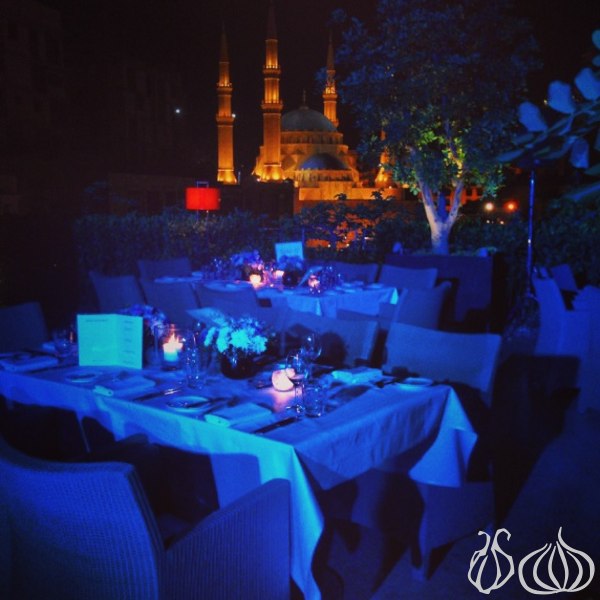 The place described:
An open kitchen to the left that can vibrate with passion and emotions as chefs prepare pieces of art with love
High glass windows give an open view on the Beirut Central District.
Relaxing beige upholstery chairs decorated with a touch of color
A general purple finish, relaxing for the eyes
Round and square tables pleasant to sit in groups and enjoy face to face conversations
The huge wine cellar displaying the complete collection of wines from around the world
An open terrace with a 180 degrees view on the St Georges church to the left, downtown Beirut and the seaport
Points to highlight before we start:
Indigo can host your wedding up to 150 guests maximum
Remember that you are in a restaurant and not a ballroom. There is no dedicated dancing floor
Consider the seated dinner option which fits better in the available space
Cozy and warm, Indigo is the best place for small and simple weddings
A beautiful place that won't cost you much to decorate
Dinner started with peanuts and a choice of drinks of which the signature Sangria known at Indigo: Sangria consists of wine, chopped fruit, a sweetener, and a small amount of added brandy. Chopped fruit can include orange, lemon, lime, apple, peach, melon, berries, pineapple, grape, kiwifruit and mango. A sweetener such as honey, sugar, syrup, or orange juice is added.
Tonight's menu:
Cured Scottish salmon (Egg tartare and creme fraiche)
Roma tomato galette with fresh mozzarella gratin
Pan seared veal medallions (Polenta cake, sun blush tomatoes and green beans)
Valrhona chocolate fondant (Bourbon vanilla ice cream and apricot sauce)
A beautiful setup, a soothing atmosphere taken care off by professional waiters who made sure to make everybody happy... Unfortunately, the venue could have been prepared better to host a wedding but a gala dinner.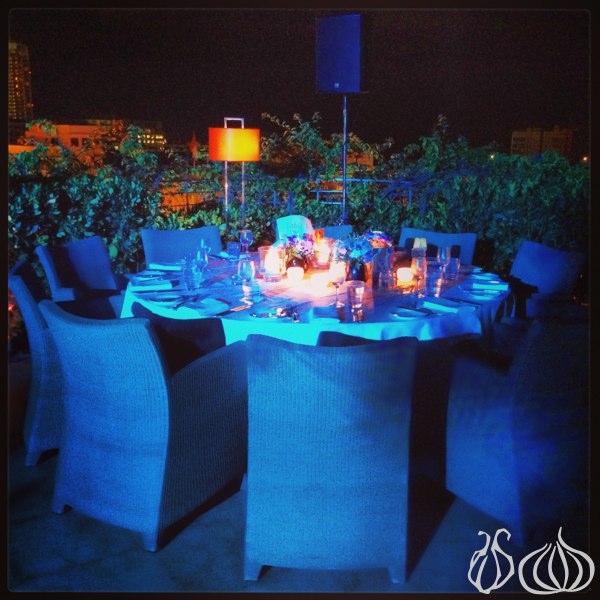 Mistakes to be fixed... before the next wedding:
The glass facades could have been cleaner. It should have been shined an hour earlier not the day before. A person should be responsible for fine tuning the architectural details before guests arrive. Center the paintings, clean the glass, make sure all the candles are lit...
A beautiful open kitchen like this one should be or appear to be busy while guests were arriving. Chefs were just standing there mingling. Me and many others for sure ask themselves the crucial question: "If everyone's standing still, where is the food going to come from?" Later during the night, walking along the back, I was so happy to see the staff in action.
Reminder again: "This is a wedding ceremony and not a dinner". Parasols should have all been removed aside to clear out the area especially around the dancing floor.
In front of the dancing floor, that is the main area, dozens of blue Sohat bottles were lying like in a depot. I kept the picture for the sole purpose of showing the management how ugly they looked. This bar should have been used as a "Bar" filled with a collection of different bottles and not filled with blue cylinders
On the terrace, two doors take you to the floor beneath. They forgot to turn off the lights on the long stairway that is used as a storage area. Seeing folded tables was not the best of things
The Food:
Bread, served to start with butter is just superb. Crunchy, light and fresh it makes the first impression pass the test
Salmon with Egg Tartare: Smoked salmon served with parsley, capers, shredded onions, eggs and creme fraiche, accompanied by a brown square bread cut in half as well as half a lemon slice. An interesting plate even though the salmon used is too salty.
Mozzarella Tomato Cake: A thin pastry dough covered with tomatoes, buffala mozzarella, seasoned with pesto sauce and basil leaves. The pasty layer is a bit soggy and lacks crunchiness.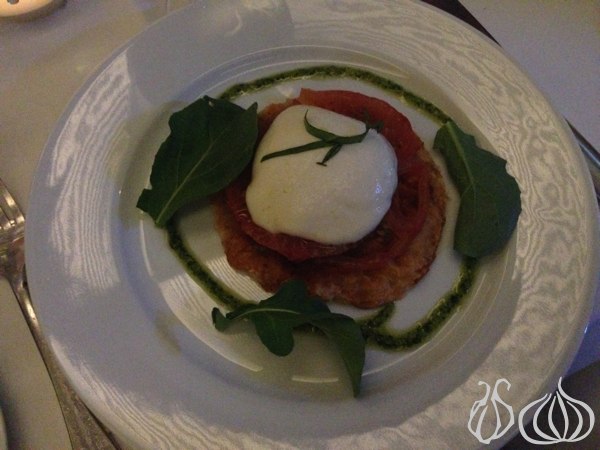 The Veal: A rich and generous plate filled with two veal medallions laying on a tomato puree and a polenta cake and served with green beans as well as cooked cherry tomatoes. The veal was over cooked and lack softness. About polenta: It derives from earlier forms of grain mush, commonly eaten since Roman times. Before the introduction of corn from the New World in the 16th century, polenta was made with such starchy ingredients as farro, chestnut flour, millet, spelt, or chickpeas. Polenta has a creamy texture due to the gelatinization of starch in the grain, though it may not be completely homogeneous if a coarse grind or hard grain such as flint corn is used.
Fish in Banana Leaf: A beautiful piece of white fish wrapped in a banana leaf and served with rice, broccoli, coriander. A strong ginger taste and soft tender feel make this plate a unique creation. Wow! I loved it and would have wished every guest tasted its splendor.
Chocolate fondant: A premium dark chocolate fondant served with vanilla ice cream, a raspberry and apricot couli as well as a piece of the wedding cake. A nice plate indeed. I liked the little detail of depositing the ice cream ball on a round biscuit so it doesn't travel around the plate. To tell you the truth, desserts were the best tonight
The food improvements:
Plates can and should be better setup: It's a wedding in a Hotel, remember?
Indigo is known for its beautiful plates decorations. What happened tonight?
For 140 guests, Veal is not an adequate choice. The pieces were dry and overcooked. I would have personally chosen something that stays soft and tender
The things I liked:
The place is cozy and relaxed
There is enough space between the tables to help you comfortable move around
The Air Conditioning system is good
Lighting is dimmed and soothing
The staff is exceptional. They deserve an applause
The view is exceptional
Tonight's wedding was superb:
The entertainment was excellent
The sound system perfect
The ambiance excellent
The decoration breathtaking
The Cake was mouthwatering
If Le Gray existed back then, I would have chosen it for my wedding. I love this hotel and its rooftop restaurant. A venue unique of its kind and that doesn't need much investment to look great. Simplicity is key.